"Eyaa guliya gilala" or he has swallowed the pill said Defence Secretary Gotabaya Rajapaksa when Colombo's Mayor A.J.M. Muzammil asked, "what is happening to Fonseka."
The occasion was last Wednesday's ceremony where the Ministry of Local Government donated four jet machines worth more than Rs 150 million for cleaning drains. It has been provided with assistance from the Asian Development Bank. The event was held at the Fire Brigade Training Institute at Wellawatte.
The informal chat between the Defence Secretary and the Mayor was revealing.
"Eyata dena lanu matath minissu denava. Mama ravatenney nehe" (People come to give me the same rope that was given to him. I don't get fooled), declared Rajapaksa. He went on to say that "most parliamentarians from both sides speak to me. They tell me I can do well in politics. My popularity is one thing. Politics is another. I only want to serve the people and attend to their various needs from where I am," he added. He also pointed out that neither he nor his advisors understood or knew anything about politics, a veiled reference to Fonseka and his own advisers who did not understand too.
The remarks bring home two realities. The most important one is that contrary to mounting speculation, Gotabaya Rajapaksa will not enter politics. Hence, there will neither be a parliament seat for him nor prime ministerial or ministerial position. The other dispels speculation that former Army Commander Sarath Fonseka himself was set to join the government side. Adding momentum to such speculation were reports that Fonseka had accepted a personal protection team of 12 police officers from the Ministerial Security Division (MSD).
One time Gotabaya Rajapaksa's other partner in the military victory against Tiger guerrillas three years ago, former General Sarath Fonseka, held his first news conference at the Taj Samudra since his release from 27 months in jail. He said the venue was nostalgic. As presidential candidate, he had entertained the media there. On another occasion, he had taken part in an event connected with the Army rugger team. Earlier than that, there was something more important -- it was from the old Hotel Samudra that he had taken away his bride, now his wife Anoma.
The event came barely 24 hours after the Defence Secretary had made the private remarks to Mayor Muzammil. Fonseka declared, "I have no intention of joining this government. For four years I worked with this present leadership and I can say that there is a big gap between what they promise to do and what they actually do. I can't trust this leadership. Also, I cannot work with corrupt people."
Fonseka said he wants to legally topple the government and would "join forces with the opposition" for this purpose.
For the first time, he also revealed that he had received some 600 million rupees during the presidential election campaign. "Half of it was spent on you all," he said pointing at the media personnel present. It was not clear whether the reference was to entertaining the media or for his publicity campaign. Maybe a little bit of both. Nevertheless, it was an interesting revelation. Both during the campaign as well as after it, both the United National Party (UNP) and the Janatha Vimukthi Peramuna (JVP) wanted details of campaign donations Fonseka had received. It was on two counts. One was the fact that all donations were both solicited and received by Fonseka. None of the donors gave it to the political parties backing him. The other was the fact that both UNP and JVP voters had also cast their votes for him to go over the four million mark. Thus he was obliged to tell them who made what contribution, they pointed out. There was no response. He said parliamentarian Tiran Alles also contributed 'quite a bit.'
Fonseka's offer "to join forces with the opposition" had left only a few takers if any. "How can we join forces with him? He does not even have his civic rights," said Ravi Karunanayake, UNP Colombo District parliamentarian. He added, "This is why our party wanted to move a resolution in Parliament calling upon the government to fully restore his civic rights. He did not want this done," said Karunanayake. He said a conditional release for Fonseka could have been obtained very much earlier through the good offices of Opposition Leader Ranil Wickremesinghe and the Venerable Galabada Gnanissara Thera, Chief Incumbent of the Gangarama Temple.
Fonseka's advisors misled him, the parliamentarian alleged. Added Gayantha Karunatilleke, spokesperson of the UNP: "When the former General decided to run against the current government as a common candidate in the presidential election, the UNP working committee decided to support him. When he was unfairly prosecuted we gave our full support to ensure his release. Even now, we support him. We will do so in the future. When he was released, our party Assistant Leader Joseph Micheal Perera invited him to join us in a joint opposition. Likewise, we are fully prepared to work with anyone who is against the government in a Joint-Opposition Front. We believe that by joining forces we can overthrow this corrupt regime".
Karunatilleke makes clear that Fonseka should heed their Assistant Leader's call and join the UNP.
The Sunday Times has learnt that UNP leader Ranil Wickremesinghe is strongly opposed to any alliance with Fonseka or his group. He was away in China on an invitation extended by the Beijing government and was due in Colombo yesterday. A source close to him said: "We are the largest opposition party. Anyone is welcome to join us in our campaign to restore democracy, fight corruption and restore law and order."
JVP Colombo District parliamentarian Sunil Handunetti said: "We are a political party with socialist ideologies. We have in the past supported such a common front with the aim of abolishing the Executive Presidency. However, Fonseka has not spoken or discussed any matters regarding a joint opposition with us. Therefore, until such discussions take place we cannot take any decision. To have a joint opposition the former General must give us reasons for us to consider. He should tell us what the common points we can work on are. If there are such points we can consider."
Here again, the Sunday Times learns the JVP leaders are strongly opposed to any alliance with Fonseka's group. Public remarks about such opposition, a leading party source confessed yesterday, could not be made since they are still a constituent partner in the DNF, however, "non-functional it may be."
Thus, it is clear that the two main opposition parties, the UNP and the JVP will not forge any political alliance with Fonseka. In addition, even the JVP breakaway group which functions as the Frontline Socialist Party (FSP) is not in favour. In fact, one of the reasons for the FSP to part from the JVP was the latter's decision to back Fonseka at the presidential polls as a 'common candidate.' That leaves Fonseka with only one option-- to form a political party of his own or obtain the title of a political party that is already registered with the Department of Elections. Firstly, it is necessary to do so to make a distinction from the JVP component in the DNA. At present, JVP Gampaha District parliamentarian Vijitha Herath is the General Secretary of the Alliance.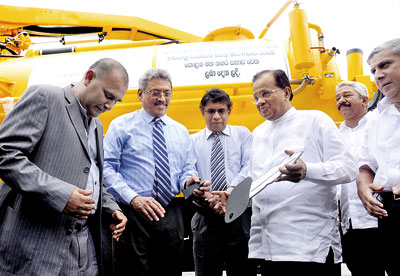 New equipment required by the CMC for waste management in the Colombo city was donated by the ADB. Under the first phase of the project Rs. 164 million worth of equipment was donated. Defence Secretary Gotabaya Rajapaksa (2nd from left) and Local govt. Minister A.L.M. Athaulla handed over the equipment to Mayor A.J.M. Muzammil (3rd from right) on Wednesday.
That would see a trio -- parliamentarians Arjuna Ranatunga (Kalutara District), Jayantha Ketagoda (Colombo District) and Tiran Alles (National List) -- with Fonseka. Others touted to join him are UNP parliamentarians Range Bandara (Puttalam District) and Palitha Thevarapperuma (Kalutara District). Other UNPers backing Fonseka, like deputy leader Sajith Premadasa and former deputy leader Karu Jayasuriya are not expected to leave the UNP unless they are forced out through disciplinary inquiries. That again is a move that may not materialise, according to UNP sources. However, they concede that the party's disciplinary process would leave them somewhat scarred politically, sufficient enough 'punishment' for not toeing the party line. Some 340 UNPers including Jayasuriya, provincial and district level party members have already been asked to explain why they did not attend the May Day rally in Jaffna this year. A letter to Premadasa has not been sent so far but some charges are under consideration, the same sources said.
In this backdrop, the critical question would be how much political support countrywide Fonseka could draw. No doubt, his release drew crowds outside the Welikade Jail and the Nawaloka Hospital where he was warded for treatment. Recently, when he attended one of his lawyer's birthday party, waiters wanted to be photographed with him. He was like a popular film star. There is little doubt that Fonseka has support throughout Sri Lanka for leading troops to victory in the military operations against Tiger guerrillas that ended in May 2009. That he was nearly killed in the process and then his stint in jail adds to the aura. Yet, how much of that would translate into votes in a national electorate where the voting patterns in the past have always been a see-saw between the two established political parties -- the Sri Lanka Freedom Party (SLFP) and the United National Party (UNP) -- supported by whoever their allies are at different times.
A distinction also has to be made between those who are supporters of Fonseka and the larger numbers who sympathised because they believed strongly that the former General has been wronged and harassed immensely by the Rajapaksa administration in many ways. Some even say that his conditional release represents shades of mea culpa or 'my mistake.' More questions follow. Will a new political party led by Fonseka, leave alone winning a parliamentary election, secure control of even a local authority in the event of an election? Will the "shine" he now enjoys fade away with the passage of time? These questions are without taking into consideration the legal constraints that would be in place since Fonseka will not enjoy his civic rights for several more years. In view of this, any candidate at an election faces disqualification if a person who has lost his or her civic rights engages in their polls campaigns. At present, his main political backers are two UNP stalwarts, Sajith Premadasa and Karu Jayasuriya and political light-weights, Tiran Alles, Jayantha Ketegoda and Arjuna Ranatunga. Other than that, there are a few civil society groups.
Nevertheless, Thursday's Fonseka news conference took on the mood of an election eve one. Fonseka was spelling out his 'manifesto', when he said he wanted to democratically topple the government. Then he wants to get rid of the "rampant corruption and nepotism" prevalent in the country and abolish the executive presidency. He also wants to ensure what he calls an independent judiciary.
For good measure, a journalist asked what his foreign policy would be. His reply "I believe in a non-aligned policy. India is our friend and neighbour and that relationship must be preserved at any cost. China too is a friend and has helped Sri Lanka. We must also learn from the western system in which internal democracy is robust."
It is not only in politics for which one needs to be savvy, as Gotabaya Rajapaksa points out. It is equally important in the field of foreign policy too. Fonseka's answer on that is no different to the oft repeated words of External Affairs Minister G.L. Peiris. However, in practice the conduct of such foreign policy has faltered many times. It has raised questions whether a foreign policy exists. The fact that Sri Lanka is facing a crisis over those issues was highlighted again just this week.
The United States lodged a protest last Monday with the government over remarks attributed to Karunatilleke Amunugama, Secretary to the Ministry of External Affairs. US Ambassador Patricia Butenis met Amunugama at the EAM on Monday to take exception to remarks attributed to the latter in a Sunday newspaper. She had said it was not acceptable. She was accompanied by Dr. Paul Carter, Political Officer.
Amunugama had told a newspaper that US Ambassador designate to Sri Lanka, Michele Sison was reported as telling the US Foreign Relations Committee that reconciliation was slow and human rights issues have not been investigated. The External Affairs Ministry Secretary had reportedly remarked that his Ministry was aware of the statements. "If she is appointed as ambassador to Sri Lanka and she continues to make such comments then the government will look at taking further action," Amunugama was quoted as saying. The External Affairs Ministry Secretary had claimed the views of the Ambassador designate and the US government were at variance. US Secretary of State, Hillary Clinton, according to him, had "expressed satisfaction over the progress in Sri Lanka." This was during bilateral talks she held with External Affairs Minister Peiris in May.
Ambassador Butenis pointed out to Amunugama that there was no difference in the remarks made by Ambassador designate Sison and Secretary of State Clinton. Amunugama was not available for comment yesterday. Several calls to him went unanswered. The Sunday Times learnt that the External Affairs Ministry Secretary did not deny he made the remarks in question to the newspaper but made clear it was not on his own volition. He had been repeatedly asked for his comments. After the meeting, the US Embassy issued a media statement the same day that gave the US position and highlighted the fact that all was not too well again between Colombo and Washington. This is what the US Embassy said:
"June 11, 2012: The Embassy of the United States would like to clarify testimony made by Ambassador-designate Michele J. Sison about Sri Lanka before the U.S. Congress.
"On June 6, Ambassador-designate Michele J. Sison testified before the Senate Foreign Relations Committee as part of her confirmation process as President Obama's nominee for Ambassador to Sri Lanka and Maldives. Her statement reiterated long-standing U.S. policy toward Sri Lanka, including calls for further demilitarization of the north, provincial council elections in the north, and mechanisms to deal with outstanding human rights issues. Ambassador-designate Sison's testimony is in complete accordance with U.S policy as well as previous statements by U.S. officials and also reflects the issues discussed during Secretary Clinton's meeting with Minister of External Affairs Peiris last month in Washington. Her testimony also noted the need for a broad range of partnerships between the United States and Sri Lanka."
Another faux pas on the foreign relations front was the London fiasco which was reported in detail in these columns last week. More details of matters related to events in London surfaced this week. The government has spent around 30,000 Sterling Pounds or Rs 60 million to take out a 24-page supplement in the Guardian newspaper to coincide with President Rajapaksa's visit. After the newspaper published a front page report of alleged torture of asylum seekers who were sent back from Britain to Sri Lanka, readers protested to the newspaper. They queried the newspaper's position-- the story published on their editorial page or the contents in the supplement they marketed.
So much so, the newspaper had to run another piece from one its staffers to explain what happened. Here are excerpts from what Chris Elliot, the Reader's Editor of the Guardian wrote:
"June 10, Sunday --- Sri Lanka's civil war, in which tens of thousands of people were killed over period of 26 years, ended just three years ago. Since then Sri Lanka has been fending off allegations of human rights abuses against its Tamil population to restore its image around the world. Both faces of the country were on show on the same day in the Guardian in what many readers thought was at best a bizarre juxtaposition and at worst an example of crassness or hypocrisy.
"A front-page story on 6 June, under the headline 'Tamils deported to Sri Lanka being tortured, victim claims' laid out detailed allegations that Britain is forcibly deporting asylum seekers who are then tortured in Sri Lanka.
"Much of the detail was provided by the testimony of one man who claims he was left scarred and suicidal after a two-week ordeal. …… Later that day, Mahinda Rajapaksa, the country's president, had to cancel a speech in the City of London after concerns about the threat of large demonstrations by Tamil rights groups.
"It was a powerful story, which was why readers were puzzled when they found a 24-page supplement on Sri Lanka funded by the country's government distributed with the same issue. The supplement's producers ran the following disclaimer down the side of its front-page illustration: "An independent supplement distributed in the Guardian on behalf of The Report Company, who takes sole responsibility for its content. Our sponsors have no control over the content of this editorially-led supplement."
"The headline on the front cover is "Sri Lanka. Asia's next wonder?" and the supplement's clear focus is - unsurprisingly - to promote the country. The civil war is addressed. The first feature, headlined "The place to be", suggests in a stand first that "after three years of peace, old wounds are beginning to heal". President Rajapaksa was interviewed for the supplement, and in it he talks of being able to convince the world in the next few years that "Sri Lanka is truly the emerging wonder of Asia".
"Human rights issues are also addressed. GL Peiris, Sri Lanka's Minister of External affairs, 'bemoans a 'very sharp, almost obsessive focus on the human rights issue' that he says is driven by the influential Sri Lankan diaspora and what the author of the article calls 'a sometimes sensationalist media'.
"As one reader put it: 'Wonderful juxtaposition of today's page one headline … and the front cover of your special supplement … Serendipity or what?' I take the point, but it could not be anything less like serendipity, the occurrence or development of events by chance in a happy or beneficial way, as the New Oxford Dictionary puts it. However, I think this unhappy accident is at least clear evidence that the editorial content of the Guardian is not influenced by commercial considerations.
"Sponsored country supplements have been distributed with British newspapers for many years. Until two years ago, such supplements in the Guardian would only appear after the commercial department that deals with them had had discussions with colleagues in editorial, but this practice has slipped. It will now be restored to ensure that there is a fuller picture of any problems with any country being considered for such a supplement.
"Although the disclaimer on the supplement says the Guardian is not responsible for the content, the act of distribution by the newspaper lends a perception of endorsement -- probably more so than a normal advert would --and the opportunity this affords to governments is not one we should provide lightly, if at all. It is entirely reasonable that Sri Lanka wants to put the past behind it, but the evidence of our front page story shows that it has not done so, and we should not have distributed this supplement. The appearance of a promotional supplement paid for by Sri Lanka in the same edition as a story detailing claims of torture by the country's security personnel was far from serendipitous."
Needless to say that an expenditure of Rs 60 million could have helped better equip a few schools in rural Sri Lanka or feed malnourished children in these areas for months. Sri Lankans in Britain are raising the query on why a supplement had to be published with interviews of President Rajapaksa and Minister Peiris. The Guardian no doubt is a respected newspaper in Britain, reaching out to intellectuals and liberals, but has a small circulation. They ask whether it is because public relations companies hired by the Sri Lanka High Commission in Britain are unable to invite the media to interview them. An interview with the President and the Minister should have been arranged for free.
In Colombo, editors were tricked into taking part in what was called the regular monthly breakfast meeting with President Mahinda Rajapaksa last Wednesday. When editors or their representatives from the media turned up, there was no President Rajapaksa for the event being held at the Presidential Secretariat. Instead, there was Presidential Secretary Lalith Weeratunga, Sajin de Vass Gunawardena, Monitoring MP for the Ministry of External Affairs, EAM Secretary Karunatilleke Amunugama, Chris Nonis, Sri Lanka's High Commissioner to Britain and Bandula Jayasekera, International Affairs spokesperson to the President.
A journalist asked: Usually this meeting is with the President. Is the President angry with us? Is that the reason he has not come to meet us today?
Lalith Weeratunga: He has been travelling a lot. Yesterday he was at the function of the 700th anniversary celebration of the Asgiriya Temple in Kandy. He is due to travel again tomorrow. I am sure on his return he will meet with you. Why should he be angry with you?
Here are other highlights of the news conference:
Q: There are reports that the President was not informed about the situation he would face in London, before his visit. What is the position regarding this.
Weeratunga: We helped in taking the decision to go ahead with the trip. The main invitation was to take part in the Queen's Diamond Jubilee celebrations. As you know the Commonwealth Heads of Government meeting is due to take place in Sri Lanka next year. There has been some opposition to this meeting taking place in Sri Lanka. This was a good opportunity for the President to visit UK and also it was matter of courtesy for the President to visit after he was invited. After the incident at Oxford we were informed that such situation can arise. There were discussions with the Police about the situation.
Sajin Vass Gunawardene: We were well aware of the situation. But we had to decide as a country do you face the threat of the LTTE and the diaspora or not. The protests, which they held in London, are not only against the President, today it will be against Sri Lanka, tomorrow it can be some other reason. The bigger problem will be for the British government.
Chris Nonis: I should emphasize that this visit cannot be compared with the Oxford visit.
Weeratunga: The meeting with the British PM was not just a short meeting.
Nonis: It was a useful meeting. First time there was a formal private meeting with the Prime Minister. That is why the diaspora is opposing. During the meeting the post-conflict situation, the LLRC report were discussed. There are some 288 recommendations in the LLRC. The issues of rehabilitation, demining were also discussed. The issue of reconciliation, reconstruction and vocational training for the former LTTE cadres were also discussed.
The meeting lasted about 15 minutes and it stopped because the Queen arrived at that time for the lunch.
Sajin Vass Gunawardene: This was an extremely successful visit.
Weeratunga: During the meeting the British PM apologized for what had happened. The President had responded saying he was 42 years in politics and he had faced protests.
Weeratunga: We have told our side of the story.
Weeratunga praised Scotland Yard for the security provided. However, official government spokesperson and Media Minister Keheliya Rambukwella told the post-cabinet news conference on Thursday that the Scotland Yard should take the blame for Rajapaksa's inability to address the Commonwealth Business Council sponsored event. High Commissioner Nonis' claim that the talks with the British Prime Minister, David Cameron were a "useful meeting" is understandable. However, it clearly underscores the failure of his High Commission to secure a meeting for formal bilateral talks with Rajapaksa, the Chair in waiting of the Commonwealth Heads of Government Meeting (CHOGM). Hence, "serious talks" between Sri Lanka and Britain had to be held with all of them standing with the realisation that the Queen would arrive any time for the lunch.
If this is what senior Sri Lankan government personalities consider a "successful visit", so be it.
A British High Commission spokesperson, however, told the Sunday Times Premier Cameron did not extend any apology. She said: "The Prime Minister expressed his sympathy that the speech had been cancelled at short notice. This was not a government decision. It was made by the Commonwealth Business Council which is independent. We respect the legitimate right of UK citizens to protest, but this has to be balanced with the right to free speech. The CBC took its decision after careful consideration of the potential impact that large-scale policing of the protests would have had on the City and we respect that decision."
The main opposition UNP is to make another attempt to raise the London fiasco issue in Parliament. Mangala Samaraweera, the party's head of communications and former Foreign Minister in the Rajapaksa cabinet, told the Sunday Times if as claimed "it is an extremely successful visit," why did they prevent us from discussing this matter in Parliament? It is still not too late. Let them come and tell the House their claims. We can place our own credible information and let the people decide whether Rajapaksa's UK visit was a second time disaster or an extreme success."
Samaraweera was alluding to Speaker Chamal Rajapaksa flatly turning down a request from Lakshman Kiriella (UNP - Kandy District) to debate the events that occurred in London. One is reminded of what Mark Twain said, "A half-truth is the most cowardly of lies."