Lahiru Karunapala, a 19-year-old from Ratnapura was born with a deformed leg. He received his first artificial limb in 2000 and would stay at the residential hostel for two weeks while it was fitted. Thereafter, he had a new limb fitted every year. Helped with an educational grant, this bright young man has obtained 3 A's in the Advanced Level examination and is now waiting to enter the Peradeniya Medical Faculty.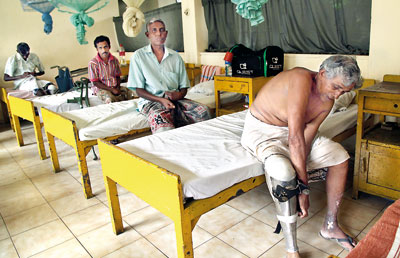 A place to stay: The hostel at the Friend in Need Society (above) and a society members photo from 1920.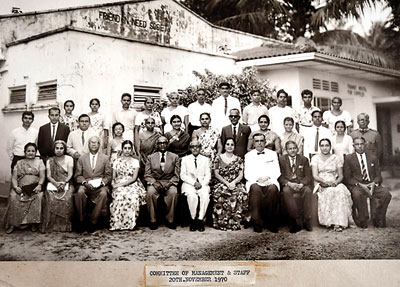 Lahiru's story is one of many that the Friend in Need Society which notched up an impressive 180 years in service to the needy, in March this year has been instrumental in. Established in March 17, 1831 by Governor Sir Edward Barnes when Ceylon was a British colony, it was the first charitable organisation to be set up in the country.
"We believe it was first a transit home for war wounded," said Ms. Kalyani Ranasinghe, President of the Friend in Need Society. "The poor and destitute in the Municipality of Colombo were aided with a monthly grant which still continues to be given to some survivors of the original recipients' families."
At its inception, the Governor was the patron of the society and today the President of Sri Lanka continues to serve as patron. Run entirely on public donations, it is managed by volunteers with a committee of 18 members and about 30 paid employees.
Prof. A.H. Sheriff Deen is the Vice President. The society's main programme now is the Jaipur Foot project, which was started in 1982, on the concept of Prof. P.K. Sethi of India. At that time Sri Lanka did not have proper prosthetics, Kalyani explained. Those who had lost a limb due to some mischance would hobble around on a wooden stump. "Friend in Need was the first to start the Jaipur Foot concept with the technology of Prof. Sethi. Now many prosthetic centres have been set up in the country. However, this is the only place where needy civilians could get a limb free of charge."
"The Jaipur limb is called the sports limb," says Kalyani. "One can climb mountains with it. It is very durable and waterproof. It is very practical as the user can walk barefoot or even get into a paddy field. The foreign foot piece cannot do all that."
Subhani Udeshika, 21 years, has amply demonstrated the flexibility of the Jaipur Foot. She was born with one leg only up to the knee. She came to Friend in Need when she was two years old and was fitted with her first limb. Since then she has received a new limb every year and is now on her 19th. "As you grow taller the leg needs to be replaced," Subhani said. She has participated in athletics at the AIDEX, the annual sports festival for Jaipur foot users, from 1998, winning the 100 m, 200m sprint events and long jump. Participating in the Pacific Games in Malaysia in 2006, she won 2nd place in 200 m, and 2nd place for 100m in Japan at the Asia Youth Paralympics in 2009. Subhani was a beneficiary of the education grant scheme of Friend in Need from Grade 5 up to O Levels. She is now gainfully employed at the MJF School in Kandana, teaching children with Down's Syndrome. " I am very grateful to the Friend in Need Society for the limbs I received and for my education. I only use this limb for sports. I am used to it and comfortable with it," she says.
Subhani said she missed qualifying for the London Paralympics as her timing was not up to the mark.
Speaking of the educational grants they provide, Kalyani said in rural areas, a child born with congenital defects suffers social stigma in the village. The parents often do not send the child to school. When such a child needs a limb, Friend in Need provides the limb and also gives a grant to ensure the child goes to school. The educational grants are given to recipients of the limbs. "One child with prostheses for both legs went to university. There are doctors and engineers who have come for limbs."
There are many such students who have made good with the help received from Friend in Need Society. Pramukshi from Moratuwa, the daughter of a three wheeler driver, had a congenitally deformed leg. She is using a Jaipur leg for the past five years and also received an educational grant. She is hoping to pursue a career in law. At present 50 – 60 students receive educational grants.
Self employment grants are also given to recipients of limbs to help them stand independently. Interest-free loans are given and when the initial loan is repaid further loans are given to improve their enterprise. The Project Field Officer said this project is being coordinated by Prof. Sheriff Deen together with a Board. Funds are solicited from voluntary donors. Following a survey done in 2008, disabled persons in the Colombo District and recipients of a limb from Friend in Need are considered for these grants. From 2009, self-employment assistance has been given to about 60 beneficiaries.
H.A. Premaratne, a tree cutter from Hatton lost a leg when a log fell on it. He was fitted with a limb and was selected for a self-employment loan for a home gardening enterprise. He and his wife grow vegetables and supply homes in the neighbourhood. Having repaid his loan of Rs. 10,000, he was selected for the second stage with a loan of Rs. 57,000 to build a greenhouse. The funds for this were received from MJF Foundation. "It was a great help to us as it encouraged us to do a job and progress," Premaratne said.
Polio victim Supun Pieris who received calipers for his leg and two self-employment loans, now successfully operates a tea house in Wattala, selling tea, breakfast, lunch packets, short eats and sweetmeats.
Standing tall: Subhani and Lahiru
The annual AIDEX festival is another regular activity of the Friend in Need Society. Kalyani said Prof. Sheriff Deen was the main organizer of this sports festival for Jaipur foot users. "It provides fun and fellowship to the participants and prizes are distributed irrespective of winners or losers," she added.
Yet despite the many heartening stories, keeping the projects going is an uphill battle. "Funding is a huge problem for us," says Kalyani adding that they are looking to banks and corporate organisations to contribute towards the Jaipur Foot project as part of their CSR projects.
Hope for Children UK, funds limbs for children under 18 years, she says, also mentioning those who donate a limb in memory of a loved one. "We have somehow managed to raise funds all this time though it is not easy." The cost of limbs range from between Rs. 8,500 to Rs. 20,000, depending on whether it is above or below knee, aluminium or polypropylene.
While the limbs are being fitted, a resident hostel on site provides accommodation and food for about 20 – 25 inmates, for two to three weeks. This too requires funding. A mobile workshop, donated by the Princess Diana Memorial Fund, takes the whole facility to different sites. Immediately after the end of the war, five camps were conducted in Killinochchi, Menik Farm, Mannar, Vavuniya and Trincomalee. Nearly 1,000 limbs were provided to civilians caught in the crossfire. These camps were sponsored by various organisations. The limbs are fabricated on site, 100 – 200 every week.
All through the 180 years of its existence, Friend in Need Society has rendered yeoman service to the poor and needy. Against all odds, the volunteers work hard to secure funds and continue their good work.