The SriLankan Airlines special flight to London with President Mahinda Rajapaksa and entourage on board last Sunday shifted departure schedules at least twice.
This was after the Sri Lanka High Commission in Britain warned that Tamil diaspora groups were planning to stage protests at Heathrow Airport. He was to leave earlier that day and arrive in London in the night. Instead, he turned up at the Carlton Super Seven's series rugger match at the Police Grounds in Thimbirigasyaya.
There he saw British High Commissioner John Rankin and invited him to take a seat near him. "Forget about what the newspapers have been reporting," others around heard Rajapaksa telling Rankin. He was alluding to media criticism after the envoy's remarks in his High Commission's own website. The British envoy had wanted military camps in the north to be reduced to levels existing in the south. Such calls for demilitarisation have been made in official statements issued by other envoys and governments too.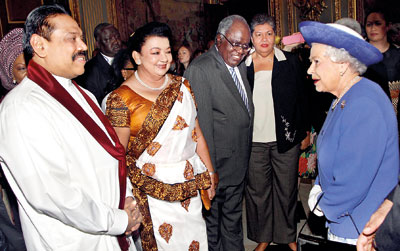 Britain's Queen Elizabeth meets with Sri Lanka's President Mahinda Rajapaksa and first lady Shiranthi Rajapaksa during a reception prior to a Diamond Jubilee lunch with Commonwealth Nations Heads of Government and representatives in central London . REUTERS
However, a group within the UPFA government said the remarks were a counter to a public declaration made by Rajapaksa only a few days earlier. He told the Victory Day celebrations on May 19 that no military camps in the north would be shut down. He said they were necessary for reasons of "national security."
The same group was to suggest that Rankin be declared persona non grata or a person not welcome in Sri Lanka. The group was robust in its thinking that the President should not "tolerate unfriendly remarks" by those representing western nations but "take them on". Rajapaksa and even some of his senior advisors were not in favour of this stance. It was felt "unwise" at a time when he was to visit Britain and Sri Lanka was to host the Commonwealth Heads of Government Meeting (CHOGM) next year.
The issue was easily resolved over coffee External Affairs Minister, G.L. Peiris had with Rankin. Peiris explained how the envoy's remarks had caused apprehensions. Rankin in turn replied that his statements, a reiteration of his government's thinking, was in no way intended to be a slight on President Rajapaksa nor wilfully timed. An issue that would have plunged relations between Sri Lanka and Britain to a new low was averted by resorting to a basic tenet in diplomacy, engagement. Ironically, such engagements are no longer the rule but the exception.
In 1991, David Gladstone, the then British High Commissioner in Sri Lanka was declared persona non grata by the late President Ranasinghe Premadasa. He was accused of "interfering in Sri Lanka's internal affairs". The envoy had walked into a polling station in Dickwella to talk to staff there during local council elections. Those elections on May 17, 1991 were the last time the Sri Lanka Freedom Party (SLFP) contested on the hand symbol. Gladstone was handed the expulsion order on August 27 of that year - the same day then Speaker, M.H. Mohamed, announced an impeachment motion against President Premadasa.
The strategy of Rajapaksa staffers delaying flight schedules paid off. More than a thousand supporters of the Tamil diaspora had turned up at Heathrow Airport to find there was no Rajapaksa. Most carried the red flag with two guns crossed and the face of a Tiger in the middle. If the absence of the words Viduthalai Pulikal (Liberation Tigers) was to avoid legal issues because the movement remains banned in Britain, the slip was showing. There was every resemblance to the flag of the Liberation Tigers of Tamil Eelam (LTTE). The crowds chanted slogans but dispersed upon learning that the person they were looking for had not arrived. Not even his special flight.
Rajapaksa and his entourage, who left late on Sunday night, arrived at the Heathrow Airport on Monday morning. It was an easy ride from there in a British-built Range Rover with motorcycle outriders. Until he checked into one of the 56 suites at the 28 storied London Hilton on Park Lane, Mayfair, things had gone on smoothly. His carefully choreographed departure plans left the group of protestors flummoxed and their organisers in a quandary. He even ignored the advice of his British security escorts to walk up and talk to crowds who were staging a demonstration in government's favour. He stayed with them for more than ten minutes before returning to his hotel.
Thereafter, however, the Rajapaksa visit was to become a worse encounter than the Oxford fiasco in December last year. He was to deliver the keynote address at the Diamond Jubilee meeting of the Commonwealth Economic Forum on Wednesday morning. Tickets to the session were priced at Sterling Pounds 795 plus VAT (value added tax) or around Rs 157,000. The Sunday Times (Political Commentary) revealed exclusively last week that Rajapaksa was to address the event to be held at the Mansion House located opposite the Bank of England at Bank Junction. The event's organisers, the Commonwealth Business Council, a private sector driven association that does business mainly with government leaders in Africa, declared in a terse statement on their official website that "After careful consideration the morning sessions of the Forum on Wednesday 6th of June have been cancelled and will not take place. The event will therefore commence with lunch at 1300hrs followed by the originally planned afternoon sessions beginning at 1400hrs." This event also portended security threats of sorts. There was nothing to prevent a pro-guerrilla group from obtaining a few tickets, turning up and causing embarrassment through disruptions.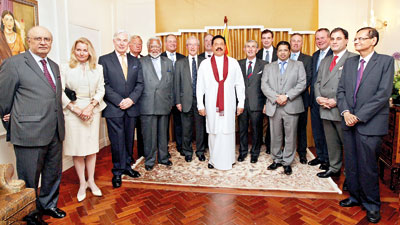 President Mahinda Rajapaksa flanked by British parliamentariens at Sri Lanka's High Commission in London
The reason for the cancellation was a protest by some 3,000 Tamils. They included supporters of the militarily defeated Tiger guerrillas.
A spokesperson for Scotland Yard was quoted by several British media outlets as saying they had agreed to guarantee President Rajapaksa's security. However, the Commonwealth Business Council had "decided it was not in their interest to stage the event because of the extent of policing required and the likely disruption to the City of London." After delivering the address, Rajapaksa was to return to his hotel, freshen up and proceed to Marlborough House.
The lanky Commonwealth Secretary General Kamalesh Sharma was hosting a lunch there for Queen Elizabeth to mark her Diamond Jubilee since her accesssion to the British throne. There were more protests, this time outside Marlborough House. Tamil groups chanted "Sri Lanka President War Criminal." A group of pro-Sri Lanka supporters were also at one end shouting "Rajapaksa is our king" and "Rajapaksa is our leader." The chants were heard in the forecourt of Marlborough House. During the ten minute drive from his hotel to Pall Mall, central London, where Marlborough House is located, Scotland Yard made sure the Sri Lanka flag was not on the Range Rover he travelled. All other commonwealth leaders, only two of them heads of state, arriving for the luncheon had their national flags fluttering from the fenders of their vehicles.
The events were just a repeat of what happened last year. Rajapaksa and an entourage of more than 40 had arrived in London for a much-publicised event -- an address to the Oxford Union on Thursday, December 3. The entourage included Army and Presidential Security Division personnel for security. The Presidential Research and Information Unit (PRIU) termed the event as one where Rajapaksa was the first Head of State of Sri Lanka to address the Oxford Union. It added he was also "the first Sri Lankan statesman who was not previously a member (sic) or held office in the Oxford Union to address it as a guest speaker." Alas, it had to be cancelled after Police said they were unable to fully secure the streets of Oxford after Tamil groups said they were mounting a large protest opposing Rajapaksa's address. They also claimed that it would have disrupted the Christmas shopping atmosphere in Oxford. The event was eventually cancelled. At least one member of the President's security detail, a senior Army officer, faced court action but was on his way to Colombo by the time the order was made.
This time too, one of the groups taking part in the protests, the London based Global Tamil Forum (GTF) went to court to have the visas issued to two senior Police officers in the President's entourage withdrawn. Justice Haddon Cave who chaired the High Court of Justice Queen's Bench Division Administrative Court on Thursday dismissed the application made on behalf of GTF by Counsel Joan Ryan, a former Privy Councillor and Home Office Minister. The Judge ruled that the GTF application is "misconceived" and "does not give rise to discretion to expel visitors already granted entry to the United Kingdom". In any event, he said, the application is "too late" and added that the relevant Sri Lankan Police officers (names were mentioned, one of them not accurately) arrived in the UK on June 3 in "order to accompany the Sri Lankan President on an official visit to the UK, both having already been granted entry to the UK." The GTF, in its application to the court, sought to challenge the decision of the UK Border Agency and the British High Commission in Colombo to grant visas to members of the President's security division who are also senior Police officers. This was on grounds of alleged war crimes. They wanted a court order to withdraw the visas given to the two senior police officers. The same day the GTF filed an application for a "judicial review" and wrote what it called a "pre action protocol letter" to the Home Secretary Theresa May. The legal matters are being handled by the law firm Birnberg, Peirce and Partners.
There is a distinct difference, however, in the publicity generated during the Oxford fiasco and this week's London fiasco. In the case of the former, it did not lead to wide publicity either in the British or other foreign media. This was particularly in the light of the issue being an address at Oxford. However, this week's events dominated the British media for days and the news spread to far corners of the world through news agencies feeding both print and electronic media. On top of that, live worldwide coverage of the Queen's Diamond Jubilee activities was also a means through which considerable attention was focused both on Sri Lanka and President Rajapaksa.
This is particularly on the war crimes allegations and gained greater currency in the light of the US sponsored resolution on Sri Lanka. It was adopted by the UN Human Rights Council in March this year. Almost every front-page report in the British press about the Diamond Jubilee referred to President Rajapaksa in not so good terms accusing him of violating human rights. Protestors carried his effigies and some were burnt on the streets. One hung from a large pole with a rope around the effigy's neck.
No self-respecting Sri Lankan, whatever political ideologies they may subscribe to, would want to see the country's elected President being humiliated on foreign soil. It goes far, far beyond a personality and concerns the good name of the country. Nor will they want to see the name of Sri Lanka being besmirched in the otherwise normal streets of London. Rajapaksa faced up to it without backing out. Otherwise, he could have backed out without showing up at Marlborough House. It is not the responsibility of President Rajapaksa to make detailed arrangements for a visit to London albeit any overseas visit. Nor is it his responsibility to make correct intelligence assessments about what would play out when he visits a particular capital, in this instance London. All these are responsibilities that have over the years remained with relevant authorities. Main among them is the High Commissioner for Sri Lanka, the man on the ground. In this case it is Dr. Chris Nonis. In April, the Sri Lanka High Commission in London boasted that Nonis was presented with the 'Diplomat of the Year' award for Asia, at the annual Diplomat Awards Ceremony at the Langham Hotel in London, in the presence of the diplomatic community. This is the first time a Sri Lankan High Commissioner has won this award. He was chosen from the 164 Embassies and Diplomatic Missions in London, the High Commission said in a news statement.
This week, the High Commission boasted again. This time, it is over its boss, Nonis being appointed to a Trust. A news statement on his appointment said: "Her Majesty the Queen is Head of the Commonwealth of two billion people, in fifty-four nations over five Continents. As Her Majesty the Queen celebrates her Diamond Jubilee she does so as the second longest serving Monarch in a thousand years of British history. The establishment of the Queen Elizabeth Diamond Jubilee Trust is to honour Her Majesty's lifetime of duty over the years. The investments in the Trust aim to make a real and enduring impact on the lives of those who live within the Commonwealth, across all generations and geographical boundaries."
Still the award winning diplomat and one of Queen Elizabeth's chosen few for a Trust, High Commissioner Nonis was unable to protect the honour of both President Rajapaksa and Sri Lanka. Nonis' High Commission speaks of the Trust aims to make a "real and enduring impact on the lives" of those who live within the Commonwealth. However, his inability as Sri Lanka's High Commissioner in Britain to correctly assess what his own President would face on a visit to London has left a poor and enduring impact in the minds of Sri Lankans. His critics at high levels in the government say that his predecessor, Justice Nihal Jayasinghe, may not have been the best diplomat the country produced, and his tenure was tenuous to say the least, but at least he warned the President against coming to Oxford last December. Nonis also happens to be a Director of the Commonwealth Business Council. He has worked in Africa and is a businessman. So the Council would have been of interest to him. Yet, despite being a director of the Council he was unable to ensure the President delivered his address. They ask whether he is the fit and proper person to represent Sri Lanka at the Court of St James.
Embarrassed officials at the External Affairs Ministry did not hide the fact that he was most inexperienced. The fact that a Tamil group of some 3,000, some of them travelling overland in buses from faraway places like Germany and France, had gathered in London could not have been such a top secret. There were unconfirmed reports of the possibility that at least 50 tickets were purchased by the Tamil lobby for the Presidential speech as a second option to embarrass the President had the address not been cancelled. To make it worse, such a situation is despite Patton Boggs, a public relations company in Britain drawing thousands of sterling pounds from the government of Sri Lanka every month for promotional activity.
Another who travelled to London to ensure all arrangements were in place, as we reported in these columns last week, was the Monitoring MP of the Ministry of External Affairs, Sajin de Vass Gunawardena. In his role both as a parliamentarian overseeing the EAM as well as being Co-ordinating Secretary to the President, Gunawardena is one who demands professionalism in every sphere. Yet, the man who was present during the Oxford fiasco was unable to obtain a clearer picture of what his own boss was going to face. Besides the two mentioned, if there are others who were responsible for the London fiasco, only an impartial investigation will reveal. The idea is to ensure that the President of Sri Lanka does not face such unprecedented situations once again. It is not just once but twice. However, such an investigation, an EAM official said yesterday, was not on the cards.
How can there be an inquiry when the Minister tells the state media that the Presidential visit to Britain was "useful". Speaking on grounds of anonymity because he is not authorised to talk to the media, he ended his remarks somewhat sarcastically. He said: "we don't punish those who create blunders repeatedly. We only promote them to lucrative positions. The damage caused is enormous and is greater than in Oxford. The bad publicity has ruined us."
Making matters worse, the Sunday Times learnt, were two separate events that took place just days before Rajapaksa arrived in London. One was a meeting chaired by a senior official of the Foreign and Commonwealth Office (FCO) with representatives of many Tamil diaspora groups in Britain. The official explained that the invitation to Rajapaksa to take part in ceremonies connected with the Queen's Diamond Jubilee celebrations had been extended by Commonwealth Secretariat head Kamalesh Sharma. That explains why so many Commonwealth heads of state or governments were not present. It was not one organised by Buckingham Palace or the FCO (or the British Government) and none of them had extended any invitations to Sri Lanka, he told them. Hence no official protocol would apply, he said. In making those remarks, the official was trying to stave off protestors making accusations against the British government during demonstrations. Since the meeting, the official remained in telephone contact with most groups perhaps with the objective of discerning what they planned. How much of this became known to the Sri Lanka High Commission and through it to the government is not clear. However, what is known clearly is that there was insufficient information to make a fuller assessment. If indeed it was available, the question that begs answer is why it was not taken into account.
As reported in these columns last week, Rajapaksa had sought a meeting with British Prime Minister David Cameron. An EAM official said an official request had been made to the FCO by the Sri Lanka High Commission. This is not only on the basis of Rajapaksa being the head of state and head of goverment among others. It was also on the basis that he is the chair in waiting of the Commonwealth Heads of Government Meeting (CHOGM) in Sri Lanka next year. He accepted the mantle at last year's CHOGM in Perth, Australia. In the absence of such a meeting, Rajapaksa exchanged a few words with Premier Cameron on the side-lines of Sharma's luncheon. Local media quoted his international affairs spokesperson Bandula Jayasekera as saying that it was "a cordial meeting" on "development in the country".
However, British media quoted Premier Cameron's spokesperson Craig Oliver as saying, "The Prime Minister raised the issue of making sure that allegations of war crimes in Sri Lanka were properly investigated". A longer conversation between the two was not possible since Cameron and Rajapaksa were mingling around with 52 other Commonwealth leaders who had gathered for the luncheon.
The second event was a meeting a senior Scotland Yard official had with the same Tamil groups in Britain. It has now become clear that Scotland Yard officials wanted to determine what plans the groups were making for protests and what their numbers would be. The idea was to discern strength requirements since police were deployed for special duty in most parts of Britain, particularly in the greater metropolitan area. Police officials were to tell the Tamil groups that if the crowds they estimate were to turn up, they would have to advise the organisers of the event, the Commonwealth Business Council, to call off Rajapaksa's address. Here again, the Sri Lanka High Commission in London should have been privy to what was happening given Nonis' connections with the Council. If so, the information should have been transmitted to the government agencies in Colombo to help it make a proper assessment. There was both diplomatic and intelligence failure.
The Queen, British media reports sarcastically said: "spent a brief moment with Rajapaksa and appeared to fleetingly shake hands with him as she met guests at a reception in the Blenheim Saloon inside Marlborough House." They added: "He was seated on the table directly to the Queen's left with Babli Sharma, wife of the Commonwealth Secretary-General, Namibian President Hifikepunye Pohamba and his wife, and New Zealand Prime Minister John Key and his wife." Thus, there was only one head of State at Sharma's luncheon besides Rajapaksa. He was from Namibia.
"The 11 tables," the British media reports added, "were named after flowers, with the Queen seated on the Golden Wattle table. Sharma welcomed the guests, saying: "It gives me great pleasure to welcome you all on this very special day in the history of the Commonwealth. The guests were served a Brie and avocado terrine followed by wild sea bass then an apple crumble souffle, apple pie ice cream and caramelised apple. The meal was accompanied by South African wines. "Ceylon Tea" was served at the end. Heads of state and representatives from Australia, Canada and the African nations were welcomed by Commonwealth Secretary-General Kamalesh Sharma."
How much damage those responsible for the London fiasco has caused both in Britain and elsewhere can be gauged from a sampling of reportage in newspapers and their different headlines:
The Guardian (UK)- SRI LANKAN PRESIDENT CANCELS SPEECH IN LONDON OVER PROTEST FEARS - "The President of Sri Lanka has been forced to cancel a keynote speech in the City of London after concerns about the threat of large demonstrations by Tamil Rights groups.
"Mahinda Rajapaksa, who has been accused of presiding over human rights abuses after allegations of war crimes by Sri Lankan armed forces, did however attend a lunch for the Queen hosted by the Commonwealth secretary general at Marlborough House on Pall Mall, central London.
"The Sri Lankan president was jeered as he swept through the main gate in a Range Rover. His car did not carry a flag because of security concerns. The Queen spent a brief moment with Rajapaksa and appeared to fleetingly shake hands with him as she met guests at a reception in the Blenheim Saloon, inside Marlborough House……"
Independent Television Network (ITN) - TAMIL PROTEST AT COMMONWEALTH LUNCH - "Hundreds of Tamil and human rights campaigners have had a demonstration outside Marlborough House in central London. There were angry scenes as they voiced their opposition to Sri Lankan President Mahinda Rajapaksa's presence at a lunch for Commonwealth heads of state. Mr. Rajapaksa was jeered as he swept through the main gate in a Range Rover……"
BBC World Service Television: TAMIL PROTESTS AT ROYAL LUNCH FOR COMMONWEALTH LEADERS - "Hundreds of Tamil and human rights campaigners gathered outside Marlborough House in central London in opposition to Sri Lankan President Mahinda Rajapaksa's presence at a lunch for Commonwealth heads of state attended by the Queen. Mr Rajapaksa was jeered as he arrived through the main gate, his car not carrying a flag because of security concerns. Peter Biles reports………"
THE HINDU (India): RAJAPAKSA AGAIN CANCELS SPEECH IN U.K. - "Sri Lankan President Mahinda Rajapaksa was on Thursday forced to cancel a speaking engagement in the City, London's business hub, because of security concerns after Tamil activists threatened to hold a large demonstration against alleged human rights abuses in Sri Lanka.
"The Sri Lanka High Commission said Mr. Rajapaksa was to give a keynote speech at the Commonwealth Business Council (CBC), which had organised the event, did not give any reason and simply said on its website: "After careful consideration, the morning sessions of the Forum……..will not take place.
"Scotland Yard said it had agreed to guarantee the President's security but the CBC had "decided it was not in their interest to stage the event" due to excessive policing requirements and the likely disruption to businesses in the area. During the President's last visit to Britain in December 2010, a speech he was to give at the Oxford Union debating society was cancelled because of security concerns….."
On Wednesday evening, Rajapaksa flew from London to Rome. He had an audience with the Pope on Thursday and returned to Colombo yesterday. Tomorrow he will chair a re-scheduled weekly cabinet meeting. He is due to leave for Cuba and Brazil almost immediately thereafter.
This week's London fiasco clearly shows that it is not only the conduct of Sri Lanka's foreign policy, if one does exist, that has suffered. Even in the conduct of diplomatic relations with other countries, accepted norms have been ignored causing embarrassment to a President and humiliation to a nation. It seems most of Sri Lanka's envoys are happy conducting foreign relations with their home base through news statements that speak of their winning prestigious awards and appointments. Even the President of Sri Lanka, his own standing, and the interests of the country matter little to them. External Affairs Minister G.L. Peiris seems to have little or no control. Unless the UPFA government acts, that too sooner, whatever little remains of the Foreign Service will be gone. It cannot then be blamed on the Tamil diaspora, remnants of Tiger guerrillas, NGO mischief or on foreign conspiracies.