The current economic policy thinking in Sri Lanka is on inward looking import substitution strategies. This, despite its failure, especially in the 1970-1977 period, when the economy grew more slowly due to low productivity than during periods of liberal economic policies. Outward looking strategies, based on both efficient import substitution and export promotion founded on incentives that are uniform for both exports and imports have been successful in Sri Lanka.
Admittedly there were limited successes of import substitution, as in rice production and other food crops. This was because it was a defined goal of the country rather than overall economic efficiency. Import substitution can be an important strategy for development of selected areas of economic activities and for defined periods when the overriding goal is not optimum efficiency but some degree of self-sufficiency. The pitfalls of inward looking policies as an overall strategy have been amply demonstrated in the country's post-independent economic history. Despite this experience, there has always been an emotional attachment for import substitution to achieve self-sufficiency, regardless of the economic costs of that goal.
Trade is a key factor in the economic development of Sri Lanka. It is the engine of growth for the economy. The second in the Gamani Corea Foundation series of lectures at the Marga Institute delivered by Sarath Rajapatirana, former World Bank Economic Advisor, who led the World Bank team that produced the 1987 World Development Report on 'Industrialisation and Trade' was a comprehensive clear exposition of why a liberal trade regime is needed for robust economic development. He argued the need for a liberal trade policy for faster economic growth, employment generation and poverty reduction.
Features of liberal trade regimes
Rajapatirana defined a liberal regime in a wider context than one confined to trade to include private-sector-led development strategies, as trade alone will not raise productivity so crucial for higher GDP growth. He pointed out that Sri Lanka attempted to establish liberal trade regimes in the past but has not been able to maintain them and that the present trade regime has many deficiencies.
The key features of a liberal trade regime are that tariffs rather than non-tariff measures. They are the main instrument of trade policy. There are no ad hoc changes of rates and coverage. There should also be low levels of variance in effective rates of protection (protection accorded to value added in each activity) that supports better resource use in line with comparative advantage. Such regimes are also characterised by competitive exchange rates that help to keep the economy to be efficient and the trade balance and the balance of payments sustainable. Its low bias against exports (arising from low import tariffs and competitive exchange rates) helps to increase export growth and supports a manageable trade balance. It is thus largely a private-sector-led strategy based on sector neutral incentives.
Why liberal trade
Both theoretical and empirical work, Rajapatirana pointed out, underscored the need for liberal trade beyond GDP growth to address issues of employment, poverty and income distribution. He cautioned that liberal trade regimes did not mean that some activities will not be supported by the government. However he stressed that these needs to be clearly justified.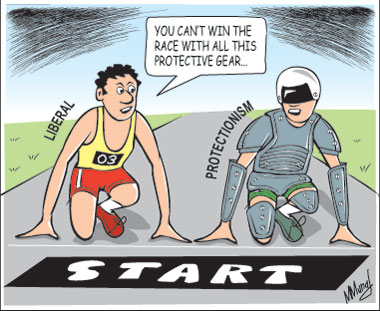 A pertinent point he made was that liberal trade provides a better framework to resist corruption than one riddled with various restrictions that give wide discretion to bureaucrats. A liberal trade regime that uses tariffs rather than non-tariff measures like quotas as the main instrument of trade policy, leads to greater transparency and predictability of policies. "It acts as a guard against macroeconomic excesses and serves as a warning system before things can get out of hand. And, also makes the economy more flexible, prices adjust rather than quantities to handle external shocks. Negative shocks do not always lead to high unemployment."
Current trade regime
Rajapatirana characterized today's trade regime as highly protective. Tariffs dominate with around 92 per cent of tariff lines, which is a good thing, but total protection rates are high due to many para tariffs such as surcharges, cesses and various taxes added to customs duties. This meant that the trade regime is less transparent and more complex. Despite reduced tariff rates in June 2010, high levels of effective rates of protection and wide variance prevail, compared to our own past liberal regimes and that of our competitors. Moreover, tariff rates are non-predictable and subject to many ad hoc and arbitrary changes, sometimes with monthly changes. This makes effective rates of protection also non-predictable and arbitrary.
Besides, he pointed out that the exchange rate has been non-competitive as it had appreciated since 2006 until the recent depreciation of the currency. The highly over-valued exchange rate, he argued, contributed to huge current account deficits and loss of reserves. It has acted as a tax on exports and a subsidy on imports. The attempt to hold on to an appreciated exchange rate has led to a significant loss of reserves, even after signing a standby programme with the IMF in July 2009.
The trade and investment environment, he noted had increasingly public sector involvement in trade as in other activities. Many private enterprises have been taken over by the government. This and the no-privatisation policy were instances of departures from a liberal economic policy regime. There was no institutional framework to support a liberal trade regime, Rajapatirana asserted.
What needs to be done?
The rationalisation of the country's tariff system and the elimination of most non-tariff barriers would be crucial in establishing a liberal trade regime and there is a need for a centralised place where trade policy is formed. Furthermore, Rajapatirana was of the view that the public and media must be invited to participate when they are formulating and implementing trade policies. He proposed the establishment of a Presidential Tariff Commission, and subsequently a greater level of public dialogue in the formation of economic policy. This would help to increase transparency in trade policy making as well as balance interests between consumer and producer interests.
Challenges to a liberal regime
Rajapatirana concluded his lecture, outlining the challenges to maintaining a liberal regime. He pointed out that in Sri Lanka and most other countries, liberal trade regimes were abandoned due to macroeconomic instability, either through a loss of reserves, appreciated exchange rates or terms of trade shocks; changes in the ideological make-up of governments; a loss of dynamism in the trade regime as it becomes more complex, non-transparent and unpredictable; and when trade taxes become the main source of revenue as other taxes yield less revenues. The latter happened in Sri Lanka to finance the war, as other sources of revenue were more difficult.
A good understanding of why liberal economies prosper and tailoring the principles of a liberal trade regime to the realities of the Sri Lankan economy is imperative. Retrogression into a controlled regime once again would retard the growth momentum of the post-war years.