The aftermath of this year's International Women's Day has Raaya Gomez and the team of interactors at St. Bridget's Convent looking back with a great deal of satisfaction on the completion of a successful awareness project.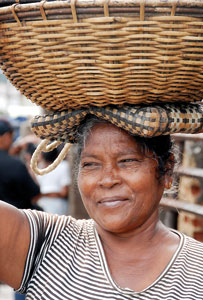 Pic by Praveen Namasivayam
The product of an animated discussion on the injustice faced by women, 'Her 2012' is one of the first Interact Movement projects focused on women and their rights.
"The interact movement has never directly addressed women's issues or even celebrated women's day in the recent past. As a student of a leading girls' school, I felt it was important to address the many issues women face today and create awareness on these issues," says Raaya.
Accordingly, 'Her 2012' dealt not only with some of the most pressing issues faced by women today; but also on the diverse roles played by women in society. Determined that the project would not be limited to a single Women's Day event, Raaya and her team devised several phases from basic awareness to active participation by Colombo's youth.
"We began by distributing leaflets to teachers and students from Grade 9 and upwards, which contained information on Women's rights, followed by a poster campaign and ribbons distributed to be worn as a symbol of celebration and activism," recalls Raaya.
Observing the growing number of students finding new ways of expression through photography, the team called upon young photographers to capture what it means to be a woman in Sri Lanka. "The photography exhibition and competition really gave the participants a chance to interpret a word and express themselves through images, and the feedback received was very enthusiastic," says Raaya.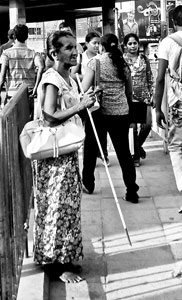 Pic by Ranmith Welikala
Often incensed by the unfair and condescending stereotyping women are subjected to by society, the team of interactors effectively picked up on these attitudes; giving them a forum for discussion at the Women's Day event and panel discussion which was the final phase of 'Her 2012.'
Two docudramas- "beating violence"- a video on domestic violence screened at UN women's day in 2009 and "threewheel Rekaha" - based on discrimination against women- were screened at the event, followed by a panel discussion by Ruhanie Perera and Dilrukshi Fonseka; moderated by Shyamala Gomez.
"Although student participation from other schools was not as high as I expected," says Raaya, "the students who came did enjoy themselves.
I had many boys coming up to me after the project and telling me they learnt something new and the panel discussion really gave them something to think about. That was one of the highlights for me- hearing that from a group of boys was really good and I'm glad they learnt something."
Strong believers in the fact that seemingly trivial instances of harassment like getting hooted at on the road or in a bus are issues which deserve more attention in the future, the Bridgetine interactors are satisfied in the knowledge that to a great extent, this project gave them and women a voice and an audience to whom they could make their views known as a starting point for change.