The decision made by the group of emerging economic powers known as BRICS to extend credit to each other in their own currencies would seem to have important implications for developing countries in a western dominated global economy. At the five-nation summit concluded in New Delhi on Thursday, the group comprising Brazil, Russia, India, China and South Africa signed two landmark agreements aimed at eventually replacing the dollar with their own currencies for trade amongst themselves.
The five world leaders also agreed to explore the possibility of creating a 'BRICS Bank' that would provide funding for infrastructure and development projects, thereby reducing dependence on the western-led financial institutions, the IMF and World Bank.
"The euro and dollar are no longer seen as unquestionable monopolies in the role of reserve currencies. Clearly the world needs more reserve currencies," Russia Today reported the chief economist of Deutsche Bank, Yaroslav Lissovolik as saying. The 24-hour Russian news channel added that Russia and China have been trading in the rouble and yuan for several years, and that now Russia plans to expand local currency settlement with India.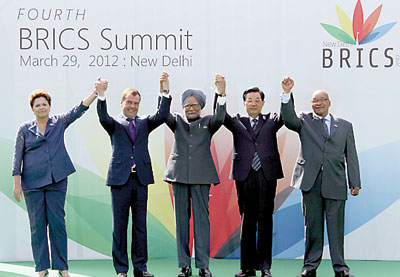 (L-R) Brazil's President Dilma Rousseff, Russian President Dmitry Medvedev, India's Prime Minister Manmohan Singh, Chinese President Hu Jintao and South Africa's President Jacob Zuma pose for a photograph during the BRICS summit in New Delhi . REUTERS
Two agreements -- the 'Master Agreement on Extending Credit Facility in Local Currency' and 'BRICS Multilateral Letter of Credit Confirmation Facility Agreement' were signed by development banks of the five BRICS countries, in the presence of their respective leaders in New Delhi.
It is not clear at this point what the ramifications of this initiative will be in relation to Sri Lanka's international trade. But in so far as it represents an alternative to the inherently exploitative North-South relationships that currently dominate world trade, the move offers hope to developing countries including Sri Lanka that the system is changing. Sri Lanka can appreciate where these reforms are heading, since it has felt the negative impact of the US-imposed Iran oil sanctions along with other developing countries similarly dependent on Iranian oil. Countries like Sri Lanka became 'third party' victims of the sanctions, which banned from the US financial system any financial institutions that paid (in dollars) for Iranian crude oil. India decided to ignore the US sanctions and is reportedly paying in gold for Iranian crude.
Sri Lanka meanwhile faces serious difficulties in meeting its future fuel requirements and has had to seek alternative supplies from Oman and Saudi Arabia. The US move is aimed at punishing Iran for its nuclear programme. Western powers believe Iran is secretly building a nuclear weapon, while Iran asserts its right to develop nuclear technology for peaceful purposes.
Although BRICS does not have an overtly political agenda, it is interesting that the summit's joint declaration (the 'Delhi Declaration') ventured to express views on political developments in some of the world's trouble spots. On Iran for instance it said:
"The situation concerning Iran cannot be allowed to escalate into conflict, the disastrous consequences of which will be in no one's interest. ….. We are concerned about the situation that is emerging around Iran's nuclear issue. We recognize Iran's right to peaceful uses of nuclear energy consistent with its international obligations, and support resolution of the issues involved through political and diplomatic means and dialogue between the parties concerned, including between the IAEA and Iran and in accordance with the provisions of the relevant UN Security Council Resolutions."
Welcoming the UN-Arab League peace effort in Syria, the Declaration called for "an immediate end to all violence and violations of human rights in that country," whilst advocating "broad national dialogues that reflect the legitimate aspirations of all sections of Syrian society and respect Syrian independence, territorial integrity and sovereignty." By implication this suggests that BRICS does not support the 'regime change' agenda of some western states.
Commenting on the Arab-Israeli conflict the Declaration called upon Palestinians and Israelis to create the conditions conducive to resuming negotiations "while avoiding unilateral steps, in particular settlement activity in the Occupied Palestinian Territories."
These statements indicate that the emerging powers seek to assert a stance on global political issues independent of the West. Russian president Medvedev in a statement on RT television said that "One of the priorities for BRICS for the years to come should be the strengthening and the key role of the UN Security Council …… and also ensuring that the UN is not used as a cover for regime change and unilateral actions to resolve conflict situations." There is an obvious reference to Libya here.
The Delhi Declaration made an indirect reference to India's bid to become a permanent member of a reformed UN Security Council, when it said, "China and Russia reiterate the importance they attach to the status of Brazil, India and South Africa in international affairs and support their aspiration to play a greater role in the UN."
Xinhua quoted the spokesman for the Chinese delegation Qin Gang saying the summit was a success "as it has again showcased the cooperative partnership among BRICS countries, delivered a positive message to the world that BRICS is a united grouping aimed at win-win cooperation."
But some observers point out that in spite of their apparent show of unity, differences persist within this group that collectively represents 40 per cent of the world's population and 20 per cent of its GDP.
Regarding the idea of a BRICS Development Bank, for instance, a 'Times of India" report said Indian finance officials saw it "primarily as a way of legitimizing the use of Chinese currency overseas." They feel that "any BRICS bank would essentially be a Chinese bank, because none of the other countries has the financial depth to fuel such an institution." India wanted the global financial architecture to change but at a much slower pace, it said.
It may take some years before the newly signed BRICS agreement for using local currencies in trade, and the 'BRICS Bank' idea, are translated into action. But these would seem to be their boldest initiatives so far, in a context of global economic downturn where India and China are fast emerging as world's new economic power centres.