Poisonous gas from a cesspit may have caused the death of a foolhardy youth who literally dug his own grave last week at Wan-Ela in Kantale during a botched attempt to enter the Guinness Book of World Records.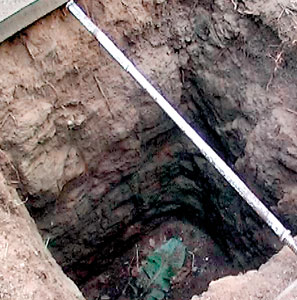 A stunt that went gravely wrong: The pit that was dug
Twenty-four-year-old Kumara Basnayake, a well-known stuntman in the area, got himself buried in a pit six feet deep to rehearse for an event which he believed would find him a place in the Guinness Book as the man who spent the longest time in a sealed pit.
At the inquiry into his death, it was revealed the pit was dangerously close to a cesspit. The inquirer into sudden deaths, Namal Udaya Kumara, ordered the soil samples from the pit be sent to the Government Analyst's Department for a report.
The youth's family members and friends told the inquiry that he loved stunts and would try out what he had seen on television. He once had a tractor move over his body. Five years ago, he joined the Civil Defence Force and performed stunts at temple functions. This earned him the nickname Pansalgodella Sando.
Kumara's mother Y. Leelawathie told the inquiry that her son had wanted to set a world record and assured her that she need not fear for his life. He went to a lawyer and signed an affidavit stating that no one should be held responsible if he died in the attempt.
"My son was eager to set the world record and wanted to practise for it. He had told a neighbour to inform a politician about his plans. With the help of two of his friends, he dug a 6'x3'x3' pit and would bury himself inside it for a few hours. On March 3 around 9.30 in the morning, he got inside the pit. He wanted to stay buried for seven hours. Before his friends closed the pit, he told me to give them lunch and he would come out of the pit by 4.30 p.m.," Ms. Leelawathie said.
She said she feared for his life and after a couple of hours told his friends to take him out. But his friends were equally eager about the world record which he planned to set on March 23. They told me there was some more time for it. "I insisted that they take him out. When they took him out he was unconscious. We tried to revive him by sprinkling water on his face and took him to hospital where the doctors told us he was dead," Ms. Leelawathie said.
His friends, Prasanna Sujeewa and Sampath Kumara, told the inquiry that Kumara would get into the pit and tell them to light a fire on top of it after they closed the pit. On that fateful day, Kumara had told them to light a bigger fire. He had also told them that he was taking his mobile phone. In his previous stays inside the pit, he could take no calls because there were no signals.
"I am taking my phone to listen to songs. Since there are no signals I will not be able to communicate. I am not taking water today," Kumara had told his friends. "He got into the pit and kept his head on his knees. We closed the pit with planks, filled soil over it and then lit a fire on top of it. We had our meals seated close to the pit," Prasanna said.
He said they opened up the pit around 3 p.m and found Kumara unconscious. A neighbour, W.D. Nandawathi, told the Sunday Times that Kumara wanted a deputy minister invited for the March 23 event.
Kumara's neighbours said they supported Kumara's attempt to set the world record but he should have taken more precautions and practised it under the guidance of an expert.
Guinness officials have said they do not enter such dangerous acts in the world record books as a policy.