The JVP has vowed to continue its public protests until the Government brings down oil and electricity prices. JVP MP Anura Kumara Dissanayake told the Sunday Times that his party was calling on the people to join in these protests against the Government, to have a greater impact."The people are made to suffer, while the President and his entourage are enjoying life to the fullest," said MP Dissanayake. He said that the JVP will protest and demonstrate until the people of the country are given some sort of compensation and relief.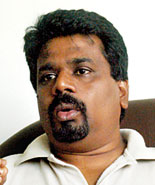 We will take to the streets: Anura Kumara
"We will take to the streets, no matter what they throw at us. It is the right of the people of a democratic country to protest when there is injustice," he said. The JVP last week held its first protest campaign against the fuel price hike.
He said there was no valid reason for such an increase in oil prices, as there have been no changes in international oil prices. "The international oil prices have remained the same, but the Government has issued a false statement in this regard," he said.
Mr. Dissanayake claimed that the promised subsidies to the various sectors were false promises, and that the Government would not follow through on the guarantees undertaken. Expressing concern for the devaluation of the Rupee, Mr. Dissanayake blamed the Government for allowing the Rupee to float, adding that, it would cause an increase in the cost of living.
"The unnecessary wastage of money by the Government is hindering the economy of our country." Mr. Dissanayake added. He said that projects such as the Hambantota harbour and the Norochcholai power station cost billions of rupees in foreign loans which have been taken, but they have made no profits to cover the costs.
Mr. Dissanayake said that the only way the Government will realise the peoples anguish is if the people publicly continue to protest against such high costs of living. He warned that the Government should bring about change before the situation escalates into that similar in Syria or Libya.