The sun has only just begun to warm the water when the first group of swimmers dive in. Cutting through the incoming waves, they head out to sea. Their goal is a distant orange buoy. They are watched over by lifeguards in navy boats…and Julian Bolling paddling in a kayak. "I had to lead them on the course, I had the best view," Julian says once he's back on dry land. A former Sri Lankan champion swimmer, he admires what he saw out there that day: "The speed of their arms was intense, these were world class athletes. The leaders took 25 minutes to finish 1.9km – that's fast."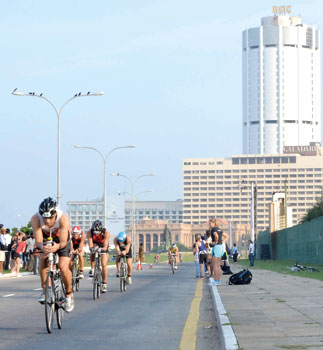 Sri Lanka's Ironman debut with its duet of races - the first Ironman 70.3 event in South Asia and the first 5150 Triathlon in South East Asia - began early last Sunday and stretched out into the heat of the afternoon. Ironically, the leaders had the easier time of it, wrapping up by mid-morning while the amateurs struggled on in the rising heat – they were out there till 2 p.m. Nick Tipper – the first athlete to cross the finish line – claimed his first ever 5150 win. Adam Tuck, from UK, who lives in Qatar, followed Nick across the finish line, coming in second in the same category. Waiting for him were wife Jo and their little girl Jessie. This was not Jessie's first Ironman – though she's only a year old – and she rewarded her father by gurgling in delight over his finisher medal and bright red finisher t-shirt.
The little family tableau was a perfect example of how at Ironman no triathlete stands alone. Friends and family come out in droves to support their loved ones and in Sri Lanka where the sport attracted only a few bystanders, every cheerful face was all the more indispensable. Standing on the pavement, Michelle Conradt, a lithe young woman in a skinny t-shirt with the legend 'Team Conradt' on it, rang a little red Ironman bell with cheerful abandon for every cyclist that passed her on their laps along the length of Galle Face. She was here to support her husband Brett. "Clearly, I go a little crazy at these races," said Michelle, grinning.
Hiroaki Adachi's friends too were still on the bike track. There were enough of them to form a mini Japanese contingent. Just as we began talking, one of them zipped by and Hiroaki took off running and cheering behind him. On the other end, Horace Jacob was finding it harder to hide his nervousness than Michelle. He was here to watch his 24-year-old daughter Shannon compete. "I didn't want her to swim in the sea," he said but was now relaxing since she had started her run. Still, he was determined to keep a careful eye on her progress up and down the promenade.
The lovely spirit of the event was carried not just by the spectators but by the legion of volunteers. Some of them were working in the tent alongside Dr. Stephen Cockeram. They had just treated a few competitors with sea urchin stings, but were braced for anything from heat exhaustion to minor wounds. The whole setup was run by the company Med1 and Dr. Cockeram says they were prepared for 10% of the athletes going down. This is where medical student Kush Goonetilleke really wanted to be, but an abundance of volunteers only left room for her at the finishers tent. Still Kush seemed happy enough with her lot.
She was one of about 250 volunteers according to volunteer coordinator Denise Yuen. They were all over the place, handing out nutrition and finisher medals, controlling the crowd and running the five aid stations along the route. "We've got children as young as 12 to parents who are over the age of 50," said Denise. "For a lot of them, this is their first time seeing Ironman," she added, explaining that many seem to have been really inspired by being able to meet the athletes and watch them train. For her part, "I could never do it," Kush confessed, but added that she's going to take away a great respect for the qualities of "resilience, tenacity and going for your goal," things she could really apply to other aspects of her life. It's the kind of feedback race director Shannon Kurek might like to hear. He told us earlier that one of the great challenges of putting on this event has been generating enthusiasm for it among the locals, many of whom had never even heard of it before.
One of the youngest competitors at only 20 years old and the first Sri Lankan across the finish line, Sahan Rupasinghe made his contribution to popularize the event when he came in fourth in the 5150. "I'm happy to have had this opportunity to represent Sri Lanka," he told a cheering crowd. An accomplished swimmer, he's been engaged in intense training for this event over the last three months and says that next year he's going to attempt the 70.3.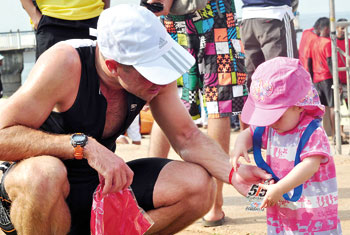 A family affair: Little Jessie Tuck examines her father Adam's finisher medal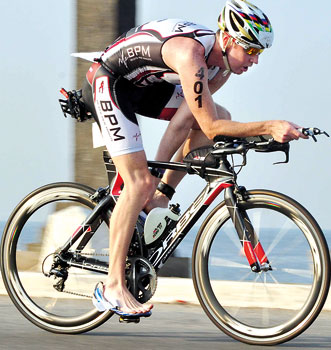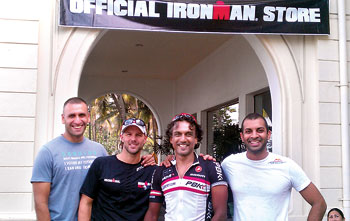 L-r: Shane, Shannon (race director) Rajesh and Binara
If he were to do so, he'll find himself up against the truly serious triathletes. Faris al-Sultan, who won this year's 70.3 with staggering ease, was the world Ironman champion in 2005. "It's always a very great feeling to come first," says Faris, who dubbing the event a 'Tri-Adventure' went on to list less than ideal roads and traffic among the challenges he faced competing. "People didn't know enough about the event," he said, touching on one of the issues that plagued Sri Lanka's inaugural event.
With only one lane closed, athletes were forced to bike and run alongside a steady stream of traffic. Runner up Bryan Rhodes even had a tumble off his bike. Later he described Colombo as the "biggest city I have ever raced in," adding "it was survival out there."
For Ironman 70.3 female champion, Lucie Zelankova, this was a good thing. She went on record to say, "This is a crazy adventure you would not experience anywhere else. I saw something different and that's why I came here."
Not everyone embraced the madness - multiple last minute changes to the route were among the most obvious symptoms of the management struggling to pull it all together and several athletes complained about organizational mess-ups.
Still, they were equally generous to forgive. "As athletes we want everything to be perfect," Nick said, "but the first one is always very difficult to get right. I thought they did very well." Competitor Shanaka Amarasinghe was equally lenient.
"I think it's fantastic that Ironman has come to Sri Lanka. There's been a lot of organizational chaos, because these guys have not had the infrastructure to support them, but if the authorities really get behind it, it will be fantastic," he said, adding that he hoped that more Sri Lankans would sign up for the event next year.