The world's smallest woman has revealed her very big ambitions -- after turning her hand to politics to become the world's smallest election campaigner. Jyoti Amge, who stands just 62.8cm (2ft 6ins) tall, was seen supporting candidates of the Maharashtra Navnirman Sena (MNS) party, ahead of the forthcoming civic election in Mumbai, India.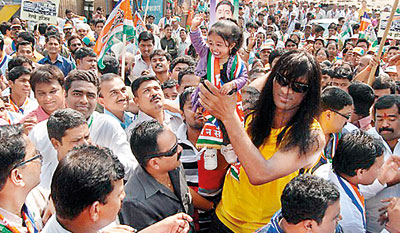 Hitting the heights: Jyoti is held aloft while supporting her local right wing political party ahead of civic elections in Mumbai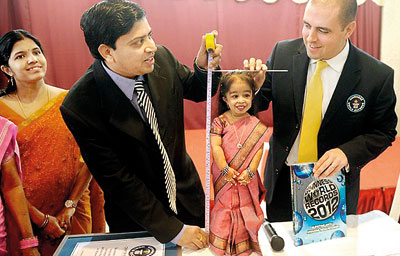 Big news: Jyoti is measured at 61.95cm on her 18th birthday by Guinness World Record officials, making her the world's shortest woman
The 18-year-old was officially recognised as the world's smallest woman on her last birthday in December by Guinness World Records officials. Earlier this week she beamed at a huge crowd after being hoisted into the air while supporting the MSN Party in Mumbai. She was lifted above the crowds by 7ft 1 inch tall look-alike of the WWE wrestler 'Great Khali', drawing cheers from the large crowd who had gathered around her. Jyoti had shown her support for the local right wing party in the local municipal elections this week. However, she fears her diminutive status means she has become too famous.
She said: 'One of the problems with being famous is people mob you wherever you go.
'Many of them ask very irritating questions. If I were not the shortest woman in the world, I would not have become famous.' Jyoti weighs just 12lbs (5.5kg) -- only 9lbs more than she did at birth -- and has a form of dwarfism call achondroplasia, which stopped her growing after her first birthday. She has brittle bones and is likely to need care for the rest of her life. As a teenager at school in Nagpur, Jyoti had her own small desk and chair, but said the other students didn't treat her any differently.
She also has to sleep in a specially-made bed and uses utensils that are smaller than average. This was not Amge's first Guinness record. Until her 18th birthday she was considered the world's shortest teenager, but in turning 18 qualified for the new title. She has grown less than 1cm (0.4in) in the last two years, Guinness said in a statement, and will grow no more due to a form her dwarfism. Her teenage title brought the chance for multiple Guinness-sponsored trips to Japan and Italy for tours and meetings with other record holders, she said.
The title of shortest woman in history continues to be held by Pauline Musters, who lived in the Netherlands from 1876 to 1895 and stood 61 centimeters (24 inches) tall.
© Daily Mail, London