The All-Party Parliamentary Group for Tamils (APPGT) in Britain's House of Commons sent out a note to their Parliamentary colleagues on "an exhibition and situation update on events in Sri Lanka" on January 31.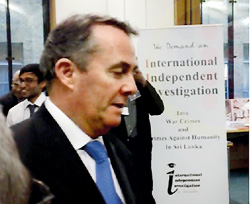 Liam Fox at the exhibition
This is what it said: "We are delighted to invite you to join us for an Exhibition illustrating the background and give an update on the Sri Lankan accountability issues. You will be able to view photographs, speak to members, APPGT MPs and BTF (British Tamil Forum) members in depth on the current progress, while enjoying delicious food served by the Parliament Catering service. Food and drinks will be served throughout the event." It was held at the Attlee Suite in the House of Commons.
Who should be one of the visitors? It was none other than one time Defence Minister, Liam Fox. He viewed the photographs and spoke to a BTF member. "The LTTE is a ruthless terrorist organisation," he intoned.
Then he turned to the Government of Sri Lanka. "I cannot understand how they managed to undo all the help they received," he said. His parting words - I will support the campaign to urge the Sri Lanka government to address 'accountability' issues.
Who's in the good books of whom?
The latest author to compile a book containing the good deeds of the President is none other than Prime Minister D.M. Jayaratne.
Titled Giruwapattuwe Maha Mahinda, the book comprises a collection of articles about President Mahinda Rajapaksa, written by 22 different persons including the Secretary to the Prime Minister S. Amarasekara.

Groping in the Dark Continent
With barely three weeks to go for the 19th sessions of the UN Human Rights Council in Geneva, External Affairs Minister G.L. Peiris is on the second leg of his African tour. The mission of course is to canvass for the support of those countries to back Sri Lanka if and when a resolution is moved.
However, in a move that seemed a marked shift in focus, Dr. Peiris who drafts his own news releases said something different after a meeting with Cameroon's Prime Minister, Philemon Yang.
The news release in Dr. Peiris's own English was sent to Colombo and was distributed by the External Affairs Ministry. This is what it had to say:
"The new thrust in Sri Lanka's foreign policy" is "giving greater weight to relations with the African continent and enhancing mutual benefit from this focus." From when has there been a "new thrust" in Sri Lanka's foreign policy to give "greater weight" to the African continent. What of the Asian and Middle Eastern regions? What of the US and Latin America? As a wag in the External Affairs Ministry remarked, he has run out of thrust in those regions.
Seat-belt law on Presidential fast track
There are times when a question from a journalist at a news conference can lead to new laws. This is what happened when President Mahinda Rajapaksa met with editors last Monday. The editor of a Tamil newspaper raised issue over motorists from Colombo being charged in courts in the outstations for not wearing a seat belt. 'Wouldn't it be easier to have them pay a fine in Colombo instead of having to travel to courts," asked one of them.
Rajapaksa immediately asked the operator to get Police Chief N.K. Illangakoon on the telephone. He was told that the new law stipulated this instead of a spot-fine. The IGP was told to speak with the Attorney General's Department and arrange for laws to be changed. That was to make provision for spot fines on motorists not wearing seat belts.
What was not said that the law governing court cases instead of spot-fines was mainly because spot-fines are an ideal opportunity for the corrupt traffic cop to make a buck on the side where the money goes into his pocket rather than the state's purse.
Last Wednesday, the Cabinet even gave approval to the amending legislation. Another editor who took part in the event remarked "this is much quicker action than an MP raising issue in Parliament."
Ban blacks out his own comments on Lanka
A Sri Lankan journalist based at the UN was one of a "select few" to interview Secretary-General Ban Ki-moon as he began his second five-year term as the chief administrative officer of the world body. The interview focused mostly on the world's political hotspots and the increasing deadlock among the five big powers -- the US, the UK, France, China and Russia -- in the Security Council.
The final question, however, was on the alleged war crimes charges against Sri Lanka and the report of the LLRC. Asked how he plans to handle this, Mr. Ban said: "I want the relevant agencies, such as the Office of the UN High Commissioner for Human Rights, to review and assess the contents of the report. Since the report relates to a member state, it is for the member states to decide," he said, cautiously distancing himself from taking the initiative.
Perhaps what was most intriguing was that at the tail-end of the 20 minute interview, Ban signalled that the tape recorder be shut off. And then for the next 15 minutes he spoke at length about Sri Lanka. But all what he said was "strictly off the record" and not for attribution.
And thereby hangs a tale.
Ranil's headache oil to Central Bank

United National Party leader Ranil Wickremesinghe and his party General Secretary Tissa Attanayake were in Maharagama this week. The occasion was the opening of a shop owned by a staunch party supporter.
Mr. Wickremesinghe bought a bottle of "Axe Oil," a menthol-based product used for headaches or nasal disorders.
In his speech, Mr. Wickremesinghe dealt with the problems confronting the country's economy. He touched on the impending IMF tranche to Sri Lanka.
He said it had become a headache for those at the Central Bank. Therefore, he said, he would send the bottle of "Axe Oil" to those at the Central Bank.
Want your road carpeted? Contact the President
During a tour of Polonnaruwa, President Mahinda Rajapaksa took a break to have lunch at the Sudu Araliya (or White Frangipani) Restaurant. It is owned by Dudley Sirisena, brother of Minister Maithripala Sirisena.
The theme of Rajapaksa's speech during meetings was on road development. So the lunch time conversation was also on the same subject. "I was told by Minister Dinesh Gunawardena that he had come to Polonnaruwa in two and half hours. He had left Colombo at 5 a.m. and reached at 7.30 a.m. I told him that in future he should take three hours," Rajapaksa said.
He added that he had been told by Dudley Sirisena that he had travelled from Polonnaruwa to Kataragama in three hours. Rajapaksa said that in 1971, out of curiosity, he had to drive to Moratuwa to see a carpeted road for the first time. Today, he said, most roads were carpeted. "If there are any roads that need to be carpeted, please let me know," he said.
Cut out from cutouts
Sri Lanka marks the 64th year of Independence. Cutouts and newspaper advertisements wishing President Mahinda Rajapaksa on this occasion are so many.
At the gateway to the City of Colombo at Peliyagoda, there is a huge cutout which says "Noothana nidahase peragaman karuwaneni, Kelaniye api Divi himiyen oba samagai'' (Front runner of modern freedom, we will be with you throughout life - We are from Kelaniya).
Absent in the cut-out was one familiar face. It was Public Relations and Public Affairs Minister Mervyn Silva.
Last year, on National Day, it was Mr. Silva's portraits that were pasted all over the walls in Kelaniya.
Meet our foreign minister
After meeting editors last Monday, President Mahinda Rajapaksa met Colombo-based foreign correspondents the next day, Tuesday. An aide whispered in the President's ears that Minister S.B. Dissanayake had arrived to meet him.
The aide suggested that he could talk on University issues. Turning towards Dissanayake after he was asked to come in, Rajapaksa introduced him to the foreign journalists saying, "Our foreign minister is also here".
Some who were familiar with Dissanayake seemed puzzled. One of them asked "Are you going to make him Foreign Minister?"
Another followed saying you seem to have decided on the Cabinet changes? Is this going to happen, asked another. A ruffled Dissanayake murmured in Sinhala " Oka ehema paththarawala giyoth mata gamata yanna wenneth nehe" ( If this is published in newspapers, I cannot even go to my village).
It's a pleasure to serve the country
The politico who is to promote Sri Lanka's cause before the upcoming UNHRC sessions and at the same time have his way has won the tussle. External Affairs Ministry officials who initially hemmed and hawed on agreeing to this politico's firm request that his "Secretary" accompany him on the trip to some lesser known countries in the UNHRC in Latin America, have now relented. Buckling under pressure, they say it was.
That is not all. The fair lassie will also travel Business Class at the taxpayer's expense. There's also a 'lay-over' in Gay Paree on the cards. One wag in the EAM amused at all the goings on, asked "would it be notes she would be taking down on the trip".
All this while another senior Government minister, however, is also venturing to the same continent accompanied by a senior foreign office diplomat. At least some of them take their duties seriously on behalf of their country.
Douglas beaten in race to garland PM
Prime Minister D.M. Jayaratna on Friday arrived in Jaffna to attend a series of functions. UNP Jaffna district MP Vijayakala Maheshwaran invited him for a foundation-laying ceremony in her hometown in Karainagar.
However, Minister Douglas Devananda who received the information about his arrival to Karainagar rushed to welcome the Prime Minister. Carrying a garland, he waited for the arrival of the PM. But as soon as the Premier landed, it was Ms. Maheshwaran who beat him to garland the PM and welcome him.
World Bank aid sought for mega project
Another mega project to develop the metropolis will get underway by April this year. The objective of the Metro Colombo Urban Development Project is to reduce adverse physical and socio- economic impact of flooding in the Colombo Metropolitan Area and to improve the overall capacity of land use and economic activities.
The Cabinet last week gave approval to conduct negotiations with the World Bank to obtain US $213 million in financial assistance for the implementation of the project which will be carried out by the Ministry of Defence and Urban Development. It is to be completed within three years.
Radhika out who's in?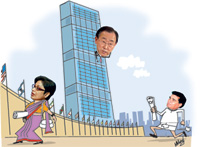 U.N. Under-Secretary-General (USG) Radhika Coomaraswamy, the highest ranking Sri Lankan in the U.N. system at present, will step down shortly as the Secretary-General's Special Representative for Children and Armed Conflict.
Since Secretary-General Ban Ki-moon wants a new team for his second five-year term which began January 1, he has asked all senior officials holding the rank of USG and ASG (assistant secretary general) to resign from their posts if they have completed five years of service. The five year rule is to be enforced with few exceptions.
Radhika is one of the few senior officials who were offered an alternative posting in the field which she has politely turned down. Instead, she has accepted a professorship at New York University's global faculty programme.
With nearly 25 to 30 senior U.N. positions falling vacant within the next few months, Ban has sent a letter to all 193 member states asking them to submit names of qualified individuals to fill these jobs.
Meanwhile, judging by a letter sent out by the External Affairs Ministry to some of the overseas missions, Sri Lanka is interested in vying for some of these jobs. But so far it has not submitted any names.
As one official of the Ministry joked: This may be a golden opportunity for the Government to get rid of the rumbustious (though temporarily silenced) Mervyn Silva.