Sri Lanka Tourism needs to engage in marketing while disciplining its people at the same time and also teaming up with the informal section of the industry, experts said. These observations were made by a group of tourism industry experts, Sri Lanka Tourism Additional Director Dileep Mudadeniya, Jetwing Hotels Chairman Hiran Cooray and President of the Association of Small and Medium Enterprises in Tourism Sri Lanka (ASMET) Suresh D. de Mel at the monthly meeting of the Sunday Times Business Club on Tuesday in Colombo at the Taj Samudra.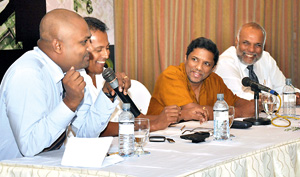 Fron left - Dileep Mudadeniya, Hiran Cooray, Feizal Samath (moderator) and Suresh de Mel.
During a panel discussion on tourism and the way forward, Mr. Cooray observed that the increase in room rates has been raised by overseas customers for which they were compelled to state that this was a move by the government.
However, he notes, that there is a need to communicate with the rest of the world of the improvement in the Sri Lankan tourism product. Commenting on the new entrants to the business, he said that while this was a good sign from local entrepreneurs, foreign investors on the other hand need to also bring in their money like Shangri-La as opposed to simply providing the management, marketing systems and brand use, alone.
This year Jetwing is planning on opening up eight new hotels targeting a different customer base, Mr. Cooray said. He pointed out that Sri Lanka today needs to project the best that is available in the country and communicate this with the world.
The tourism promotion campaign is still being worked out by the Sri Lanka Tourism Development Authority. While engaging in marketing it is important to understand that being on a level playing field with the competitors means Sri Lanka needs to serve the best and not make any mistakes.
The challenge of today would be to ensure that no bad image is reflected on any hotel else it is likely to be posted on TripAdvisor, he said.
Hotels last year increased their rates which were reportedly stated to be higher than some of those in competitive destinations. Meanwhile, Mr. de Mel citing the recent killing of a tourist at Tangalle said that this clearly created a bad image of the country and this highlighted the need to engage the informal hotels to become part of the mainstream tourist establishments.
He pointed out that entrepreneurs have developed over the years within the informal section of the industry and they need to be managed and controlled. Due to political affiliations these hotels continue to thrive, Mr. de Mel noted adding that this is mainly because they do not want to join the formal sector as they would be compelled then to pay taxes.
Towards this end, while an influx of hotels in this informal sector was likely to grow for which the tourism industry was called up to address this acute problem and check on price regulation and food quality is required as well, he said. Mr. Mudadeniya, discussing the way forward and infrastructure development, said that Sri Lanka is different due to the fact that it is Asia's compact, diverse and authentic island driving it to become competitive in the region.
The industry is currently working on attracting increased numbers to the country and in this regard, the government-initiated home stay project would add an additional 2000 room capacity for 2012, he said.
He said a new set of regulations governing the various products on offer like whale and dolphin watching and display of elephants would be enacted soon.
The club sponsor is Etisalat and the host hotel- Taj Samudra and co-sponsor Hameedia.