It's not every day that visitors to the Governor's Residence in Galle are greeted by the strangely incongrous sight of bagpipers in full regalia. Last Wednesday evening the gracious colonial bungalow was alive with their music, as award-winning authors gathered in the garden chatting with local literary enthusiasts amidst loud and colourful displays of fireworks.
| | | |
| --- | --- | --- |
| | | |
| Romesh Gunasekera | Roshi Fernando | Nayantara Sahgal |
The occasion was the 2012 HSBC Galle Literary Festival (GLF) welcome party. Festival Curator Shyam Selvadurai (this is his second year at the helm of GLF) himself a well-known author and Festival Director Amrita Peiris were on the steps to greet guests with Festival founder Geoffrey Dobbs also a familiar presence.
The welcome party was this time coupled with the book launch of three authors . Reading excerpts from their latest work, Roshi Fernando presented 'Homesick', Sri Lanka's internationally acclaimed writer, Romesh Gunesekera presented his period piece, 'The Prisoner of Paradise' while Ashok Ferrey read from 'Love in the Tsunami'.
Set in Mauritius in 1825, Romesh explores the romanticism and exoticism of the island by the Europeans in his book. Speaking about why he based the novel in 1825, Romesh says there are two answers, "There's the flippant answer - that there is very little written about 1825 Mauritius so no one can say I got it wrong," he jokes adding, "the more serious one is that I was in Mauritius in 1998, and what I found fascinating is that there were no indigenous people— who belonged clearly to the place.
| | |
| --- | --- |
| | |
| Former President Chandrika Kumaratunga | Tom Stoppard |
And then I discovered there's a link with Sri Lanka." He goes on to explain the British were fond of relocating people to other countries, particularly prisoners.
There was a small group of Sri Lankan prisoners in Mauritius at the time, some were murderers but a large number were political prisoners, one of whom was Ehelapola. And that was the inspiration for his novel; a love story between a banished prince's interpreter and a young girl from Britain that ends in tragedy.
Roshi Fernando's novel, 'Homesick' is about a family of Tamil exiles in England, the different lives they live, the difficulties they face and how they feel they don't quite belong anywhere. Ashok Ferrey's 'Love in the Tsunami' is another collection of short stories.
Excerpts read, the authors were soon obligingly signing copies of their books. The party drew to a close as the participants were whisked away to gala celebratory dinner before they got busy rushing between sessions for four days as the HSBC Galle Literary Festival 2012 got into full swing. Our photographers Indika Handuwala and Hasitha Kulasekera captured these photographs of the welcome party and the literary sessions that followed.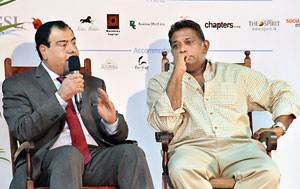 Dr. Izzeldin Abuelaish and Dr. Paikiasothy Saravanamuttu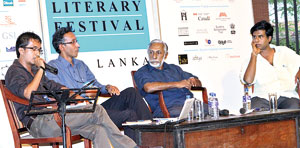 Achinthya Bandara, Sandagomi Coperahewa and Malinda Seneviratne with moderater Ariyawansa Ranaweera