D.S. Senanayake College cruised to their second successive win with a comfortable eight wickets win over Prince of Wales in their Under 19 inter-school cricket game at Wijerama Mawatha yesterday.
DSS was set for the kill when play stopped for tea after bowling out the Cambrians for a paltry 92 which left them with a simple target of 63 runs for victory with one session of play left for the day.
DSS needed just eight overs to reach the required target which they got for the loss of two wickets. Earlier in the day DSS declared their first inning on their overnight score of 215 for 7.
The wreckers of the Cambrians collapse were spinners Savin Cyril and Suchintha Karunaratne along with pacie Supun Madusanka who together shared the ten wickets. At the Colts ground Lumbini MV registered a first inning win over Richmond.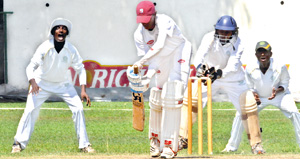 OUT: Pabasara Waduge of Richmond is stumped. The bowler at the other end is Lumbini MV's Damitha Piyadarshana. - Pic by Ranjith Perera
The match between Royal Panadura and Sri Jayawardenapura MMV Kotte ended in a draw at the Panadura Esplanade with the home team dominating the proceedings. A knock of 91 with seven boundaries and two sixes by Chamod Pathirana was the highlight of the drawn match between S. Thomas' and St. Benedict's at Mt Lavinia.
Chamod's knock helped the Thomians, resuming from their overnight score of 64 for 5, to make 148 in reply to the Bens score of 136. St. Benedict's batting the second time made 198 for 8 before declaring with skipper Jason Perera continuing his batting form with 53 and Arjuna Perera making an unbeaten 80.
At Darley Road St Joseph's made a grand recovery against Wesley. The Josephians continuing from their overnight score of 131 for 7 went on make 248 for 8 before declaring. The match between Royal and Nalanda at Reid Avenue got off to a late start at 12.30 p.m. The first day's play too was curtailed to just 25 overs. Nalanda resuming on their overnight score of 80 for 4 made 177 with Lahiru Jayakody scoring an unbeaten 86 with 12 boundaries and a six.
Royal in their turn ended the day making 212 for 6 with skipper Imal Liyanage making a top score of 63. The match fizzled out to a tame draw. St. Peter's took the upper hand in their match against Ananda at Bambalapitiya. The second day's play saw the Anandians who went into bat being restricted to 147 in reply to the Peterites score of 196.
The match at Kurunegala between Maliyadeva and Mahinda Galle was called off early due to bad weather. Maliyadeva batting first made 223 while Mahinda were 90 for 4 during the stoppage.
At Wijerama Mawatha Prince of Wales 185 (Tharindu Dilshan 40, Kusal Mendis 22, Jayanga Peiris 22: Suchintha Karunaratne 3 for 41, Supun Madusanka 2 for 37) and 92 (Shanuka Dulaj 26, Tharindu Dilshan 23: Savin Cyril 4 for 26, Suchintha Karunaratne 3 for 14, Supun Madusanka 3 for 25)
DSS 215 for 7 declared (Duleeka Brahmanage 64, Lasitha Abeyratne 55, Ruchitha Gamage 36, Uvin Bandara 27: Thilan Nimesh 3 for 72, Hashan Fernando 2 for 55) and 63 for 2 (Savin Cyril 18, Ruchitha Gamage 22 n.o.)
At Colts
Lumbini MV (230/9 overnight) 239 for 9 declared (Chamara Nishantha 70, Shehan Shashika 34, Damith Priydarshana 30, Rafan Mannan 22, Kevin Krishan 28 n.o.: A.K. Tyrone 4 for 63, Saveen Nanayakkara 2 for 26) and 154 for 4 (Damith Priyadarshana 70, Chamara Nishantha 35: Hasitha Madushan 2 for 20)
Richmond 139 for 9 declared (Sithara Gimhana 45, Pabasara Waduge 37, Kasun Chamara 15: Hashan Hirantha 4 for 11, Damith Priyadarshana 2 for 26)
At Panadura
Royal Panadura 308 for 8 (Kavindu Ashan 122, Asanka Alwis 82, Akila Lakshan 40: Tharindu Hashan 5 for 84) and 211 for 5 (Madawa Nimesh 83, Kavindu Ashan 64, Dulith Gayan 34: Tharindu Hashan 2 for 24, Lochana Bandara 2 for 50)
Sri Jayawardenapura MMV Kotte 147 (Nimesh Kavisanka 31, Praveen Madusanka 26, Isuru Kariyawasam 26, Tharindu Hashan 23: Thenuka Dananjaya 3 for 26, Asanka Alwis 2 for 6, Kavindu Ashan 2 for 45)
At Mt Lavinia
St. Benedict's 136 (Abdul Manas 29, Dilan Angelo 26, Jason Perera 21, Sachin Peiris 19 n.o.: Madushan Ravichandrakumar 4 for 31, Dilum Fernando 2 for 36) and 198 for 8 declared (Jason Perera 53, Sameera Sandamal 22, Arjuna Perera 80 n.o.: Dilum Fernando 3 for 47)S. Thomas' (64/5 overnight) 148 (Chamod Pathirana 91: Sachin Peiris 5 for 44, Jason Perera 4 for 42) and 29 for 4 (Jason Perera 3 for 10)
At Darley Road
St. Joseph's (131/7 overnight) 248 for 8 declared (Yashan Samarasinghe 56, Sadeera Samarawickrama 53, Vidusha Jayasinghe 24, Pathum Madusanka 15, Priyamal Perera 15, Supeshala Jayatileke 50 n.o.: Ashel Kariyawasam 3 for 72, Jonathan Caderagamapulle 2 for 18, Sachin Jayawardena 2 for 33) Wesley 197 (Migara Wickramasinghe 58, Sachin Jayawardena 43, Jonathan Caderagamapulle 22, Lahiru Perera 19, Sadeem Thawfeek 18.: Supeshala Jayatileke 5 for 44, Priyamal Perera 3 for 35)
At Reid Avenue
Nalanda (80/4 overnight) 177 (Ishan Rangana 25, Koshan Dhanushka 24, Lahiru Jayakody 86 n.o.: Anupa Tilekeratne 3 for 33, Chamika Karunaratne 2 for 44)
Royal 212 for 6 (Imal Liyanage 63, Milan Abeysekera 30, Heshan Kumarasiri 24, Chamika Karunaratne 33 n.o.: Malinda Vimukthi 2 for 28)
At Bambalapitiya
St. Peter's 196 (Lahiru Milantha 53, Shehan Fernando 42, Julian de Zylwa 22, Shasheen Fernando 21: Tiran Wijesuriya 4 for 40, Pasindu Madushan 3 for 27, Isuru Samarasinghe 2 for 26) and 139 for 3 declared (Shasheen Fernando 52, Shehan Fernando 50: Ishara Bandaratileke 2 for 10)
Ananda (1/0 overnight) 147 (Ushan Gunatileke 64, Dhanuka Madushan 21: Ranitha Liyanaarchchi 4 for 45, Ali Khan 2 for 26, Julian de Zylwa 2 for 34) and 76 for 4 (Pasindu Madushan 22, Geshan Wimaladarma 21: Ali Khan 2 for 20, Ranitha Liyanaarachchi 2 for 26)
At Kurunegala
Maliyadeva 223 (Dilshan Dhanushka 48, Nimna Karunaratne 45, Rasanjana Jayaratne 38, Hashan Gunatileke 31, Sarinda Dasanayake 28 n.o.: Chalana de Silva 6 for 84, W. Kariyawasam 2 for 60)
Mahinda 90 for 4 (Chalana de Silva 18, M. Hashan 16, H. Sandaruwan 15: S. Rasan 2 for 9)