Janith*, obtained good results at the Advanced Level examination and was among the fortunate to enter the Arts Faculty of Peradeniya University last October. But sadly, this fresher who resided at the Marcus Fernando Hall was admitted to Peradeniya Hospital with assault injuries and medical reports revealing that he had been sexually abused several times.
According to Peradeniya Police OIC Jaliya Heenkenda, the Criminal Investigations Department (CID) has taken over the investigation into the sexual assault. For Kumudini Wathsala De Silva, a first year student at the Ruhuna University who was already suffering from a spinal injury, the ragging sessions at the campus aggravated the injuries. She is now receiving treatment at the National Hospital, for severe pain and difficulty in walking.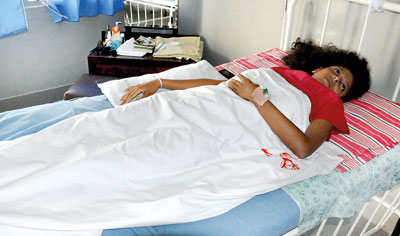 Disrupted education: Kumudini, victim of ragging receiving treatment at the National Hospital. Pic by Mangala Weerasekera
"I was among the 400 students who were crammed into the canteen on December 21.I told a senior that I was suffering from a spinal injury caused during the leadership training. But she pushed me forward. As she did so I knocked my leg against a cement stool and the pain was so unbearable that I fainted," she recalled.
She said she was now suffering from a numbness in her lower limb and pain in the spine. Student ragging is not new to Sri Lanka. In 1975 Peradeniya University was the first to report a major ragging related incident when a fresher of the Faculty of Agriculture became paralyzed as a result of having jumped from the second floor of the hostel to escape the physical ragging by seniors. She later committed suicide.
But a series of major ragging incidents last year has triggered concern among university aspirants, academics and parents. Last year eleven undergraduate Buddhist monks were expelled from the Buddhist University after inquiries revealed that they were involved in ragging fresher monks.
Eight students from Sri Pali University in Horana were also suspended over ragging incidents.
Several students of the University in Colombo have been suspended for their alleged involvement in a ragging incident.
This year, seven second year students of Rajarata University's Medical Faculty were suspended from attending lectures over their involvement in a ragging incident. Among those suspended was a female student.
Sri Lanka introduced the "Prohibition of Ragging and other forms of Violence in Educational Institutions Act No. 20 of 1998", with the aim of eliminating brutal ragging in universities. According to the Act, ragging is defined as an act that causes or is likely to cause physical or psychological injury or mental pain or fear to a student or a staff member".
Under this Act, ragging is a punishable offence under which any individual found guilty would be subjected to two years rigorous imprisonment or ten years if the ragging involved sexual harassment or grievous hurt. Depending on their gravity students found guilty could face expulsion from the University as well.
In spite of it being a punishable offence ragging has taken a brutal turn with students sometimes being stripped naked and forced to perform painful and unnatural sexual acts. According to Higher Education Ministry Secretary Dr. Sunil Navaratne there is nothing that can be termed innocent ragging in Sri Lanka, only violent harassment.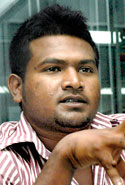 Yukti Ekadeera
He said nearly 210 students were suspended from universities island wide last year with a majority of them being over incidents of ragging. "The Peradeniya incident is still being investigated and about 10 students have been suspended.
All these years we resorted to lenient means like suspending and advising as legal action would affect their image as educated persons but if the violent nature continues we will take stern legal action under the Act," he warned.
He said Vice Chancellors of universities have been told to take stern disciplinary action against those involved in violent forms of ragging. He also said that plans were underway to introduce career-oriented programmes for second year students.
He said among the universities, Peradeniya had reported the most number of ragging incidents.
Anti-Ragging Students' Collective convener Yukti Ekadeera told the Sunday Times that about 160 students of the Peradeniya Arts Faculty had given up studies because of severe ragging during the past three years, adding that 52 students gave up studies in 2008, 39 in 2009 and 59 in 2010.
He said according to the statistics from the university's health centre, 115 students had been treated during the ragging season in 2008, 100 in 2009 and 185 in 2010. He also made the shocking allegation that some senior female students approached female freshers from low income families and forced them to work at massage parlours.
"We don't see the government and student unions working together against ragging. I was a victim of ragging during my first year at Peradeniya. I was in a group of newcomers who were beaten with bamboo. My head was also shoved in to a toilet pit. As a result I became an anti-ragger,"he said.According to him, an anti-ragger is not allowed to enter the university canteens or watch a drama on the premises. They would also be attacked with rotten eggs when walking in the university premises and denied hostel facilities.
"Some students are forced to bathe four to five times at night continuously for three months. We are not against ragging which was introduced as some innocent teasing when welcoming the newcomers, but the present condition is far from innocent," he said. However, Peradeniya University Vice Chancellor Prof. Sarath Abeykoon said university authorities were taking steps to reduce the cases of severe ragging.
"About 30 to 40 students were suspended last year. Prior to 2009, most of the suspensions were reversed but now the decisions to suspend are rarely reversed. Lack of social skills during the primary education period have led to this irresponsible kind of behaviour,"he said.
Ruhuna University's Deputy Vice Chancellor, Prof. Gamini Senanayake commenting on the state of ragging said, "Ironically, the faculty of humanities and social sciences records the highest number of cases. The commonest is verbal ragging and bullying but our policy is zero tolerance to any sort of ragging and if found guilty we will expel them," he said.
He said he believes feelings of insecurity and inferiority complex are some of the reasons that lead to violent ragging. Shenali* who was selected to the Arts Faculty of a university last October became a victim of verbal abuse because she was from Colombo. She said although students claimed that the aim of the rag was to bridge the gap between students from the village and those from the city, it never happened in her case. "I was rather cornered so I became friends with others who were also from the city but we were insulted and shouted at all the time," she said.
*-Names have been changed
Peradeniya ragging: 25 to appear in court
By L. B. Senaratne
Twenty-five University of Peradeniya undergraduates have been ordered to appear in the Kandy Magistrate's Court in connection with a complaint over a ragging incident alleged to have taken place on the campus on Thursday (January 5, 2012).
Chief Inspector Bandara, Acting Officer in Charge of the Peradeniya Police, told the Sunday Times that the police notices were sent to the undergraduates' private addresses and also to the university's Administration Office. The alleged ragging had involved "degrading behaviour," the police said.
Students stage massive demo, demand VC resign
Sri Jayawardhanapura University crisis
Authorities, IUSF differ on motive to damage statue
This week saw thousands of university students on streets, confronting police, causing heavy traffic congestion. A minor explosion damaging the student memorial statue at Sri Jayawardhanapura University triggered the student unrest already prevailing in the university.
The Inter University Students Federation (IUSF) students staged a protest march with over 500 students demanding the immediate removal of the University Vice Chancellor (VC).
The protest march started from the Sri Jayawardhanapura University resulting in traffic congestion on the High Level and Galle Roads as the crowd proceeded towards Temple Trees.
The 'Sisu Viru Smarakaya' monument was put up in remembrance of student activists killed during 1971, 1988 and 1989.
Riot police squads were placed along the Galle Road and police barricades prevented the students marching further.
After student leaders made speeches the crowds dispersed peacefully near Kollupitiya junction.
Sri Jayawardhanapura University Vice Chancellor Prof. L.M.A. Karunaratna told the media that the damage was a ploy employed by some students but the Inter University Students Federation claim that it was a move by the Vice Chancellor to control student activists.
Undergraduates of the Ruhuna University too went on protest this week demanding hostels free-of-charge for all students at the agriculture faculty. The Inter University Students Federation charged that the Agriculture Faculty is located in a remote area in Kamburupitiya with about 500 students.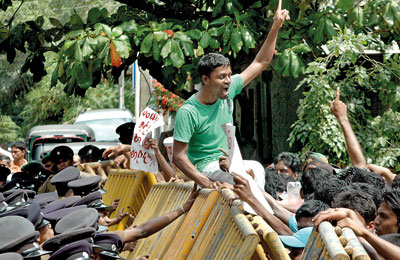 J' Pura students take to the streets in full force. Pix by Saman Kariyawasam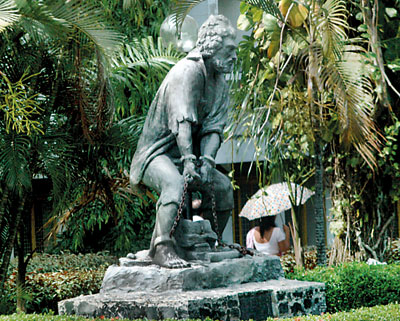 The damaged statue (above) and heavy security presence in the University on Friday (below).