Possibly the best of the Fast and Furious series, Fast Five-Rio Heist ended on a high note. All five racers get a truckload of cash and they splurge on the hottest cars imaginable. As the movie draws to end, How We Roll by Busta Rhymes and Don Omar erupts maintaining the adrenaline rush. The credits roll and the movie watchers at the cinemas and at home watching the DVD on TV or their computers are still bopping to the energetic hiphop/rap song— high on the feel good ending.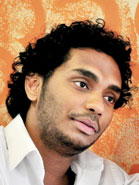 "I started when I was 17. I got lucky in the beginning I played keys for Dr. Dre-- I just started networking a lot. I was able to get the Beyonce remix, after that things started happening slowly and now 9 years down I'm doing title tracks for huge block buster movies." -- Ruwanga

"At the end of the movie when the screen goes black, as an audience member you still want your heart to be pumped- you don't want to hear a sad song. So that's what I want as soon as the movie is done to come with a bang! So when the titles are going the people are bouncing on their seats. And that's what we accomplished," shares Ruwanga Samath (26) who composed the sound track for Fast Five. The young musician left Sri Lanka for California in 1997 and 14 years later he's made it big in Hollywood having composed sound tracks for popular movies, video games and celebrity artists such as Beyonce Knowles, Kelly Rowlands, Outkast, Flo Rider, Norah Jones, The Virgins and Kesha.
Elaborating on how he composes music for the sound tracks, Ruwanga makes a comparison between how Fast Five ended and his next upcoming movie will end. "It's called 'Think Like a Man'- it's coming out in June and it's got Chris Brown and Kelly Rowland in it. I think it's more like a romantic movie so I want couples to feel closer when the screen goes blank," he says adding "so it depends on what the movie needs to give it added value."
Whether it's a movie sound track or a song, Ruwanga spends time getting a feel of what he's working on to produce evocative music that will hit the right chord within the audience- be it energetic, blood chilling or romantic. "I go through my stages musically so I kind of grab through that and for the most part I draw myself in the movie or if it's an artist I'm working with, like Ciara, I want to know where she's at. I want to feel her world," he explains. "So it really depends-- I like to interact with the artist I'm producing for and based on the artist, the movie or project- I'd want to kind of pick their head and see where they're at, think about it, draw myself in it and then bring it to the table."
His talent and dedication has certainly paid off. Ruwanga has received several nominations for Hollywood Music Awards and won LA music awards twice; one for his work on the SAW 4 movie sound track—Just Another Day.
Ruwanga credits his talent to his roots- his family and the reggae influence he imbibed back when he grew up in Sri Lanka. "My mom, Renuka Samath, had a CD out here [in Sri Lanka] when I was a kid. I was about eight years old at the time. My uncle, Nirangan de Alwis, is also a musician here," he says describing his intrinsic love for music. "So I got most of my musical influence from my mom, dad and uncle growing up. My dad Tuan Samath would buy me CDs, my mom would sing and my uncle would play drums. So I'd be around music all day round. And my punishment as a kid would be to carry my uncle's drums or to help him set them up."
Ruwanga who studied at St. Peter's College, migrated to California at the age of 12. His love for music and drive took him from hauling around his uncle's drums to collaborating with some of the top names in the American music industry. Fresh out of high school Ruwanga started making music and in 2003 he launched 'The Bird Call Productions". "I started when I was 17. I got lucky in the beginning, I played keys for Dr. Dre. I just started networking a lot. I was able to get the Beyonce remix, after that things started happening slowly and now 9 years down I'm doing title tracks for huge block buster movies."
Making it big has its snags though. Vacations back to his homeland are rare with his hectic work. "The more popular you are the more gigs you get and you have to deliver fast, fast, fast. The movie and album release deadlines are very fast so when I'm booked, I was working 16 to 20 hours a day straight, before I came here, trying to meet deadlines. It's because of that, you've got to bring other people on the team you've got to work fast and hard," he says adding that he loves his work though. The learning experience of dealing with different types of music and the challenge composing the music is what's got him hooked.
While Ruwanga composes his music on keyboard, he's a bit of Swiss army knife in his ability to play different instruments. "When you compose it's easy to compose on the keyboard as oppose to anything else. Of the tracks and most of the songs you hear, I play everything in it— the baseline, the keyboards and the drums." He also plays keyboards and drums in his group- Mind the Gap.
Ruwanga flew back to California earlier this week and is back at work composing music for 'Think Like a Man' and 'G.I Joe II', both to be released in 2012. Sharing what he expects for the New Year, Ruwanga says "I want to do it big. I'm already signed up to do about three movies. So my plan is to bring a Grammy back home or an Oscar- one of them. I have to," he says with conviction, "that's the plan."