"There is a dearth of new talent in rifle shooting. We should identify fresh talent. Along with that, we should have coaches who are knowledgeable, capable and dedicated. Supremely important, also, are really dedicated shooters with a burning desire to improve and win at the highest levels. Additionally, they should get the fullest support of the relevant authorities to reach their goals. These are the basic and essential ingredients, coupled with a rational training programme that will bring success to Sri Lanka. Schools are the 'nurseries' it is the duty of schools associations to spot talent and nurture them," said Rohana Nanayakkara, the former Royal and Sri Lanka crack shot in an interview with the Sunday Times.
Rohana who has competed and trained with some of Sri Lanka's top marksmen such as Ravi Jayawardene, Zal Chitty, Sri Kumaranayagam, Kumar Chitty and a host of others has represented Sri Lanka at the highest level and in its wake has brought a great deal of honour to the motherland.
This won him the coveted "National Colours" in Rifle Shooting at the 'Sri Lanka Proud' ceremony in 2008 awarded to sportsmen and women who have brought honour to the country since independence, graced by the President of Sri Lanka as the chief guest. Rohana is one of the very few Sri Lankans to receive this award for Shooting.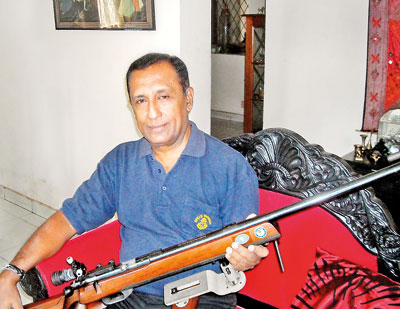 Rohana Nanayakkara with his trusty rifle.
I was fortunate to catch up with Rohana Nanayakkara at his residence in Pita Kotte. Fittingly he had taken down his trusty rifle and was giving it a thorough clean up when I dropped in. "It is years since I had taken the weapon down. Do you know that Late Mr. Ranapala Bodinagoda, the former Chairman of the Associated Newspapers of Ceylon Ltd. (ANCL) and Mr Lanka De Silva, Executive Director of ANCL who presented it to me to continue my Rifle Shooting?," said Rohana with a faraway look in his eyes.
On leaving Royal College, Rohana was for a time the Deputy Manager of the Ceylon Daily News. Later he joined Airlanka, now Sri Lankan Airlines, and was posted as its Manager in London and had been instrumental in establishing its operations at Heathrow Airport, which task had distanced him from rifle shooting. His continuing stints in Kuwait, Maldives, etc, did not provide conditions or the time for competition shooting.
Well, rifle shooting has certainly taken Rohana round the globe. He has represented Sri Lanka in a host of World Championships, selected for Olympics, Asian Games and the World Cup in Russia (1987) and South Korea. In the process he won diploma awards for being in the top six at three successive Asian Games.
He unlocked his well stocked study to show me his trophies which included medals, certificates, plaques, shields, trophies and replicas, won at various events. In addition to the "Sri Lanka National Colours" one particular award he held equally close to his heart, saying, "This one was presented to me by President J. R Jayewardene when I conducted the Police and Armed Forces Practical Shooting Championships for the tenth successive year."
The National Rifle Association (NRA) was originally known as the Ceylon Rifle Association, and it was Ravi Jayawardene, son of former Sri Lanka President J.R. Jayawardene, who had introduced Sri Lanka to rifle shooting at Olympics. Ravi who captained Sri Lanka's contingent to the Tokyo Olympics and Kumar Chitty who bagged a 'World Master Bronze' at the World Championships in Germany (1966) were Rohana's coaches at Royal College, which produced top shooters like, Michael Pereira, Aslam Kaleel, Ajit Chitty, Sam Kadirgamar, Olympian Zal Chitty, Rohan Abayasekera, Dilipan Tygarajah, in addition to Ravi and Kumar, just to name a few of the illustrious band.
Rohana captained Royal at rifle shooting in 1967 wining the 'Silver medal' at the very first National Championships, against many veterans from the Armed Services and Police. "Ravi won the Gold, exceeding the then Asian Record with 586 points while I equaled it with 585 points out of 600" recalls Rohana. Commander Roger Christoffelsz of the Navy was third.
"We had superb a rifle range at Royal, the first school to have a shooting range. We also had an array of target weapons such as the Point 22, Vickers and the BSA Marks I and II versions. Ravi Jayawardene, my coach, who considered me as his 'Prime Pupil', guided me to acquire Anschutz Olympic Target Rifles for Royal, which really gave us a competitive chance against the veteran Servicemen on equal terms.
Rohana was National Coach from 2004 to 2006 leading to the SAF Games where two Gold Medals with two International records were produced, in addition to many Silver and Bronze medals. "This was very satisfying since we got the better of the Indians who are a World Power in Shooting" says Rohana. A qualified International Judge in Shooting, he was also a successful Coach/Manager at several International Meets.
Many times Sri Lanka National Champion in Shooting, he held many Sri Lanka records, in his career, which included coaching many Service personnel, he himself having undergone training in Russia and the United Kingdom among other Countries.
The names of Ravi Jayewardene, Lt Col Daya Rajasinghe, General Hamilton Wanasinghe, Group Captain Dick Sallay, Sri Kumaranayagam, Hemasiri Fernando (President of NOC), Vice Admiral Thisara Samarasinghe, DIG Sumith Liyanage, Rear Admiral Shemal Fernando, Air Vice Marshal Elmo Perera and Lt. Cmdr Navy Roger Christoffelsz kept on cropping up during the interview. They were some of those who did a selfless service for the cause of the Shooting Sport in the Country, some being crack shots of World class in their own right.
With the Association being currently headed by Rear Admiral Shemal Fernando, supported by 'Top Shots' such as Hemasiri Fernando and Olympian Zal Chitty, there certainly will be a lot of improvement, concluded Rohana, who is classed as the 'most technically perfect' shooter produced by Sri Lanka, by such knowledgeable greats of the shooting World as Ravi Jayewardene, multiple Olympic Gold Medallist Lanny Basham of the USA and Sergei Dougal of USSR/Russia who went on to coach many Countries to success in World competitions.