"One sandwich, take out the sauce, no mayonnaise and don't even touch that oil." Fitness expert Ranil Harshana wanted a healthy sandwich. Walking up to the counter at the Sandwich factory, he added a personalized touch to his quick lunch. Watching all this was proprietor of The Sandwich Factory, Hisham Cader. His inquiry about Ranil's request, turned out to be the beginnings of a 'Healthy Sandwich' range, at the Sandwich Factory.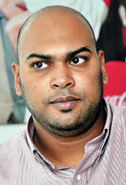 Hisham
Having an all-American '50's feel to it, The Sandwich Factory sets itself in an ambiance suited to liven up the day of any individual – young or old. "People always stereotype a sandwich to the usual triangular slices of bread," says Hisham. "That's not the case - we offer over 35 different flavours of sandwiches here."
Their latest addition 'The Healthy Range' has some six healthy options, including a flavourful chicken paired with sundried tomatoes and olives, a turkey sandwich with guacamole and bean sprouts, and a traditional beef with onions and mustard, a tuna speciality and a vegetarian option too. In addition The Sandwich Factory has included a high calorie option 'The Godfather' with layers of pepperoni, salami and cheese, ideal for athletes and anyone on a high calorie diet.
The Healthy range was developed based on customer feedback, "We always have a close relationship with our customers, I personally walk around asking them for opinions," says Hisham. Made of a kurakkan sliced base, and tenderly cooked meat, it along incorporates unadulterated vegetables.
Hisham completed his higher studies in the United States – the country that inspired him. "I had only seen an American diner culture on TV series' before, but it overwhelmed me," he adds.
"Creativity is always encouraged over there and you are given the opportunity to experiment." Hisham worked part-time at a diner, and says his love for food skyrocketed while there. "The owners would go out of their way to make sure the customer was satisfied," he says telling us that the workers at the restaurant were required to know the history behind each and every plate. "We even had a food dictionary – food over there, was serious business."
The intimate affair with food grew into an enterprise as Hisham, starting from a humble delivery service, started his own diner a year ago – The Sandwich Factory. "I constantly experiment with food, everyday is a new food adventure to me," he quips. "You can have a burger anywhere you want to, but it takes some speciality for people to always come back to have another." Hisham was an all time "foodie", but never dreamed he could make a career out of it. Now, looking back he thinks that the dots do connect and every little thing was destined to have happened.
"I was a natural at whipping up quick lunches, back in college, I even started taking lunch orders for $5," he adds laughing. Passionate about food, Ranil says that the rendezvous with Ranil Harshana was an immense boost to the company, as he is responsible for fuelling ideas for the Healthy Range.
Ranil is a fitness expert and a qualified personal trainer managing his gym, the O-Tone at ODEL. "Fitness is about eating the right choice of food, at the right time of the day. You should focus on variety, correct timing and nutritive value," he says. Being a hard working individual, he sets a standard for himself and for others to follow. Ranil, who popped in to the Sandwich Factory to have a quick lunch, ended up creating an exclusive Health Range for them.
"The meat is carefully selected and treated to drain out excess fat, all the excess sauces and mayonnaise are taken out," he explains. "Fat is the real culprit, but the way people perceive fat needs to be changed," Ranil continues, adding that a person who looks obese may have less cholesterol than a person who is thin.
Hisham's creative flair fused with Ranil's health expertise has enabled the Sandwich Factory to come up with the healthy new range. Visit the Sandwich factory at 25, Wijerama Mawatha and look up www.livefitonline.com for more information.