Sri Lanka's sugar producing sector has now been reduced to a crises-ridden industry owing to neglect and absence of a coherent government policy covering the interest of all the stakeholders - growers of sugarcane and the consumers.
In an interview with the Business Times, former Chairman of the Sri Lanka Sugar Cane Research Institute - Abhaya Weragoda, a leading entomologist with 38 years experience in the public service, said that ad hoc privatization of the local sugar industry in the 1990s and then again in early 2002, without a regulatory power- structure in the hands of the government, has lead to its rapid decline. The declining trend in the industry has further been aggravated by short-term profiteering and politics, creating a strong negative effect on the industry and on the research effort, he added.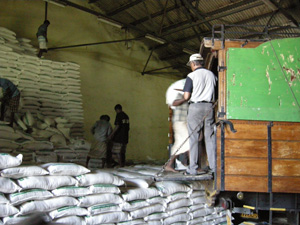 The national policy on the Sri Lanka sugar sector development was approved by the cabinet of ministers in 2005 which recognizes that domestic sugar industry has the potential to produce at least 50% of the domestic requirement of sugar and other value added products of sugarcane within the next nine years. Under the said policy, the Monaragala and Bibile- Medagama region were recognized as among the key potential areas for sugar development. It recognizes the lead role the private sector has to play as investors and project promoters with minimal financial burden to the government.
The land use plan issued by the Survey Department had clearly identified the lands suitable for sugar cultivation in Moneragala, Ampara, Kantale and Trincomalee districts, he disclosed. Under this over 90,000 ha should be cultivated with sugarcane to produce 40 % of the country's sugar requirements. He said that he had visited sugarcane cultivation and a factory at Akkarayankulm in Kilinochchi during the peace accord period in 2002. But the then government had failed to give due assistance to improve the industry in the North which has a great potential. Similarly the Uva-Wellassa area sugarcane cultivation has not materialized due to the JVP insurrection.
In 1992 Hingurana and Kantale factories were sold to two Colombo sugar traders at a very low price by the Ranasinghe Premadasa government. This was the actual turning point of the sugar industry in Sri Lanka. Unrest among the factory workers and sugar cultivators slowed down the functioning of the factories under the private management, he revealed.
Kantale and Hingurana, two of the four factories producing sugar had to be closed down and the remaining two factories(Pelwatte and Sevanagala) are facing a crisis situation due to the government's action to take over it under the Revival of Underperforming Enterprises and Underutilized Assets Act. Mr. Weragoda said that this will affect the sugarcane cultivations in Pelwatte and Sevanagala that will result in a further decline in the sugar production next year. The government should take immediate steps to remedy the situation, he said.
Emphasizing the need to operate these sugar factories efficiently in a productive manner, he noted that the need of the hour is to strengthen the private sector management with government's regulatory control, but not ad hoc changes in management. Citing an example, he said that Pelwatte sugar under the present management has been able to increase the crushing capacity from 230,000 Mt of sugar cane to 330,000 Mt and produce 30,000 Mt of sugar within a period of around six months. There was a plan to cultivate high quality treated seedcane in 6,000 more ha in Pelwatte to further increase production. All these activities have been affected by the government's action aimed at expropriating Pelwatte sugar, he said.
Although the potential for expansion of the industry exists, as Sri Lanka imports over half a million tonnes of sugar per annum, the government is yet to create conditions favourable for its development by enacting a Sri Lanka Sugar Act to regulate the stakeholders, viz - the farmer, miller and government activities, Mr Weragoda said. The government should accord high priority to revitalize the sugarcane industry, considering the huge sum of around Rs. 41 billion spent on sugar imports annually, he said.
There is a substantial ready market locally for sugar if matching mill capacities are available. Only 10 – 12% of sugar consumption in the country is produced by Pelwatte and Sevanagala. The rest is imported at a huge cost of foreign exchange to the country.. "We need to cultivate over 110,000 ha to reach near self sufficiency. But currently we cultivate no more than 30,000 ha", he said.
Sri Lanka has four sugar mills - Kantale, Hingurana, Pelwatte and Sevanagala. Kantale and Hingurana were fully government-owned mills. Up to their closure they were never headed by professionals except for short stints. After they declined, Kantale and Hingurana were privatized and subsequently closed down due to poor privatization processes in the 1990s. The other two are functional producing about 45,000 Mt of sugar last year. "However when all factories were producing in the mid 1990s, we had produced nearly 80,000 Mt of sugar meeting about 15% of our then requirement," he divulged.
Sugar prices in the past were dominated by the subsidized sugar produced in the European Union which exported sugar below the cost of production due to their favourable government policies. However since the World Trade Organization (WTO) came into being after successive rounds of negotiations these subsidies have been dispensed with and the era of cheap subsidized sugar is over. Furthermore the largest producer in the world market, Brazil has increasingly begun to convert its sugarcane to Ethanol as a motor fuel. This has lead to the world price of sugar rising by more than 100% during the last few years and this trend is likely to continue in the foreseeable future. This means that Sri Lanka is now exposed to the upward movement of world sugar prices.
Crops such as cowpea, maize, gingelly, chillies, potatoes, onions, cucumber, water melon and medicinal herbs, etc could be grown as intercrops in sugar plantations. This is purpose driven agriculture against traditional uncertain agriculture. The government should back the farmer and put him on the correct path. However there is nothing to prevent a sugarcane farmer continuing with an existing crop in their own lands. Naturally market forces will decide the issue, Mr. Weragoda said .
Sugarcane areas have been neglected by all successive governments, politicians and also by the private sector for over five decades. "This is one of the largest agro industries based on smallholder farmers to produce sugarcane, which we should convert to a large number of value added products including the main output - table sugar. We should be producing products vital to the country like sugar, electricity, fuel alcohol, animal feed, fibre boards etc which could bring about a significant economic revival in the area, not only providing gainful farming and employment but also minimize the rural urban drift," he added.
Analysis carried out by the Sugarcane Research Institute based on the current purchase price of sugarcane shows that farmers could earn over Rs 4,500 net profit per month per hectare of rain fed sugarcane. However this could be increased and easily doubled under supplementary irrigation through agro wells. This is considering sugar as a mono crop. But, if a companion crop is introduced, income levels would rise considerably. Currently sugarcane is priced considering sugar alone, but it is essential to introduce a scheme considering all value-added byproducts giving farmers a highly remunerative base price. So a farmer could expect to earn at least Rs10-15,000 per month as net income per hectare, he said..
There are widespread sugar cultivations in Kantale, Hingurana, Sevanagala, and Pelwatta areas. Altogether 30,000 ha has been cultivated with sugarcane and over 25,000 families are engaged in sugar cultivation, he disclosed.