Blind, confused and used to being near people without creating a commotion, the Galgamuwa tusker which hit the Kekirawa town and ran amok last week is now being treated at the Kala Wewa Sanctuary, a wildlife official said.
"We managed to push him into the sanctuary protected by an electric fence and begin treating his cuts and bruises as well as gunshot wounds by Wednesday," said the Deputy Director of Wildlife Health, Dr. Tharaka Prasad of the Department of Wildlife Conservation (DWC) who himself supervised the treatment from Monday.
This majestic tusker which is about 40 years old was not eating on Monday but we were able to corner him at the Horapola Wewa Sanctuary and feed him pumpkin and fruit by Tuesday, he said, explaining that the next day they managed to manoeuvre him into the Kala Wewa Sanctuary.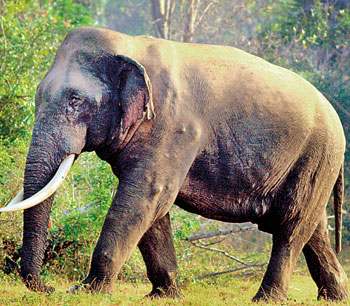 The Galgamuwa Tusker
The tusker, known as the dala poottuwa (crossed tusks) had suffered cuts and bruises from charging at vehicles or knocking on them by mistake because he is blind in both eyes, Dr. Tharaka said, pointing out that he had a huge bruise on his head. He had also been sprayed by gunfire. The injuries, however, are not life-threatening.
When asked how the tusker had ended up at Kekirawa from Galgamuwa, this veterinary surgeon said that elephants migrate but gunfire by someone may have sent him out from his usual foraging area out into the unknown. When it hit the road and came towards Kekirawa, with people thronging to see him and shouting and hooting to chase him away, he would have lost his bearings. (Kekirawa is about 40km from Galgamuwa.)
Pointing out that some of the bull elephants were trying to attack "this stranger" in their midst at the Kala Wewa Sanctuary, Dr. Tharaka explained that DWC officials are very vigilant and chased them off.
Many confirmed to the Sunday Times that although he had many gunshot injuries including the one that made him blind, this tusker had been seen for many years at Galgamuwa and it had never charged anyone or been a threat,
There were also howls of protests by conservationists over alleged moves to take this tusker to either Pinnawela or Uda Walawe.
"There is already one blind tusker, Rajah, at Pinnawela and have you seen its plight," asked one elephant lover aghast that he spends each day and night chained in a concrete shed, being fed, becoming overweight, legs becoming arthritic without any exercise, awaiting death. It is pathetic, he said, adding that the elephant is like a parked vehicle. This fate which is worse than death should not befall the blind tusker of Galgamuwa.
The other speculation is that the tusker is to be translocated to Uda Walawe and that won't help either, said another animal rights activist. Being blind he will not be able to find his way about in an unfamiliar place, he would be rejected by other bull elephants and invariably he would try to come back to Galgamuwa creating chaos on the way, he said.
The best thing would be to take him back to home ground at Galgamuwa where he was, which he would probably do on his own if allowed, he added.
Meanwhile, advising how a situation like the one at Kekirawa should be managed, elephant expert Dr. Prithiviraj Fernando of the Centre for Conservation and Research said that if an elephant ventures into a developed area and takes refuge in a patch of scrub, it is best to cordon off the area where the elephant is, prevent crowds gathering, if necessary evacuate people strategically and let him be there till evening. Harassing such an elephant by shouting, throwing firecrackers and shooting at him during the day will not work as the elephant is actually trying to hide from people and does not want to come out into the open.
"Such harassment would only make the elephant irritable, confused and aggressive, and if he does come out it is very likely that he will cause much damage. Instead if the elephant is allowed to remain in comparative calm, when evening falls, he would invariably venture out. Then attempts should be made by clearing a way to guide him back to exiting the developed area," he added.
With regard to the blind tusker, Dr. Fernando said "an option would be to put a radio collar and track him. That way, he can be monitored. If he gets back to his regular home range it would be well and good and if he ventures out to developed areas he could be headed off. This way we could give him another chance. However, it would require anaesthetizing him, which also carries a risk."
Let the jumbo recover in peace
Don't crowd the area where the tusker is being treated, is the plea of DWC's Dr. Tharaka Prasad. Let the wild animal remain undisturbed to recover in peace. If he is disturbed and gets out of the Kala Wewa Sanctuary there may be more trouble, he adds.