External Affairs Minister G.L. Peiris has described the just-concluded Commonwealth Heads of Government Meeting (CHOGM) in Perth as having been "an unqualified triumph for Sri Lanka." The minister's jubilant attitude was based on three developments at the conference which no doubt won him diplomatic points, in the light of the ongoing western assault on Sri Lanka based on human rights and accountability. However even a cursory look at Australian media coverage of the event shows that the publicity attracted by Sri Lanka, though considerable, was mostly negative.
Among the achievements cited by the minister at a briefing in Colombo were, firstly, that attempts to scuttle Sri Lanka's hosting of CHOGM 2013 were ended once and for all with unanimous endorsement of the venue by member states. It may be recalled that Canada and Britain first started needling Sri Lanka over the venue issue at CHOGM 2009 in Trinidad and Tobago, when they blocked Sri Lanka from hosting CHOGM 2011 and deferred its turn till 2013. The trend continued this year with Canada's Prime Minister Stephen Harper threatening to boycott 2013 unless he was 'satisfied with Sri Lanka's progress on human rights.'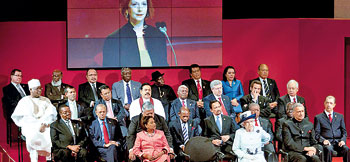 Victory for Lanka at the Commonwealth meeting in Perth
The second development was defeating the attempt by Canada to put human rights issues on the agenda of CHOGM. The proposal to appoint a Commonwealth Commissioner for Human Rights was opposed by Sri Lanka on the basis that it was a bid to politicize the body, which had no mandate to probe member states. Sri Lanka's position had wide support from African and Latin American states and, according to Peiris, no less than 15 members spoke up to endorse his position. The proposal was not pursued.
The third success he claimed was in relation to the war crimes litigation attempts in Australian courts, timed to coincide with CHOGM. One was against President Mahinda Rajapaksa who was in Perth and the other aimed to embarrass Sri Lanka's High Commissioner and former navy chief Thisara Samarasinghe. The Federal Attorney General of Australia has ruled that there were no grounds to proceed in the case against the Sri Lankan president. Noticeably, there seems to be no shortage of documentation to show that these actions have been filed by or on behalf of LTTE operatives and sympathizers, who don't even attempt to hide their affiliations.
These successes on the diplomatic front may be real. But there seems to be a gap between any ground gained at CHOGM, and the picture presented to average western citizens through their media, which seem to assume that something extraordinarily barbaric took place during the last stages of Sri Lanka's war against the Tamil Tigers. This is a picture largely created by the widely circulated 'Killing Fields' video by Channel 4 News, and the UN Secretary General's panel report on Sri Lanka. Both documents reflect remarkable similarities to the LTTE's version of events.
Some western countries and their Colombo-based diplomatic missions seem to lend fuel to this narrative with an unrelenting focus on 'accountability' to the exclusion of all else -- a project which clearly has much to do with appeasing Tamil diaspora constituencies at home. But it would seem that their grasp of the ground realities is in fact far more accurate than they like to admit. This is illustrated in WikiLeaks revelations of US diplomatic cables relating to Sri Lanka.
For example it has come to light that the US had sounded out the Defence Ministry on the possibility that Sri Lanka might contribute troops to their military operations in Afghanistan (a request wisely turned down). Is it likely that the US, with all the intelligence capability it boasts as the world's only superpower, would seek military support from an army guilty of carrying out summary executions, deliberately shelling civilians, hospitals etc., etc., as alleged in the C4 video and the UNSG's report? Is it not more likely that that the US made the request based on knowledge of the Sri Lanka army's skill and professionalism?
The relevant meeting between US Assistant Secretary of State Robert Blake and Defence Secretary Gotabaya Rajapaksa reportedly took place on Dec. 8th 2009, by which time the C4 video had already been aired in the UK (in Aug. 2009). It was based on the footage of this documentary that UN Special Rapporteur on summary executions Philip Alston called for a war crimes investigation in Sri Lanka.
But times seem to be changing.
There has been a shift in the type of statement made about Sri Lanka by some western diplomats and representatives lately. A group of US Congressmen addressing the media in Colombo after a tour made some positive comments on what they had observed. They commended the ending of terrorism and progress in post-war development. Rep Heath Schuler (D-NC) who had visited the country two years ago remarked on the sense of safety that was evident now, and their ability to talk to diverse groups of people.
Responding to a journalist's question on the western preoccupation with human rights and accountability, Schuler said "We are not part of that conversation … You have your own report coming out … You also did a lot of things right … It is not the business of the US at this point in time."
Rep. Ben Chandler (D-KY) observed that "In the media people only hear about human rights allegations." He noted there was a need for balance. "We are here to bring that balance."
Both the US and Canada have lately made it a point to refer to Sri Lanka as a friend. Robert Blake on his last visit said "We are not in the business of making threats to our friends." Canadian High Commissioner Bruce Levy, in what seemed like a damage control effort following his prime minister's threat not to attend CHOGM 2013, said in a newspaper interview that "Headlines and distance so often end up distorting context and we have to make people understand what leads to certain statements." He reportedly referred to Sri Lanka's growing ties with China and Iran, observing that it should be possible for Sri Lanka to pursue new relationships and "not move away from traditional partners and friends."
These comments may reflect a dawning of understanding in the west of the misleading effects of LTTE propaganda on the one hand, and of media competing for the most provocative headline and story, on the other. More imperceptibly, they reflect shifting priorities in a world where the balance of power is increasingly tilting eastward, and it is realized that Sri Lanka will naturally align itself wherever its interests lie.