Hard on the heels of the controversial Kolonnawa shootout on local polls day, President Mahinda Rajapaksa, became the troubleshooter for another fierce intra-party battle that threatened to engulf the United People's Freedom Alliance (UPFA).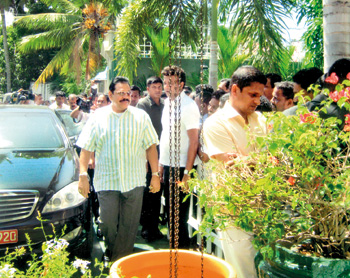 President Mahinda Rajapaksa arrives at Nimal Lanza's Negombo residence. Pic by W. Hubert Fernando
Last Tuesday, he hurriedly boarded a Sri Lanka Air Force (SLAF) helicopter for a 15-minute flight to a playground at Dalupotha in Negombo. Accompanied by Basil Rajapaksa, Economic Development Minister and UPFA MP for Gampaha District, they rode in a black Mercedes Benz. As they moved out, there was a virtual motorcade for the half a kilometre journey along the Chilaw-Negombo highway and a turn to Prison Road. That included local politicians, police and security personnel. The trail led to the two-storied residence of Nimal Lanza which stands on a wide expanse of land. Rajapaksa gave Lanza a warm hug and sat down in his drawing room sofa for a lengthy chat. The local politician was not only the leader of a family wielding strong political clout in Negombo but a staunch backer of Basil Rajapaksa in the Gampaha District.
Lanza is now a Minister in the Western Provincial Council. He holds a long list of portfolios - Road Development, Animal Production and Development, Housing and Construction, Fisheries and Tourism. His political career has switched between the Negombo Municipal Council (NMC) and the Western Provincial Council. In 1997 he was elected a member of the NMC and became its Mayor in 2000. He served in that capacity for 14 months. He was later a member. In 2004, he quit his membership in the NMC to contest the Provincial Council elections. He served until 2006 and resigned again to contest the NMC. He became Mayor from 2006 to 2009. Thereafter, he contested the WPC and became minister.
Residents in Prison Road, a predominantly Catholic area, wondered why the President of Sri Lanka, has chosen to make an unannounced hurried helicopter visit to the Lanza household. In Colombo too, that was the question that puzzled senior UPFA leaders and parliamentarians alike. That such great importance was attached to Lanza, who is neither a Cabinet Minister nor deputy or even an MP, puzzled many. Why the President could not summon Lanza to "Temple Trees," in Colombo instead of ignoring protocol and hurrying to Negombo to meet a WPC minister, was the question being asked. Rajapaksa, the astute politician that he is, knew the reason but played it close to his chest.
STF raid
The previous day (Monday), Lanza's residence was raided by commandos of the Police Special Task Force (STF). The paramilitary unit, the pride of the Police Department, was playing a counter insurgency role until the defeat of Tiger guerrillas over two years ago. The unit is now being used for law enforcement roles particularly after area police stations were found to be either floundering or are incapable. In some instances, it has come to light that the area police stations have succumbed to corrupt activity and ignored them. The focus of the STF has been organised crime. Not so long ago, it busted a lucrative forged passport racket. Its commandos have traversed the jungles to round up illicit timber fellers who had set up saw mills inside. They also raided ganja (cannabis) plantations inside jungles.
A large STF contingent had swooped down on Lanza's residence and the residences of five of his close supporters and relatives. Lanza explained to the Sunday Times the sequence of events: "Last Monday morning, I was at the Negombo Municipal Council office attending to some urgent business. In view of this, I had switched my mobile telephone to silent mode. It was past 10 a.m. when I found I have had a string of missed calls. Among them were several from my private secretary, Mohamed Azam. I quickly rang back. He told me that armed Police Special Task Force (STF) personnel have surrounded my house. He said large crowds had also gathered to see what was going on. There have also been calls from several people in my neighbourhood and passers-by. I immediately rushed home.
"When I got there, I asked an STF officer why they had come there. I found they had no search warrant. If there was one, I was not shown it. The officer said they had come there to search for 'budded' vehicles. I asked who had asked them to come to my residence. The officer said they were 'orders from the top.' I asked who those from the top were but he did not reply."
"Budded" is the name for vehicles that are assembled locally with components drawn from auto body outlets. Such auto body parts are cheaply available after some local businessmen have made a lucrative trade importing unserviceable vehicles from "graveyards" in Japan. Those who put together such vehicles avoided paying taxes and Customs duties. For the right fee, the owners had also been successful in obtaining registration from the Department of Motor Traffic through illegal methods. Several such detections have been made by the Police in the recent past. They have been registered locally after obtaining numbers of those vehicles that have been condemned for being non-roadworthy after accidents or for other reasons.
Nimal Lanza added, "I told them to go around and look for them.
"I said my vehicles are parked in the rear of the house. They went to the rear and checked the vehicles. They also checked the papers and later verified them using a laptop computer to check online with the Department of Motor Traffic. I had no cause to fear since I knew my documents were all in order. Neither I nor my friends, who enjoyed a reputation in Negombo, were involved in either selling or using "budded" vehicles. The STF team, I found, had arrived outside my house with their video and still camera persons.
"Now that their task was over, I asked the officer to withdraw with his men. He said he could not do so until he received orders. He would not tell me from whom he expected such orders. The operation which began around 9.15 a.m. continued until well past 11.30 a.m. During that period, they could not find what they were looking for. Though they were well within my premises, they did not enter my house and search inside.
"By the time they left, I received several telephone calls. The houses of five of my close associates, who were involved with me at the October 8 local polls, were also surrounded. Four of my friends and my brother-in-law had accompanied me to travel from one polling booth area to another. They have also been strong supporters of the UPFA in Negombo. Three were leading businessmen in the town. One was a dealer in motor vehicles. They had checked the registration numbers of vehicles these businessmen owned. They also checked the vehicles at the sales outlet. They found no "budded" vehicles or anything else incriminating. They did not, however, search inside the houses of the five. What was the reason for this humiliating action against me and my close associates?
"My first priority was to check on details of what happened to my friends. All of them faced the same treatment. I was able to find out that about 120 STF commandos were involved in this operation."
If the strength, as claimed by Lanza is correct, it is no doubt a major operation. During the separatist war, the STF was in charge of the country's eastern sector. Most of its counter terrorist operations then had involved numbers that were less than 120.
Lanza went on to say, "This showed the magnitude of the exercise. Though I learnt the STF had searched nine premises, it was altogether six. Perhaps the STF counted the sales area and living area of some separately. That whole of Monday, I was busy with this. I found out from every one of those who were affected what the STF wanted to know from them. They said they were looking for "budded" vehicles. I don't know whether this was a cover to harass and embarrass us. Only a fuller investigation will reveal.
"The next morning (Tuesday), I telephoned President Mahinda Rajapaksa at Temple Trees. I could not talk to him. I left a message. He was so kind to call me back. I related in detail what happened to me. He said he would come and see me the next day. However, he turned up on Tuesday itself. He shared the concerns I expressed to him and said he would order a full inquiry."
A team of Criminal Investigation Department (CID) detectives headed by ASP Mevan Silva is now conducting inquiries.
"I have decided to file a fundamental rights application in the Supreme Court since the STF action violated my rights," Lanza said. He said he was wrongly accused of being a dabbler in drugs and contraband. "The STF action caused me immense humiliation and embarrassment. The same thing happened to my brother-in-law and friends," he added.
Lanza also said he would file action for damages in the District Court. Similar legal action is also being considered by Lanza's five close friends and supporters.
Intra-party rivalry
Different reasons were attributed by different quarters in media reports for the raids. Most of them were that the STF commandos were looking for "budded" vehicles. Others claimed they were looking for drugs and contraband. The story also did the rounds in the UPFA political grapevine, though wholly wrong and without any basis, that Lanza and his supporters were bent on causing physical harm to Negombo's new mayor Anthony Jayaweera. There were claims that groups were making preparations with weapons for this. The move was allegedly in the light of reported disappointment by the Lanza family that Lanza Warnakulasuriya (also referred to as Dayan Lanza), brother of the WPC Minister, had not been considered for mayoralty though he polled 15,460 preference votes at the October 8 local polls. Instead, Anthony Jayaweera who came seventh with 4283 votes has been made the mayor. UPFA leaders had declared ahead of the local polls that the candidates who received the highest number of preference votes would become the heads of such local authorities. However, this has not been followed.
They argue that if the decision is based on the fact that a blood relative is a member of another body, such mayoralty cannot be given. But the Lanza family argued that there were exceptions. One instance, they point out, is the appointment of Mahendra Ratwatte, son of former Deputy Defence Minister, Anuruddha Ratwatte, as mayor of Kandy. He polled 6,948, the highest number of preference votes. His brother, Lohan Ratwatte is UPFA MP for Kandy District. However, Luxman Gunawardena, who won the second largest number of preference votes in the Gampaha Municipal Council (8,617) was not made the Deputy Mayor. Ajith Kumara who had polled 5,124 preference votes was given this position. Luxman is the brother of Sarana Gunawardena, Deputy Minister of Petroleum Industries.
There was also an accusation that one of Lanza's rivals, who is also a UPFA politician in the Negombo District, was behind the move to discredit him. However, the question remained whether he could by any means muster such a large STF strength and carry out an "operation."
It is in this backdrop that President Rajapaksa and Minister Basil Rajapaksa made the unprecedented and hurried helicopter ride to Dalupotha to re-assure Nimal Lanza that they had confidence in him.
Rajapaksa assured that he would order Police Chief N.K. Illangakoon to conduct an inquiry to ascertain the circumstances under which the search operation took place. The Sunday Times learnt that Illangakoon was unaware that such an operation had been carried out in Negombo.
One cannot expect him to know all the operations that are carried out by the STF. However, here was an instance where political sensitivities were involved. Under such circumstances, senior officers do brief their superiors not only of their impending actions but also on the veracity of the information on which they were acting. In most such cases, the information received is double or triple checked and verified before they conduct raids.
The Presidential visit was to see an official response from the Police Spokesperson on October 19 (Wednesday). Acting DIG Maxie Proctor (since transferred to Mannar) said, "This is in relation to media reports on October 18 which refer to a police raid reportedly carried out to recover weapons, drugs and contraband in the Negombo police area. The raid was on October 17 based on information about assembled vehicles and not a raid for weapons, drugs or contraband."
The Police announcement, intended to assuage Nimal Lanza's concerns, nevertheless raised some questions. The statement admits "the raid" was conducted on October 17 though it is silent on the fact that it was on the homes of Nimal Lanza and five of his close supporters.
Earlier, a senior STF officer had said that there was a search for "budded" vehicles but it did not involve the house of Lanza. Even more significant, it says it was based "on information." A cardinal rule that governs police on such circumstances is whether there is "credible information or reasonable suspicion." That is a key factor that is inculcated to the police during training as well as on the job. That the police were simply acting on "information" they had received is therefore not good news. Leave alone UPFA or opposition politicians, the ordeal caused to an ordinary citizen by such action could lead to irreparable damage. It could well become a cover for any unsuccessful "operation" they may carry out like in the case of Lanza and five others. Such a situation does not augur well for the government which has defeated the Tiger guerrillas and has embarked on a course of rapid development. Even internationally, at a time when efforts are being made to invite more foreign investment, it sends a wrong signal that the law and order situation is worsening.
Developments over Nimal Lanza came as the shooting incident that left Bharata Lakshman Premachandra, presidential advisor on trade union affairs, dead and parliamentarian Duminda Silva seriously injured, continues to remain in public focus.
In these columns last week, I had erroneously mentioned that Silva had received the title Deshamanya, the country's second highest national honour. He has not been considered for any national honour. This title has not been awarded by the state but only by a group in Kelaniya. However, Silva has continued to use the title in his website much to the embarrassment of those who have won the national title of Deshamanya. They were also reflected in leaflets he had printed and issued on different occasions.
News conference
The late Premachandra's brother Asela Premachandra and sister, Swarna Gunaratne, Sunethra Abeysinha, Dharma Nanayakkara and Prishila Wijesinha gave a news conference at the Hotel Nippon last Tuesday. Here are edited excerpts of what transpired.
Asela Premachandra: "We are not satisfied with the going investigations. There are contradictions. Lakshman Hulugalle, Director General of the Media Centre for National Security (MCNS) has said that Duminda Silva is not a suspect. There is an eyewitness who says that he saw Duminda shooting. Lot of people want to see that the culprits are brought to book.
"We made an appeal to the government to save our brother. We did not have a response. We sent this to the President. (Note: A Presidential spokesperson said no such request was received). The President has said that he can decide on the number of the security personnel to a person. That is correct. I believe that the security should be provided according to the threat assessment. It may not be correct for us, as persons who are living overseas, to ask for additional security. Also there are other issues like the events on the day of elections.
"There were a series of incidents in the area on that day. The police failed in their duties. We have only the media to appeal to. What we are calling for is an impartial investigation. We should not be asking for this. It should come naturally. Even a very senior lawyer S.L.Gunasekara has alleged that this is a murder. The law and order situation in the country is pathetic. From overseas we contributed towards the 'Api Wenuwen Api' programme. Please do not call us as 'traitors' now. What we want is that Police should not be disrupted in the investigation process. Lakshman Hulugalle's statement is something which creates doubts about the law."
A sister: "The family members of Bharatha are voiceless today. We thought that it is our duty to speak out. In a democratic country the correct situation should be given. We have several unanswered questions. There are several SLFP members who are sympathetic towards us.
Q: Why do you say you are not satisfied with the investigations?
Asela: We do not have confidence in the investigations, particularly after the statement made by Hulugalle. The CID says the investigations are on-going.
Q: Are you blaming the government?
A: We are not pointing our fingers at the government. Many in the government are sorry about the incident. We are thankful to those people. There may be some powerful persons in the government. We cannot be satisfied about the investigations due to various comments made.
A sister: There were some forces in the government who wanted to silence him.
Asela : Our question that there is no transparency in this investigation.
Q: Will the family go to courts?
A: We will have to discuss with the lawyers and make a comment about that.
Hulugalle's remarks also drew an angry response from opposition UNP leader Ranil Wickremesinghe. Speaking in Parliament on Wednesday on the debate on the law and order situation in the country, he said: "It should be the Police who should be commenting about the investigations into the killing of Bharatha Lakshman Premachandra but instead Lakshman Hulugalle has said MP Duminda Silva is not a suspect. What right does he have to make such a statement? Minister Vasudeva Nanayakkara is being questioned by the CID over the killing. Instead they should question Hulugalle. Everything has become a joke today."
Detectives recorded Nanayakkara's statement on Wednesday over remarks he reportedly made at a news conference on the Kolonnawa shooting incident. Nanayakkara said that the killing of Premachandra was a conspiracy. Detectives asked him whether this statement was based on any evidence and whether he has also spoken to the driver of the late Premachandra. Nanayakkara is learnt to have told detectives that he had been told by many persons, though he could not remember them, that there had been a conspiracy.
Despite the assertions of MCNS Director General Hulugalle, official media spokesperson and Media Minister, Keheliya Rambukwella, was to parry questions from the media at his weekly news conference held after cabinet meets. Here is a Q & A of the relevant remarks:
Q: The family members say they are not satisfied about the investigations.
A: It is a matter you and I cannot make observations as we have not been involved in it.
Q: Has Duminda Silva been taken into custody?
A: He cannot be taken into custody and handcuffed when he is completely unconscious. It is the culture of the country. You cannot tie him to the bed. The government will not interfere in the investigations. The proceedings will be done perfectly and accurately based on the information.
Q: There are cases where the suspects have taken away…
A: In this instance he cannot run away.He is unable to go through any of the processes, except the medical process which is being looked into.
Q: The external situation is different. There are rumours. I saw a report about transfer of the police officers involved in the investigations.
A: With rumours you cannot do investigations. We cannot stop that. As a government we say we will carry out a full investigation. There are no transfers carried out. We could have given the local police to investigate, but in this case the CID is investigating.
Q: Is he a suspect?
A: The authorities should decide that based on the investigations.
Q: Is Duminda a suspect?
A: That I don't know.
A two day magisterial inquiry into the death of Bharatha Lakshman Premachandra ended on Friday with 12 witnesses testifying before Additional Magistrate Prasanna Alwis. The witnesses included personal staff of both Premachandra and Silva.
The Additional Magistrate considering the evidence and the JMO reports held that Premachandra's death was due to multiple injuries caused by shooting. He said the death of Dharshana Jayatillake was as a result of injuries caused to the chest and abdomen by shooting whilst the death of Mohammed Azim by hemorrhage due to injuries on the abdomen and chest. The death of Maniveil Kumarasamy was due to shooting causing multiple injuries on the abdomen. During the evidence, the late Premachandra's driver Saman Shantha Perera said he observed Silva firing at Premachandra. However, Silva's driver Balasuriya Arachchige Chaminda said he did not see either Premachandra or Silva firing.
For the UPFA leadership who have been devoting considerable time for the November 21 budget, the breakdown in the law and order situation has come as a complete diversion. Yet, the two incidents dealt here are just a tip of the iceberg to show that priority attention is required to curb a disturbing trend. A crackdown on the underworld, an oft repeated goal of both the police and government leaders, is not the only answer. Politicisation of the police has taken an irreversible trend and a very heavy toll.
Suspension of UNP dissidents may be lifted
Diminutive Matara District UNP parliamentarian Buddhika Pathirana had already taken a seat in a Committee Room in Parliament ahead of a meeting by the party MPs last Tuesday.
The former TV anchor thought that despite his suspension, he could take part in proceedings of the UNP parliamentary group. It was Chief Whip John Ameratunga who raised issue. He said that Pathirana has been suspended and could therefore not take part.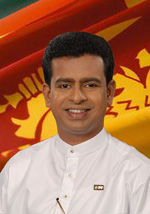 Buddhika Pathirana
"Though I have been suspended, I am an MP of the party. I can therefore be present here," replied Pathirana as he got set to dig his heels. He said moreover he had to brief the group on a task given to him - to study and report on the good and the bad of a private medical college being set up in Sri Lanka. Party leader, Ranil Wickremesinghe intervened to say "hand over your findings to the co-ordinator of the Committee." That was a signal for him to go. So he withdrew.
Dayasiri Jayasekera (Kurunegala District) who is showing signs of becoming a strong critic of the UPFA rose to speak. He lamented that party divisions were continuing and said pali ganeema or taking revenge should stop. He was alluding to the suspension from the party of not only Pathirana but also Shiral Laktilleke, member of the Western Provincial Council. The duo have already received their letters of suspension from General Secretary Tissa Attanayake. Laktilleke is learnt to have sent a lengthy response.
Wickremesinghe was emphatic that he did not take revenge. He said that in the case of Laktilleke, National List MP Harsha de Silva had written to the party General Secretary Tissa Attanayake about his conduct during the local polls campaign. He had not supported the party candidates. In the case of Pathirana, Mangala Samaraweera, the District Organiser for Matara, had written to say that he was supporting an independent group. This was at the expense of the UNP candidates. Samaraweera had noted that if disciplinary action was taken against Pathirana on complaints made earlier, the UNP would have won the Matara District.
Deputy leader, Karu Jayasuriya was to talk in cricketing parlance. Whilst the government is giving catches to our hand, we are out hit wicket, he said. He was suggesting that some in the government were making overtures at a time when crisis within the UNP continued.
Wickremesinghe noted that Attanayake was due in Colombo. He said he would discuss the issue further with him and Chief Whip Ameratunga and reach a final decision. UNP sources said Wickremesinghe struck a conciliatory note when he made those remarks. These sources said in the event of them deciding to call off the suspension, both Pathirana and Laktilleke may be called upon to extend an apology. Both have been vociferous critics of Wickremesinghe.
Today most senior members of the UNP will leave Sri Lanka on a week long trip. They will be learning the role of an opposition from their counterparts in South Africa. The all expenses paid tour is being arranged by Friedrich Niemann Stiftung (and not by the Fredrich Ebert Stiftung as reported last week). The delegation of UNP parliamentarians is led by Ravi Karunanayake and will comprise Mangala Samaraweera, Eran Wickremeratne, Dr. Harsha de Silva and Haren Fernando.
Jayasuriya who was to lead the delegation cancelled his travel arrangements after the suspension of the two UNPers. He wrote to Wickremesinghe last week protesting against the suspension. The move led to a one-on-one meeting between Wickremesinghe and Jayasuriya where the issues referred to in the latter's letter had been discussed. However, no details were available.