It's another honour for architect Nela De Zoysa. This September she will become the first Sri Lankan to claim a place on the International Council of the Royal Institute of British Architects (RIBA). She is one of twelve new members.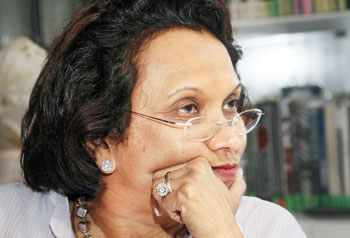 Nela: First Lankan on RIBA International Council. Pic by M.A Pushpa Kumara
We catch up with the well known architect in her offices on Isipathana Mawatha. Dressed all in white, she comes to greet us with a mug of coffee in her hand. We've caught her in a rare free moment. She will be flying out of the country within days, her schedule is packed with events, particularly as her tenure at RIBA will overlap with her appointment as the Chairman of the Fellowship Committee of the Architects Regional Council of Asia (ARCASIA) which began in 2010 and will finish in 2012.
In her tenure on the International Council of RIBA, Nela hopes to found a chapter of RIBA in Asia – in fact it was her election pledge and quite probably won her the votes of the organization's international membership. Currently, other chapters of RIBA such as RIBA Gulf and RIBA USA already exist. "I thought RIBA Asia would be a good way to start," Nela says, explaining that she saw her involvement with ARCASIA as compatible with this goal. Much is yet to be decided though – Australia and New Zealand have both indicated interest in being included in the collective in which case the new chapter would have to be dubbed RIBA Pacific.
In the meantime, Nela continues to run a thriving business based in Sri Lanka. She opened the doors of the Nela de Zoysa Design Corporation in 1993 and today she is its chairperson. Both here and previously as the principal designer for her father's firm Justin Samarasekera Associates, Nela has gained extensive experience with design development and construction management, turning out award winning designs for buildings ranging from banks to commercial complexes, from hotels to personalized housing, renovation projects and interior design. In her long career, she has been much feted. Between 1989 and 1993 alone she won 7 Sri Lanka Institute of Architects' 'Awards of Excellence' and 'Colour Awards' – a number that would grow until her present total as the recipient of no less than 16 national awards. She is, of course, a fellow of the Sri Lanka Institute of Architects.
She has since then racked up more honours. In 2000, her design work on the BMW offices, showrooms, workshop and stores complex made her the first Sri Lankan to receive the ARCASIA Gold Medal for her Architecture and Interior design. At that time, her submission beat others from several other Asian countries. She also had the distinction of being the first Sri Lankan woman to receive the South Asian Architect Commendation Award in 2000 for the Priyanthi Stephen House and was the recipient of the 'Woman of Achievement Award' for Architecture from Zonta International in 1993.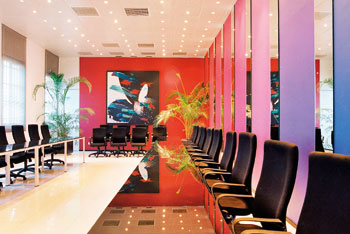 An SLIA Colour Award winner for Nela: The Ministry of Ports and Aviation
Most recently, in 2008, she was presented with the prestigious 'Commendation Award' at the inaugural Geoffrey Bawa awards, for Excellence in Architecture. A particular honour came with her induction as an Honorary Fellow of the American Institute of Architects - "the highest honour the American institute could bestow on someone practising outside the USA," says Nela. Not only did she become the second Sri Lankan architect after Geoffrey Bawa to be singled out, she was also the first woman from the SAARC region, and further from Philippines to France, to be so recognized. In addition, Nela would become an Associate Member both of the Royal Australian Institute of Architects (RAIA) and of the Royal Architectural Institute of Canada as well. She is a life member of the Indian Institute of Interior Designers.
It's no surprise, then that Nela is constantly juggling a full schedule. For architects, like herself, keeping a business afloat has been challenging in the face of sagging global economy. Still she is hopeful that the construction boom underway will provide new opportunities. Should this happen, Nela, who is already well known for her distinctive, contemporary style and impeccable eye for design, is well positioned to make the most of them.