Is getting to work for you more tiresome than work itself? Is the most stressful part of your job the daily commute to work and not the boss or deadlines? But when you are stuck in traffic, tired and stressed out think of the good side of the commute. The good side? Yes, the good side is that you just may wish to enjoy your commute as all signs are that it will steadily worsen in days to come.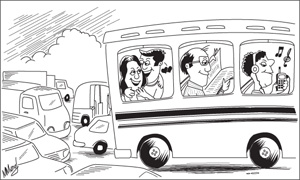 You should have by now experienced that the point where congestion began during your commute one year ago, one month ago and where it is now has slowly almost unobtrusively crept up on you. As a regular traveller on Galle Road, I remember that queuing in the morning began at the Kawdana Road in Dehiwela two years ago. Then the flyover extended this queue to the Odeon Cinema and now the traffic surge due to higher imports of vehicles has extended this to Mt Lavinia junction. No matter which road I check out, the story is the same. Things have slowly but distinctly got worse.
Studies show that most urban commuters do not wish to spend more than one hour each way. Anything beyond this takes too heavy a toll on quality family life, health, social interaction and a stress free life style. A recent survey has shown that 96% of commuters in New Delhi and 95% in Beijing say that traffic congestion has negatively affected their health, work or school performance.
How it happens
How does congestion happen? Simply stated it is when the road space demanded exceeds the available supply. This happens at specific locations and during specific times. What is referred to as increasing traffic congestion is when both the time period a road is congested or the length of the road subject to congestion increases. Often it is both and the commuter has to spend more time and more fuel.
Why does the demand for road space increase? It grows because of increasing population, but in Sri Lanka this is an insignificant 1% per annum. The bigger increase comes from higher economic activity. For example, for every 1% increase in GDP, mobility can be expected to increase by 1.2%. So when the Central Bank says that our GDP growth would be 8%, we should expect an increase in mobility of around 10%. This can lead to even higher demand for road space if passengers transfer from space efficient vehicles such as trains and buses to space inefficient vehicles such as cars and yes, even motor cycles and three wheelers. Currently, this growth in requirement for road space can be as high as 12% per annum. This actually translates to a frightening situation where the road space required doubles every 6 to 7 years.
Congestion and Quality of Life
Have you ever wondered how pleasant life would be if like in olden days, the travel from home to work was a casual walk? Urban centres attract high value activities which can be accessed by many people. The better the transport system, the bigger and more economically efficient a city becomes. Such cities attract several times the number of inhabitants during the day time. The inability of the transport system to continually provide for this increase leads to congestion, pollution and noise making the city less livable.
When an individual makes a decision where to live or work and if thereafter he is faced with a dilemma when congestion increases his travel time, his real choice is then either to change his place of residence or place of work. A number of people do this and some even stop working altogether. But usually they continue with the belief that roads would be widened in due course or that he will find a faster mode to travel. But after a while he learns to cope with the slowness of traffic accepting that roads would not widen as fast as the demand for space increases or as he would like them to. The resulting congestion will however impact all our lives as there would be higher economic losses, less attraction to city centres for consumers and commuters as well as an increase in land prices both within cities and suburbs.
Building the way out of Congestion
The typical administrator as well as most commuters and drivers live in the belief that when a road that is congested is widened or a new road is built, that will lead to vehicles travelling faster. What actually happens is that a faster road attracts new commuters and more vehicles to join. It usually does not take more than five years for the road speed to become what it was before. In Colombo, the Baseline Road, Marine Drive, Parliament Drive stand in testimony as new or widened roads that have got congested in short periods. This is referred to as the adage that 'traffic fills space' and is a global phenomenon especially in a developing country where high growth in income leads to high traffic growth.
Sri Lanka's only two commuter cities have now joined scores of Asian cities where peak period speeds are 10 km/hr or less. As speeds fall, the typical political knee jerk reaction in most countries is to promise new roads and wider roads. Some even venture to pledge expressways and flyovers. In fact in many cities such as Seoul, Manila and Kuala Lumpur, these promises have been fulfilled, except that congestion has got even worse. The best documented case is that of Bangkok which in the 1980s and 1990s began to build extensive elevated road systems within the city, only to find that the ground level roads could not take the increased traffic these new roads brought to the city.
The requirement for parking, stopping, turning, etc could not be entirely provided at ground level. Often queues back up to the elevated expressways, where travel was becoming a nightmare. A 2-km journey could take anywhere from three minutes to three hours. Cars began carrying portable toilets and traffic police were given training in assisting in child birth as expectant mothers quite often could not make it to the hospital in time.
So, Colombo seems all too willingly to be unwittingly led to join a long list of cities where administrators having thought they could solve traffic problems succeeded only in creating a transportation nightmare. The only way out is to abandon the myth that widening roads can be kept up with growing demand. Over the last decade the demand for road space at the CMC boundary increased from 150,000 to 225,000 vehicles per day. In Kandy the growth during this same period has been from 36,000 vehicles entering the KMC to 56,000 today. With the economy pegged to grow even faster and taxes on vehicle imports less than in past years, the growth in traffic will be even faster in the next decade.
A Strategic Action Plan to tackle this was approved by the Cabinet of Ministers in 2008 and also filed as a response in a Fundamental Rights petition in the Supreme Court but now seems to have been itself caught in congestion! The Land Transport Policy approved in 2009 which sets out urban transport interventions also seem to suffer the same fate. Currently Colombo's option seems to be 'Do-Nothing'.
The Do-Nothing Option
The do-nothing option will however also lead to a 'solution' in Colombo. This is where businesses which find access difficult due to congestion have to relocate to the suburbs. Thus less people will come to the city making it less attractive. But the bigger problem would be the increased congestion in the evenings when returning home and having to pass all these relocated establishments such as has already happened in Nawala, Maharagama, Kiribathgoda, Wattala, Ja-ela, Dehiwela and almost every suburban town up to 15 km from the centre. Thus congestion has shifted from Bambalapitiya and Kollupitiya to locations further away, making it far worse for those who commute longer distances and increasing overall congestion costs.
It is clear that while there are several scientifically based and practical options for solving congestion in Colombo or Kandy, it seems that the typical administrator prefers to randomly do what he sees in other countries whether appropriate or not. What is often not seen or noted is that other cities have solved their problems using extensive surveys, studies, discussions, referendums where necessary. Besides no two cities can have the same solutions as their problems are different. There is a research on traffic management in Colombo published in 2008, also studies for Bus Rapid Transit and Congestion pricing in 2009 all of which remain unused.
This is bad news for the commuter who is most likely to spend a considerable part of his future life stuck in traffic. But he must think that surely, there will be relief and that Government will come up with a solution. But would it and if so when? More imports of vehicles means more tax revenues in the short-term. Thus the government and its administrators cannot be in much of a hurry to cut down imports and to make interventions sustainable. So, we need to look at solutions that are sustainable. More about that in the next article.
Next article: What you should know when you get stuck in traffic again (Part 2)
(The writer is Senior Professor at the Department of Transport & Logistics Management at the University of Moratuwa and Sri Lanka's foremost traffic management expert. He can be reached at prof.kumarage@gmail.com).