During World War II a young Jewish girl, Anne Frank, kept a diary while her family hid from the Nazis for two years. Anne Frank and her family were victims of the Holocaust, which was Nazi Germany's campaign to destroy the Jews. Although Anne did not survive the war, she became known to many people through her diary. In addition to revealing a portrait of the young girl, the diary provides a powerful
description of Jewish life in Europe during that time.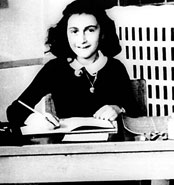 Ann Frank
Early life Anne (Annelies) Marie Frank was born on June 12, 1929, in Frankfurt, Germany. During the 1930s, Anne's homeland grew very hostile toward Jews. After Adolf Hitler rose to power in 1933, Anne's father, Otto Frank, went to The Netherlands to set up a business in the city of Amsterdam. Anne, her older sister Margot, and their mother Edith soon joined him. The family settled into life in Amsterdam.
World War II begins In 1939, German troops began invading other countries. World War II had begun. In May of 1940 The Netherlands surrendered to Germany. The country was no longer safe for Jewish people. They were forced to turn over their businesses to the government. Shops and restaurants refused to serve Jewish customers.
Anne and Margot were no longer allowed to attend school with non-Jews. By 1942 Jews were required to wear a yellow Star of David (a symbol of Judaism) on their clothes to identify themselves.
Soon Jews were being rounded up and sent to concentration (prison) camps, where millions of people were killed during the war.
Secret annex On July 5, 1942 Anne's sister Margot received a notice that she would be sent to a work camp. The next day, the Frank family went into hiding. Otto Frank had prepared the upper floors of the back annex to his offices as a secret place for them. They were joined by four other people. With the help of some non-Jewish friends, the hideaways were supplied with food and other bare necessities.
For two years the eight people shared the small space. They did not go outside, and they lived in constant fear that they would be discovered. However, they still tried to lead a normal life. Anne and Margot studied their schoolbooks. Anne also kept a diary. She wrote about her interest in boys and movies, the ups and downs of daily life, and even her struggles with her mother. Her writing shows remarkable hope in the face of fear and evil. "In spite of everything I still believe that people are really good at heart," she wrote.
Discovery of the annex On August 4, 1944, the Gestapo (German police) raided the annex. They had received a tip that Jews were hidden there. The family was taken to a transit camp in The Netherlands called Westerbork.
From there they were transported to the concentration camp at Auschwitz, Poland. A month later, Anne and her sister were sent to the prison camp at Bergen-Belsen in Germany.
In 1945 Anne's mother died of starvation in Auschwitz. In Bergen-Belsen, Anne and Margot caught the disease typhus. They died within weeks of each other in March 1945. Their deaths occurred one month before the camp was freed by Allied troops. Anne was 15 years old. Anne's father Otto was the only resident of the annex to survive.
The diary Family friends discovered Anne's diary after the Gestapo raid. They kept it safe and gave it to Otto after the war. In 1947, he published Anne's diary, calling it 'The Secret Annex'. This was the title that Anne had wanted to use. Later it became known as 'The Diary of Anne Frank'.
The diary is a powerful reminder of the horror and tragedy of the Holocaust. It has been translated into more than 60 languages. It has also been made into a play and several movies. The annex
building in Amsterdam is now a museum called the Anne Frank House.