Poetry took the prize when Sakuntala Sachithanandan won the 2010 Gratiaen for her collection 'On the Streets and other Revelations'. Published by Godage, the collection of poems was praised by the panel of judges for its engagement with social issues and its emphasis on values such as justice and fair-play. Better known for her work as an author of children's stories such as 'Tales from the Treehouse, ' Sakuntala appears to have come into her own as a poet with last night's win.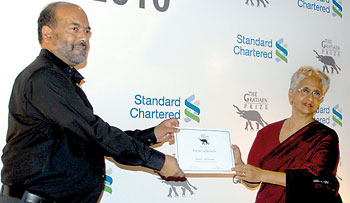 Sakuntala receives the prize from Dr. Waletr Perera, Chairperson of the Gratiaen Trust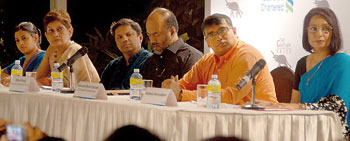 Th panel of judges among others at the head table. Pic by Sanka Vidanagama
Declaring herself both delighted and overwhelmed by the honour, she accepted the certificate and a monetary prize of Rs. 200,000. She is the 18th to win the prize since it was first instituted in 1992. Its founder, Michael Ondaatje, created the prize with the money he received for his joint-Booker Prize win for his critically acclaimed novel 'The English Patient'. Named in honour of his mother Doris Gratiaen, the prize is today counted among the country's premier literary honours. It is awarded annually to a Sri Lankan resident in the country and is meant to support Sri Lankans writing in English.
This year, Feizal Samath chaired the panel of judges which included Sunethra Bandaranaike and Dinithi Karunanayake. The three judges first created a shortlist of five from 40 plus entries, among which were works drawn from a variety of genres - ranging from literary memoirs to novels and short stories, these were represented in the shortlist as well.
Among the nominees this year were Rozaine Cooray for 'Colours of the Sun', Shyam Dissanayake for his novel 'Dalada', Herman Gunaratne for his memoir 'The Suicide Club', Shirani Rajapaksa for her collection of stories 'Breaking News' and Sakuntala herself. The judges explained that they made their decision based on criteria including the choice of theme, literary techniques and language, the creation of detailed and nuanced characters and originality of subject matter, among other considerations.
Of the winning entry, the judges declared, "In many of the poems in this collection, the writer shows empathy for those who have been victimized by society's callousness, insensitivity and brutality...However, her forte clearly lies in her penetrating portrayals of human situations with all their contradictions."