Loud explosions rocked the besieged rebel-held Libyan city of Misrata where the death toll is said to be mounting. On Saturday rights group charged Muammar Gadaffi's forces were using banned cluster bombs.
Libya together with the US, Israel, Russia and China is one of the states which has not signed the convention. A spokesman for the Libyan regime denied the accusations. "Absolutely no… we can't do this. .. ," government spokesman Mussa Ibrahim told journalists.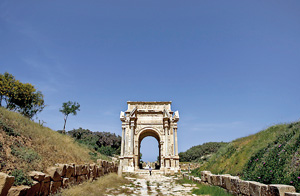 A woman walks at the entrance to the ancient ruins of Leptis Magna, listed as a World Heritage Site, in the Libyan coastal city of Lebda on April 15, 2011. AFP
The blasts were accompanied by bursts of gunfire heard coming from the city centre, after NATO flyovers and possible air raids followed by a lull in shelling and shooting, an AFP correspondent reported.
Latest reports said government troops intensified their siege of Misrata, the only west Libyan city still in rebel hands.
A meeting of NATO foreign ministers in Berlin ended without a commitment from non-participating states to contribute warplanes and Russia charged NATO was exceeding its UN Security Council mandate to protect civilians.
It called for urgent moves towards a political settlement. "We believe it is important to transfer things into the political course and proceed with a political diplomatic settlement" Russian foreign minister Sergei Lavrov said after talks with NATO ministers in Berlin Differences over Libya widened when the BRICS group --Brazil, Russia, India, China and South Africa-- said "the use of force should be avoided.
" Russian President Dmitry Medvedev went further, arguing Resolution 1973 did not authorise military action of the kind being carried out by jets from NATO and some Arab countries. Meanwhile, state news agency JANA said Gadaffi's hometown was targeted by NATO warplanes on Friday.
The leaders of Britain, France and the United States said a Libyan future including Gadaffi is "unthinkable." French Defence Minister Gerard Longuet said the United States, Britain and France were thinking beyond UN Security Council Resolution 1973 --which authorises action to protect Libyan civilians-- and now are seeking regime change.
He admitted the statement by the three leaders went beyond the terms of the current UN mandate.
"But I think that when three great powers say the same thing, it's important for the United Nations, and perhaps one day the Security Council will make another resolution," he added.
(Compiled from agency reports)