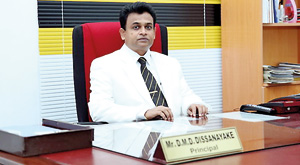 Principal D.M.D. Dissanayake
D.S. Senanayake College a trendsetter among the educational institutes in the Island will implement the Japanese 5S system to reduce unnecessary overheads and increase productivity. The Principal Mr. D.M.D. Dissanayake stated the 1st phase of this programme will be implemented in the primary sector which is recognized as the model primary by the Ministry of Education.
The new Assistant Principal of the primary sector Mrs. Nimali Kuruppu, who possesses an abundant supply of tact, diplomacy and commonsense with high administrative skills commented that all necessary steps have been taken to train the teachers to implement the system effectively.
After the 2nd World War Japan started making different strategies to develop the country. The 1st step is to develop an institution and implement the 5S system to improve productivity.