The West was still in the grip of the Cold War. But rather than scanning the skies for Soviet nuclear missiles, it seems, the British had their eye on a different menace. Secret documents released on Wednesday show that the 1970s were the heyday of UFO spotting, with hundreds of people peering skywards for evidence of extraterrestrial life, though the 2004 picture of multi-coloured lights in the Sri Lankan sky suggest some alien enthusiasts still believe the truth is out there.
In April 1979 the Home Office issued guidance to all police forces, fire services and councils about what to do in the event of a 'nuclear satellite crash' - code for UFO wreckage from space that could be radioactive.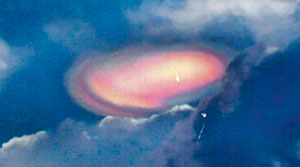 The Sri Lanka doughnut: A doughnut-shaped phenomenon was photographed by a retired RAF officer in Sri Lanka in 2004 and sent to his old bosses at RAF Fylingdales in North Yorkshire. He described it as 'a ring like a doughnut... orange in colour with a white/cream finger pushed through, the head of the column glowed an orange colour, behind the doughnut was a second cloud of colour'
People would be ordered to keep 100 yards away from potentially harmful debris and any fragments would be sent to the Ministry of Defence. A UFO sighting hotline was also set up. The document is among 35 files made public on Wednesday, containing 8,500 pages of alleged UFO sightings, spacecraft landings, bright lights and alien abductions reported by the public and filed away by the MoD's Secretariat 2A unit.
As the blockbuster movie Close Encounters Of The Third Kind seized the public imagination, UFO sightings jumped from 435 in 1978 to a high of 750 the following year. In the early hours of April 16, 1978, the RAF launched an investigation after 17 witnesses claimed extra-terrestrials were at large across southern England in a cigar-shaped UFO. They described lights covering its base, an exhaust and a white cockpit. Some said it fired out flames or a ball of fire.
In November the House of Lords held a three-hour debate on UFOs - the only full debate on flying saucers held in Parliament. Lord Clancarty, a self-confessed 'ufologist', claimed there had been thousands of mysterious visits. But others said sightings were down to 'natural phenomena'.
In December 1980 came Britain's biggest UFO mystery, the Rendlesham Forest incident in Suffolk, when U.S. Air Force personnel apparently saw bright lights descending outside RAF Woodbridge and discovered a small triangular-shaped craft.
But it emerged on Wednesday that when the MoD trawled its records in 2000, the Defence Intelligence files for 1980-82 that would have covered the incident were found to have been inexplicably destroyed. Those from the years directly before and afterwards survive.
The files also reveal that a forged document about Rendlesham was posted on the MoD website in 2002, claiming that an unknown craft landed, crewed by 'entities approximately 1.5 metres tall', speaking in an American accent and with 'claw like hands with three digits and an opposable thumb'.
The MoD noted in a memo: 'This document is clearly a forgery... this could be rather embarrassing if it ever found its way to a newspaper.' More recently, 15 unidentified aircraft were detected on radar approaching the UK in the months before 9/11. Just one UFO report was received on September 11 itself.
By 2001 UFO sightings had plunged, with an average of 130 a year until 2007, when the decision was made to prepare the files for public release.
© Daily Mail, London