"Ohwa ganang ganna epa. Weday keregana yanna. Mata oya yakada godeking vedak nehe. Mata Kanagatuwa jeevithayak nethivuneka genai" (Meaning: Don't take it too seriously. I am not interested in a heap of metal. I am sad that a life was lost), President Mahinda Rajapaksa told the newly appointed Air Force Commander, Air Marshal Harsha Abeywickrema.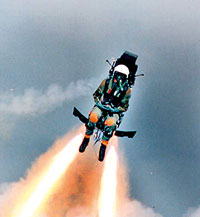 A Martin-Baker ejection system being tested. Pic Courtesy Martin-Baker
Those words of consolation came when Mr. Rajapaksa declared open the Sri Lanka Air Force carnival and exhibition to mark its 60th anniversary. It was held at the SLAF base in Ratmalana on Wednesday.
It was only the day before that a rehearsal was held for the fly past for the grand event. Helicopters including Mi-17s, a fleet of AN 32 transports, Chinese F 7s, Russian MiG 27s were to be followed by two Israeli built Kfir interceptor jets.
The latter were at the tail end of the fly past and collided. Squadron Leader Vajira Jayakody, the pilot of the jet, which was at a higher flight level, triggered his ejection seat and escaped. However, the one who was immediately below, Flight Lieutenant Monath Perera, could not eject successfully and was killed.
The tragedy occurred in the skies over Yakkala in the Gampaha District. The ejection mechanism in military aircraft generates a force of thrust (G force as it is called -- or a unit of force equal to the force exerted by gravity) that is capable of causing blackouts for pilots on occasions.
President Rajapaksa who had flown to Anuradhapura to address a meeting of UPFA candidates (and 20 supporters each) for the upcoming local polls was airborne in his VIP helicopter to return to Colombo. The SLAF control tower radioed the sad news to him through the pilot. He immediately diverted course to land at the scene and see the damage. Nervous Presidential Security Division aides who were in civvies pulled out their Heckler & Koch automatic weapons to form a cordon around the area.
The fact that the incident came barely 24 hours after Air Marshal Abeywickrema assumed command was not lost on the President. Hence, his comforting words. On Wednesday night, the President attended the 60th anniversary dinner at Colombo Hilton where officers sat down for a four course meal.
The crash left the Air Force without the only two operational Kfir jets. They were purchased at US$ 3.5 million (nearly 400 million rupees) each. However, prices now have doubled. Besides, obtaining new Kfir jets from Israel would require US government permission. This is because they are equipped with General Electric engines manufactured in the US. Israel, in terms of a treaty, is debarred from selling them without Washington's permission. The wreckage was beyond redemption. Others in the SLAF Kfir fleet remain grounded for want of spares and repairs.
The pilot who survived, Squadron Leader Jayakody, becomes a member of the exclusive and unique Ejection Tie Club in Britain. It was established by Martin-Baker, one of the world's leading and oldest manufacturers of ejection systems for combat aircraft. The SLAF used their systems like air forces in many other countries including the United States. He will also receive other insignia.
The primary objective of the Club, according to the British headquartered Martin- Baker, "is to provide a distinctive tie to be worn with civilian clothing and thus to provide a visible sign of the members' common bond." The design of the tie incorporates the warning to be found on all aircraft equipped with an ejection seat. Life membership in the Martin-Baker Tie Club is confined solely to persons who have ejected from an aircraft in an emergency using a Martin-Baker designed ejection seat, and thereby saved their life.
The first pilot to become member, according to Martin-Baker, was Onay Kus, a Turk who ejected from an NF5A aircraft in June 2007. Since then, many female pilots have also joined in. It includes Linda Maloney, a naval aviator and an Aerospace Engineering Duty Officer of the US Navy. Another is Jessica Gardiner.
She was practising touch and go landings when a turkey vulture struck the aircraft in Texas, USA. Bismi Devassey, a female pilot of the Indian Air Force who was on a solo mission found her radio and direction finding equipment not working. When the aircraft became low on fuel, she ejected successfully using a Martin-Baker system.
Turtle man turns millionaire
Here is a case for the Department of Wildlife Conservation to investigate. Lovers of sea animals do not run all the turtle hatcheries that dot the south coast for purposes of conservation. Some are fake and charge as much as Rs 200 from a local visitor and Rs 500 from a tourist just to show a few sea turtles.
One case in particular is the hatchery run by a local entrepreneur. The number of baby and grown turtles in this hatchery could be counted on the fingers of both hands. However, the man who runs it is known to receive large donations from overseas conservation groups.
So much so, he has built a new house with a swimming pool and other mod cons. That is not all. Some foreign conservation groups have sent volunteers to work in his outfit and explain to visitors the lives of turtles.
Unbelievably, they are charged high amounts. One western national had to pay 800 Sterling Pounds (Rs.x 140,000) every month to the turtle conservatory. The foreign guide had to agree to conditions before being accepted. One is that they cannot leave the owner's high walled house after nightfall. The gates are locked and the dogs are let loose.
No presidential meeting for Burt
Alastair Burt, Britain's Parliamentary Secretary for Foreign and Commonwealth Affairs, who was in Colombo last month failed to obtain an appointment for a courtesy call on President Mahinda Rajapaksa.
A British High Commission official said the mission "informed the Ministry of External Affairs of Mr Burt's visit.
The Ministry organised an appropriate range of official calls, including meetings with the Minister of External Affairs, Minister of Economic Development and the Defence Secretary"
Other sources said a request for a meeting with President Rajapaksa was not arranged by the EAM.
Three new ports, but no checks
President Mahinda Rajapaksa, who is in charge of immigration and emigration, has signed a proclamation declaring three more "entry and departure" points in Sri Lanka.
They are "the Port of Magam Ruhunupura Mahinda Rajapaksa, the Port of Norachcholai and the Port of Oluvil."
The move means Sri Lankan nationals as well as foreigners could depart from or arrive in Sri Lanka through these three entry-exit points. However, arrangements for immigration and customs facilities in these areas are yet to be made.
Green hat for UNP's new ally
UNP deputy leader Karu Jayasuriya, who is in charge of the local polls campaign for his party, ended his tour of all districts this week. Together with General Secretary Tissa Attanayake, he has been travelling to every district where local polls are held.
On a visit to Eravur, the two of them signed a memorandum of understanding with an independent group. That is for the group to support the UNP if their candidate wins. The Returning Officer had rejected the UNP's own nomination list for the council.
At the end of the signing, Mr. Jayasuriya removed the white hat of the leader of the Independent group and replaced it with a green one. The white hat is the polls symbol of that group.
They travelled from district to district in a Toyota Coaster coach, specially built with a flat bed seat. During long hauls, Mr. Jayasuriya and other UNPers watched movies through an on board TV and DVD player. Films included Mother India, Slumdog Millionaire, SRI 420 and Son of India. However, the most popular programmes among the travellers turned out to be the Mr. Bean series. They exploded with laughter every now and then.
Top cops and wheels within meals
Some Police top brass and Sri Lanka Cricket (SLC) officials were equally embarrassed. This was when they learnt that the meals provided to some 3,500 police officers on duty at the expense of the SLC had turned rancid and was unfit for human consumption.
This happened during the World Cup day-night cricket encounter between Pakistan and Canada at the Premadasa Stadium on Thursday. Sri Lanka Cricket pays the Police Department Rs. 350 to provide both lunch and dinner to the officers on duty during the World Cup matches.
Angry sleuths probed how the stale food came to be in their meal packets. It turned out that the person handling the contract to supply meals is the wife of a top cop. No further inquiries were held. The cost for lunch and dinner for 3,500 police officers for the 11 World Cup matches (at Rs. 350 for lunch and dinner) played in Sri Lanka works out to a staggering Rs. 13.47 million.
And who supplies the bottled water for those meals? The deal has gone to a controversial top cop who is now retired.
Libya overshadows Lanka at UNHRC
Since the United Nations Human Rights Council began its sessions on February 28, there has been little or no attention focused on Sri Lanka.
The only exception perhaps is the speech by Plantation Industries Minister Mahinda Samarasinghe, who has been assigned the subject of human rights. He was the seventh speaker when the sessions began.
Not even the annual report of the United Nations Human Rights Commissioner Navaneethan Pillai to the ongoing Council sessions contain any reference to Sri Lanka.
The sessions have focused almost entirely on human rights issues in Libya and related matters.