Sixteen districts are affected by the heavy rains that have caused extensive flooding. The torrential rains that began on January 8 have affected more than one million people.
The Eastern districts of Batticaloa, Ampara and Trincomalee are the worst affected, while Anurapapura and Polonnaruwa in the North Central Province are also affected. The other districts are Kandy, Nuwara Eliya, Matale, Moneragala, Badulla, Ratnapura, Kegalle, Mullaitivu, Mannar and Puttalam.
Here is a quick review of some of the worst-affected districts:
Batticaloa
A total of 542,000 persons have been affected by the district's heaviest rains since 1913. More than 165,000 displaced persons are being housed in 275 camps, set up in schools and other public buildings. Nine deaths have been reported. According to Government Agent S. Arumainayagam, the entire district of Batticaloa has been affected by the floods. Schools have remained closed since last Monday.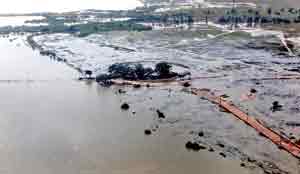 The line between land and sea has disappeared in Batticaloa
More than 100,000 acres of paddy land have gone under water, while 1,481 houses have been completely destroyed, and another 3489 partially destroyed. Transport has been at a standstill for almost a week. The area is short of food supplies, including essential food items. Hundreds of head of cattle, as well as thousands of chickens, have been washed away in the floods.
Persons living across the lagoon in the village of Paduwankarai are cut off from the mainland. They are without food supplies, and boats have not been able to cross the lagoon. Train services to Batticaloa have been interrupted. Only the Colombo-Valaichchenai train service is in service. Power supply to the Batticaloa area is intermittent. The damages caused by the floods have not been estimated.
Ampara
A total of 112,384 families, or 418,154 have been affected. Government Agent S. Kannangara said there are 114,944 persons in 135 camps. Ten deaths have been reported, and three are missing. There was heavy loss to agricultural land, with an estimated 84,117 acres of paddy land destroyed. Several schools are occupied by displaced persons. Transport services returned to normal on Friday.
Vavuniya
A total of 11,200 families, or 39,582 persons, have been affected. Most of the irrigation tanks have reached spill level, and sluice gates have been opened. A number of roads have been damaged, including a section of the A9. Vavuniya North is the worst affected area.
Mannar
Some 540 families, or 2,054 parsons, have been affected. Much of the flooding has been caused by overflowing of the Malwathu Oya and the Nachchaduwa Tank in the neighboring Anuradhapura district.
An estimated 2,000 acres of paddy land has gone under water.
Anuradhapura
A total of 2,849 families, or 11116 persons, are affected. This is the worst flooding since 1957, when the entire town of Anuradhapura went under water. Some 300 houses are totally damaged, and 1,000 houses partially damaged. An estimated 30,000 acres of paddy land are under water. Transport services have been disrupted, with several roads under water. By Friday, the water had begun to recede, but intermittent rains continue in several areas.
Polonnaruwa
Around 700 families, comprising around 2,203 persons, have been affected. Twelve sluice gates of the Kaudulla tank, 10 gates of the Parakrama Samudraya, and eight sluice gates of the Minneriya Tank have been opened as water reached dangerous levels with the Giritale tank overflowing.
Matale
A total of 584 families, or 2,178 persons, have been affected. Several earth-slips have been reported. Some 500 displaced people are being housed in camps after their homes were damaged.
Kandy
The heavy rains have displaced 641 families, or 2,643 persons. Eight deaths caused by earth-slips have been reported. Several roads, including the Mahanuwara-Mahiyangana and Ampitiya-Talatuoya stretches, are impassable. Some 460 displaced persons are being housed in camps; 93 houses have been totally damaged, and another 315 partially damaged.
Nuwara Eliya
A total of 110 families, or 429 persons, are affected by heavy rains leading to earth-slips. The worst affected areas are Walapane, Hanguranketha, Kotmale, Ambagamuwa and Nuwara Eliya.
Other districts affected by rains and flooding are Kegalle, Moneragala, Badulla, Ratnapura, and Mullaitivu.
– Reports by the Sunday Times News Desk, Atula Bandara in Anuradhapura, and S. Gurunathan in Trincomalee