BEIJING (AFP) - China solidified its financial might in 2010, becoming the world's second-largest economy, but it was often inflexible and isolated on the political stage—an intransigence typified by the Nobel peace prize drama.
As Beijing's global clout steadily mounted, its relations with key world powers became more complicated and could be further strained in 2011, experts say, with the communist leadership's political stance hardening.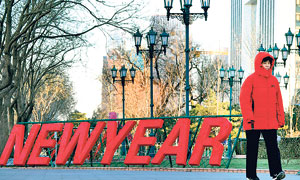 A woman walks past a new year greeting in front of an office building in Beijing on December 31, 2010. AFP
After surpassing France, Britain and Germany in the race to global economic supremacy thanks to years of double-digit growth, China unseated Japan for the world number two spot behind the United States.
The international community sought China's input on pressing issues, especially within the Group of 20, which looked to find a way to rebalance the skewed global economy.
Its currency policy and accusations that the yuan was undervalued dominated world summits, its two interest rate hikes in less than three months moved global markets and it earned a bigger say in the International Monetary Fund.
"Decisions made in China have repercussions around the world. Because China does now have a much larger economy, its global political clout has increased," Tom Orlik, an analyst at Stone & McCarthy Research Associates, told AFP.
But this year, the ruling party faced two major headaches -- soaring consumer prices and a wave of strikes in the country's industrial heartland in the south -- both of which have the potential to stoke mass social unrest. At its annual meeting in October, the party confirmed Vice President Xi Jinping's march towards the presidency of the world's most populous nation, but appeared divided over the thorny issue of political reform.
That debate gained greater significance when jailed dissident Liu Xiaobo, who has long advocated reform of the country's one-party system but was virtually unknown at home and abroad, won this year's Nobel peace prize.
Beijing was furious, calling members of the Oslo-based Nobel committee "clowns". It blacked out foreign TV coverage of the ceremony honouring Liu, calling it an example of "political theatre". "Is there a 'plot' among the Western countries against China?" the Global Times, a nationalistic state newspaper, asked.
In the more than two months since the Nobel announcement, the constant stream of invective, threats and pressure has painted a picture in the West of an obstinate, bull-headed China -- not exactly how Beijing planned to use its "soft power" to conquer Western public opinion.
"The reactions of the Chinese authorities... only served to reinforce a feeling of increasing mistrust vis-a-vis Beijing," Valerie Niquet, director of the Asia Centre at the French Institute for International Relations, told AFP.
"The perception of China on the international stage see-sawed," she said, adding that the West was "more worried, faced with a China that seems to be choosing ideological withdrawal and nationalistic affirmation".