The continuing human-elephant conflict in several areas of the country has led to deadly consequences for both people and animal. Much to the dismay of Wildlife authorities, villagers living in threatened areas have invented a deadly weapon called hakka patas to kill elephants.
This weapon is specially popular in the Wayamba region. At least three adult elephants and seven baby elephants have been killed recently in Anuradhapura, Mannar, Vavuniya and Puttalam districts, according to Zonal Officer- Wildlife Department, C. Jayasinghe.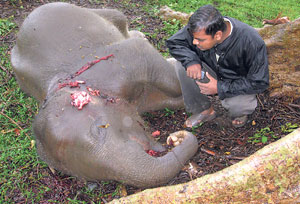 Baby elephant fallen victim to hakka patas
The hakka patas is a mixture of explosive matter, lead and iron made into a ball, which is inserted into a cucumber or a pumpkin. These are mainly used to hunt wild boar. Sometimes, dry fish, which is a 'delicacy' for the wild boar, is added to the explosive mixture. And now, the elephants have fallen easy prey to this 'temptation'. Animals that come for water too, easily fall prey to this spiked food.
Mr. Jayasinghe explained how the animal dies a painful death after the deadly fruit bursts inside its mouth on being consumed. However, the adult elephant is intelligent enough to identify the masked fruit as a deadly meal, not so the calves. He said it is pathetic and heartrending to see elephants, who consume this deadly fruit, suffer in pain and go without food for days. These animals must be saved from extinction he said, adding that, recently, he had witnessed an elephant and its baby suffer a painful death from this deadly fruit.
Recently, the carcass of an elephant killed by this deadly meal, was brought to Giritale and exhibited to arouse sympathy. Sometimes, even domesticated cattle that stray too become victims of this deadly meal, said Vet surgeon C. Karunaratne. He added that they die despite medication, since they refrain from taking food due to the injury. He suggested there be laws to penalise such offenders, so that, endangered animals may be saved.