Lanka IOC has opened an innovative and differently-abled-friendly fuel station in Marawila which is equipped with the latest technology, environment-friendly lighting and washrooms with special facilities for physically challenged persons.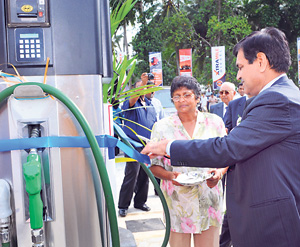 Picture shows - G. C. Daga, Chairman of Lanka IOC, opening the new fuel station at Marawila. Looking on is Ms. B. Sunethra Lightowler, Dealer, Araliya Filling Station.
Built at a cost of Rs. 15 million in just 45 days, this is the first Lanka IOC fuel outlet in the country to be completely constructed by the company. Its opening brings the number of LIOC outlets in Sri Lanka to 153, the company said.
"Our first 152 outlets in Sri Lanka were renovations of existing petrol sheds," Lanka IOC Managing Director K. R. Suresh Kumar said in statement.
"The new Marawila outlet will therefore serve as a prototype and a benchmark for a wholly LIOC designed and built modern fuel retail station."
The new outlet was ceremonially inaugurated by the newly appointed Chairman of Lanka IOC PLC G. C. Daga during his recent visit to Sri Lanka.