Wisdom Business Academy, the largest CIMA Business School in Sri Lanka has yet again proven its superiority and might by incidentally, winning the coveted 'Tutor of the Year 2010' award at the CIMA Annual Awards recently. The tutor of the year is awarded in recognition of the tutor who has gone the extra mile to deliver results through innovative and dynamic training that inspires and motivates students. It is noteworthy that Wisdom Business Academy holds the prestige of producing three 'CIMA tutor of the year' winners, namely Clancy Peiris in 2007, Hasitha Premaratne in 2009 and Sugeeth Patabendige in 2010.
For the May 2011 session, Wisdom will be commencing lectures for Operational, Management and Strategic levels on 4th December and 6th December. Lectures will be conducted by a panel of well-qualified corporate personalities and teaching will be done in line with the guidelines stipulated by CIMA UK for its learning partner institutes. These include integration of theory with practical understanding, exam preparation with past paper coverage, lecturer evaluations, individual attention, individual marking of mock exam scripts as well as a comprehensive coverage of the syllabus well-ahead of scheduled examination dates.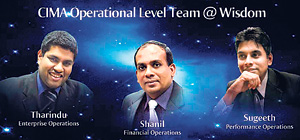 At the Operational Level, Sugeeth Patabandige, the recent winner of the "Tutor of the Year 2010" award, lectures on Performance Operations and remains one of the most popular lecturers at Wisdom and in Sri Lanka. He has produced more than 10 Sri Lanka prize winners and notched up above average pass rates consistently. Shanil Jayasekara who lectures on Financial Operations has produced 24 CIMA Prize winners and popularly known as one of the pioneers in CIMA education. Tharindu Amaresekere lectures on Enterprise Operations has over 6 years experience in lecturing for Business Management and Technology related fields and during his tenor at Wisdom has produced three consecutive prize winners for Enterprise Operations.
He is also well recognized by the students as a very innovative and dynamic lecturer who is capable of delivering extremely good results. Together this team of lecturers has proven their capabilities at the Operational level and even their last batch of students who sat for the examinations last week, are extremely happy and confident that the coaching given by these three lecturers will get them pass the examinations with good results.
The Management Level team includes, Hasitha Premaratne, the "Tutor of the Year 2009" award winner, who has produced 12 Sri Lanka prizewinners. Hasitha possess years of experience in the fields of capital markets, economics, finance and management in the top most positions. He presently lectures for Performance Management at this level and has proven himself as the best and most popular lecturer for Performance Management. Mallik De Silva, who specialises in Financial Management, is the Group Finance Manager of Richard Pieris Group. His expertise is such that every student is exposed to the practical aspects of Financial Management and not just loaded with theoretical knowledge. His co-lecturer Akalanka Saparamadu, is a Relationships Manager attached to HSBC and students learn how financial statements are analysed in the real business world.
S. Srikanth lectures for Enterprise Management and is popularly known as "Sree". He is the Director of Marketing at the global MNC GSK consumer healthcare business and brings to the table a wealth of strategic management and marketing skills. Sree will take the students through the syllabus while imparting real world examples into theory. Management level at Wisdom has become much stronger during the past few sessions and now a perfect combination of lecturers are there to support the students achieve their success. This session too, the Management of Wisdom is anticipating a huge demand on the registrations particularly at this level.
The Strategic Level team consists of Sugeeth Patabandige for Financial Strategy, S Srikanth for Enterprise Strategy and Channa Gunawardana for Performance Strategy. With a humble satisfaction of reaching the pinnacle of THE BEST CIMA TUTORS around the world, Sugeeth is much geared to give his innovative teaching experience for the students at Strategic level by taking over the Financial Strategy subject. And with a plethora of strategic management experience at a very high corporate level, Srikanth is taking the Enterprise Strategy subject as a part of the Strategic team at Wisdom. With his wide exposure the students will be taken through a real life business experience which would build their confidence level at the examinations.
Channa is the Chief Financial Officer of a leading multinational group and as the CFO, he is involved in not only in finance but on various operational aspects of the business and strategy formulation. Channa is also a Consultant for Risk Management and is engaged in developing risk management systems for organizations. This wide experience and exposure is expected to enrich his lecture delivery and will train the student to think like a specialist in the subject.
Thus, his lectures are not just to cover the syllabus but also to inculcate a professional approach and skill in the student. With this team of specialist lecturers, Strategic level students at Wisdom could expect a totally different experience in the class which will give them the necessary ingredients of a practical business scenario. This team will take a well synchronized approach even at the common case study at this level which would be a definite benefit to the students. At Wisdom, each CIMA Level is ensured at every point to give the best and most valued tutelage to its students.
Wisdom Business Academy is known for its excellence in CIMA and true to its philosophy of nurturing competent CIMA professionals. Wisdom prepares its students not just with the intention of passing the exam but they are taught how to apply the knowledge to become confident real life young managers, future movers and shakers of the business world.
For more information call on 0112370995-6.