MINA, Saudi Arabia (AFP) - As the Hajj pilgrimage ends, Saudi authorities in Makka face the daunting task of cleaning up after pilgrims who have turned the streets of Muslim holy sites into a garbage dump.
During the short Hajj season, it has become almost impossible to walk in the streets of the tent city of Mina, outside Makka, without a mask due to an overwhelming stench which has pervaded every open space.
Islamic teaching stresses cleanliness, with Muslims taught from an early age that "cleanliness is half of faith" in the words of the prophet. But as male pilgrims performed the rite of shaving heads on Tuesday, the streets of Mina and the neighbourhood of the Grand Mosque in Makka were strewn with hair and used razors.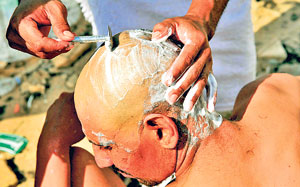 A Muslim pilgrim shaves his head after performing the "Jamarat" ritual, the symbolic stoning of Satan, in Mina. AFP
The mess appeared to be mostly the work of "unauthorised" pilgrims, without the official permits, who flooded the valley. Some 2.8 million pilgrims are estimated to have taken part in this year's Hajj, almost 800,000 more than expected based on the number of permits issued, according to Saudi authorities.
Those pilgrims with no places reserved in equipped camps or hotel rooms in Makka have squatted on pavements, under bridges and on rocky terraces. And where police turned a blind eye, they camped in the street.
Colourful bed sheets and blankets were stretched between walls and lamp-posts for shade. Those who were better prepared erected beach tents. Many of the illegal pilgrims, who flouted the strict rule of "No permit, No Hajj," were foreigners who live in Saudi Arabia, although some were Saudi nationals.
"I work in Makka, so I decided to perform the Hajj," said an Egyptian who declined to give his name as he sat on a mat spread under the elevated track of the new Mashair Railway. These pilgrims, many of them in families with young children, ate and drank in the same place. As their litter grew around them, some admitted that they were at fault.
"We are the reason behind this mess," said Adnan Naji, 26, sitting with two fellow Egyptians on a straw mat on the road in Mina, while trash flowed out of a bin three metres (yards) away. He explained that some people could not afford to pay for a legal Hajj through a licensed group that would charge for decent accommodation, so they "sacrifice for Hajj". We came to answer Allah's call for Hajj," said Al-Sayyed Ali Jad, 24, who works in construction, like Naji.
The small mat they shared was clearly not enough to seat three of them. Their legs were stretched on the dirty tarmac, not far from a stream of stinking water flowing on the road surface. But their partner on the mat, Nada Qassem, 35, said the surroundings did not shock him as his situation back home was not much different.