The International Transport Workers Federation (ITWF), UK, has called for a full report from its local office in Colombo, in connection with the alleged assault of a Lankan female officer by a Pakistani Captain on board a Liberian-flagged vessel on October 30.
Ranjan Perera of the ITWF office in Colombo, said they had already begun talks with the local shipping agent, Wallen Lanka, aimed at getting the necessary compensation and other benefits due to the victim, Second Officer Bhanu Lakshanthi.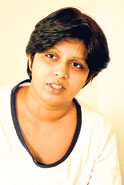 Second Officer Bhanu Lakshanthi
He said that ITWF in London was taking a very serious view of the incident, since it involved a female officer, and it took place while the vessel was in international waters.
"We have initiated talks with Wallen Lanka, and they are cooperating in the matter. However, it will take some time before the issue could be settled, because the victim had boarded the vessel from a port in Mumbai," Mr. Perera said.
Mumbai or anywhere else, the victim is still entitled to full compensation, irrespective of the port or country of embarkation, he added.
Managing Director- Wallen Lanka, Hemantha Devendra told the Sunday Times that they had provided the fullest medical assistance for the victim, from the time she arrived in the country during the early hours of November 8.
She was provided with the necessary treatment at a leading private hospital in Colombo, and was later driven to her parent's home at Balangoda, when she was sufficiently recovered.
"We are now in the process of getting the necessary compensation due to the victim, and are working closely with the ITWF in Colombo, as well as with the National Seafarers Union," Mr. Devendra added.
He added that the matter was being delayed slightly, as they had to coordinate with the agent in Mumbai, where the victim reported for embarkation.
Meanwhile, the External Affairs Ministry is awaiting a report from the Lankan High Commission in Canberra to initiate its own investigations in Colombo. According to highly-placed ministry officials, they will also call upon the victim to give a written account of the incident and her present medical condition, etc.
Meanwhile, reports from Australia say that the Pakistani Captain of the ship, Liaquat Chowdhury was granted cash bail of AUD 6,000, and ordered to appear in courts in March 2011.
Bhanu Lakshanthi was allegedly assaulted by the suspect on the night of October 30, while on voyage from Indonesia to Australia, on the Lake Maja cargo vessel.