As the war on narcotics intensifies, the Police Narcotics Bureau (PNB) has made several key arrests of those who have been involved in the trafficking of narcotics to several parts of the island. PNB sleuths are currently probing those who have been arrested in a bid to apprehend the main drug suppliers who are evading arrest.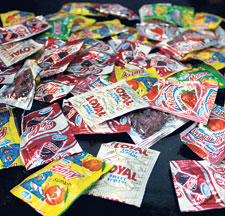 Packets of baabul and beeda seized in police raids.
PNB chief Deputy Inspector General Sisira Mendis told the Sunday Times that police have arrested 20 key drug peddlers who have been working under several underworld figures and investigations into their involvement in the narcotics trade are proceeding.
"We arrested these suspects in our raids and in cordon and search operations. We have managed to raid several key narcotics distribution points on which we had gathered vital information. We are currently hunting for the main narcotics suppliers," he said.
During island-wide police operations carried out within the past two weeks the police had apprehended 7,098 persons who are believed to have possessed narcotics and those who had been involved in the trade. According to highly placed police sources several of those who were arrested between October 13 and 25 have been released after being questioned.
Area police personnel together with PNB officers have intensified surveillance in and around schools which have been identified to be havens for drug peddlers who sell narcotics to school children. During the two-week long operations carried out by all police stations, the STF and the PNB, 1,790 heroin distribution points and 4,283 marijuana distribution points were raided.
In these raids the police recovered 4 kg of heroin, 6,000 kg of marijuana and 41 kg of babul. The police are currently hunting for "Dehiwela Shiran Basik"; "Kalubowila Sunanda" of the Kalubowila Gewal Seeye Gansiya; "Kirulapone Maureen"; "Kirulapone Champi"; alias "Madura"; "Galkisse Ajantha"; "Roxywatte Asanka"; and "Ratmalana Asanka", alias "Lansiya" who are currently on the police most wanted list for trafficking narcotics.
PNB sleuths have recently discovered that heroin is being smuggled into the island from Pakistan and Afghanistan in fishing boats and trawlers. In the backdrop of this revelation a special task force comprising Police, Army and Navy personnel along with Fisheries Ministry officials has been appointed.
This task force formed under the guidance of the Defence Ministry is to be stationed at all fishery harbours and is empowered to inspect all incoming vessels.
Last Thursday, a team of special task force personnel under the direction of SP Varuna Jayasundera carried out a raid in Maligawatte in which a key underworld figure and drug peddler identified as "Bing Boy" in the area was nabbed.
This underworld figure is said to have been a close associate of the notorious drug lord and contract killer, Faji who was killed in a shootout with the STF last year. Police investigations on the suspect are currently being carried out to identify others who are involved with him in peddling narcotics in the area.
Meanwhile, on Tuesday, a man was arrested with Rs. 900,000 worth of marijuana which he had transported from Tanamalwila to Galewela.