Mangala Samaraweera, the Matara District Member of Parliament for the United National Party (UNP), is expected to be questioned by the police in connection with posters of President Mahinda Rajapaksa printed before the passing of the 18th Amendment.
According to Deputy Inspector General of Police Daya Pathirana, the MP claimed full responsibility for the posters.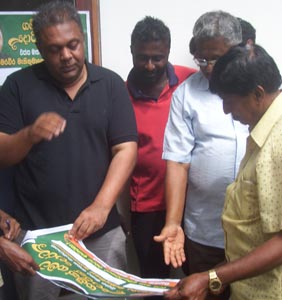 Mangala Samaraweera looks at a poster
At least nine employees of a private printing press in Nugegoda have been detained after the police raided the press and found posters of President Mahinda Rajapaksa depicted as Idi Amin, the former military dictator of Uganda, and another set of posters with the President made to look like the Kataragama god, and bearing six heads stamped with images of the President's brothers and sons.
A senior officer of the Nugegoda Police said the posters could have provoked pro-government supporters who were due to hold a demonstration the next day.
The police raid was carried out on September 7, the day before the 18th Amendment was passed in Parliament. Mr. Samaraweera said he was expressing his thoughts in a democratic way. "I do not think there was anything defamatory in the posters," he told the Sunday Times.
He said the wife and two brothers of the owner of the printing press had been unfairly detained earlier, before the owner, Jayampathi Bulathsinhala, was arrested, along with nine other staff members. Mr. Bulathsinhala's wife and brothers were later produced in court and released on bail.
As the person in charge of UNP media activities, Mr. Samaraweera said he was responsible for putting out the posters. Up to yesterday afternoon, the police had not contacted him regarding the posters.
Meanwhile, the Free Media Movement (FMM) said the detention of the printing press owner's wife and two brothers was illegal. The FMM said the printing press owner had told the police that the posters did not contravene the law.
"The FMM condemns the repressive measures taken by the government to silence all democratic opposition to the passage of the 18th Amendment to the Constitution, with no respect for democratic norms or for the freedom of opinion and expression," the FMM said in a statement.