The LOLC group entered the area of Islamic Finance as a part of the company's product development initiatives. LOLC being the first leasing company in Sri Lanka was used to mainly dealing in the area of auto finance in the form of Hire purchase, Leasing and Loans etc. whilst also boasting of a large customer base. Towards the mid 90s the company experienced a rapid decline in their Muslim customers, due to the fact that leasing was perceived as an interest based product.
This compelled the company to go back to their original concept of leasing and redesign products more suited towards the Muslim community. Having realized the bigger picture, which meant that Islamic Finance revolved around an entirely different concept the company sought out the advice and guidance of the All Ceylon Jammiyyathul Ulama, the governing body for certifying compliance with Islamic precepts in Sri Lanka. After which a separate Shari'ah Supervisory Board was appointed with regards to providing advisory and guidance services on the subject of Islamic Finance and under its wing LOLC set up its own Islamic Business Unit, LOLC Al-Falaah.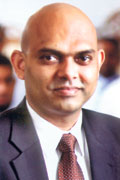 Mr. Krishan Thilakaratne, CEO of the Islamic Financing Unit
The unit made yet another significant achievement by being awarded the Bronze Award by the League of American Communication Professionals ( LACP ) for its annual report for the year 2008/09. The Sunday Times Supplements Desk spoke to Mr. Krishan Thilakaratne, CEO of the Islamic Financing Unit to find out about their current position in the industry and the progress that they have made thus far.
"With regards to Islamic Finance, in simple terms LOLC functions as the fund manager and enjoys returns on a profit sharing basis with our investors. With the appointment of the Shari'ah advisory board we clearly separated our Islamic Finance operations from our conventional business operations. These separations include designing and developing a separate product portfolio and separating our operations and documentations as well as our marketing and communications and funds and finance etc.
Also there were other forms of separations which had to be done on a stage by stage basis such as gradually building a separate marketing team to market our Islamic Finance products. Presently we have our very own dedicated marketing teams in over 10 branches whilst other branches too are fully geared to offer Islamic Financial Services", says Mr. Thilakaratne.
Moving yet another step further LOLC established dedicated Islamic Finance branches in the Eastern Province in " Kattankudy" and "Ottamavadi" and in the near future two more branches are to opened in Akurana and Kalmunai.
The final step towards the complete separation of Islamic Financing will be with the formation of a separate company which is also in the pipelines of LOLC's future plans.
At present LOLC Al-Falaah is the market leader in terms of advances due to many reasons such as our commitment to Shari'ah principles and market reputation, broad branch base and competitive pricing etc. Today the area of Islamic Financing has become one of the fastest growing product categories in the banking and finance sector in the world over with a growth rate of around 25% per annum. In many Middle Eastern countries such as Bahrain, Saudi Arabia and Malaysia the law of the land is based on the Shari'ah principles.
Islamic Finance has today been made available in 30-40 countries across the globe and Sri Lanka too occupies a position in this world map. In Sri Lanka the total market penetration with regards to Islamic Financing stands at less than 5%. If this percentage is to grow one would need to further develop large and stable organizations that are fully committed towards the Shari'ah concepts where people will have proper access to Islamic Financing.
"LOLC has to a great extent filled up the existing vacuum in the market for Islamic Financing services, however we cannot by ourselves take on a market of this magnitude therefore more players must enter the market in order to reap the full benefits of the Islamic Financing concept.
One of the main constraints that Islamic Finance service providers face is their inability to re-invest the funds therefore one must always develop your investment and lending arm in order to provide the best returns to customers. I am happy to say that at present LOLC AL-Falaah has been able to pay highest market returns to its customers", further stated Mr. Thilakaratne.
The LOLC Al-Falaah is currently experiencing a high portfolio and profit growth which enables them to provide higher returns to customers. The company's Shari'ah board comprises of three members who include eminent Islamic Financing scholars such as Shaikh Fazil Farook, Shaikh Murshid Mulaffar and Shaikh Shafique A Jakhura.
The Shari'ah board is responsible for auditing the Islamic Banking Unit's processors, overlooking documentations and guiding and advising with regards to products and services etc. Islamic Finance is not confined to the Muslim community alone but is fast gaining popularity amongst the non-Muslim communities as well, where the company is currently spearheading many knowledge building initiatives and awareness programmes amongst communities. Geared for success LOLC Al-Falaah, the Islamic Business Unit of the LOLC Group today has become one of the fastest growing forces in the industry.