Sri Lankans, particularly those 4,000 or more who placed their money in trust with Sakvithi Investments, may still be unaware of what the alleged swindler did during his missing days.
During the past two years, he went under the name Thangavelu Eliyamoolai and held an Indian Passport obtained in Chennai. His wife and two children too had similar passports. The wife's name was Thangavelu Radha.
Using these passports, the con man who duped his unsuspecting customers, had travelled to China and Hong Kong.
He returned to Sri Lanka using the Indian passport, left his family and returned to Bombay for a six-month stay there. It is only thereafter, he joined the family, then hiding in Chilaw.
Flu for thought at canteen
Mangala Samaraweera, who joined the United National Party just two weeks ago, was enjoying a hurried lunch at the Parliament canteen last Thursday. He did not want to miss out the Parliamentary Consultative Committee meeting on Defence.
"Kohomada," (How are you?) asked President Rajapaksa from Mr. Samaraweera as he walked into the MPs canteen accompanied by government MPs and photographers.
"Aranchida, mama aluth pakshayakata benduna" (Have you heard that I have joined a new party), he asked Mr. Rajapaksa. "Eai, ay pakshayey lekam thumath ekka ne inney (You are with that party's Secretary", replied Rajapaksa pointing at Tissa Attanayake who was at the same table.
Later, Mr. Rajapaksa was to ask Mr. Samaraweera why he was wearing a shawl around his neck. He replied that he had a cold. The President was to advise him to take care since flu was doing the rounds.
President Sir and Uncle Minister
When it comes to work, President Mahinda Rajapaksa has taught his Parliamentarian son, Namal, to follow protocol, especially in official business.
Last Sunday, the media representatives who were present at the flooding of the first terminal of the Hambantota Port, saw the father-son relationship at play.
"Sir," intoned Namal on a mobile phone call to his father. He wanted his okay to move some crowds gathered for the ceremony from one location to another. The President was to tell him to do what he felt was correct and suitable.
Then he raised another issue and asked the President whether to tell "Rohita uncle" (a reference to Rohita Abeygunawardena, Deputy Minister of Ports and Aviation). Rajapaksa advised his son not to call him "uncle". That would mean he would have to call every one of the Ministers, Deputies and others "uncle" was the advice.
Abuse of overseas privileges
Before assuming a top bureaucratic position, he finished his stint abroad on behalf of Sri Lanka. That was more than two years ago.
However, in the corridors of an important ministry, the talk continues. The top man's family is still in the capital where he was posted, occupying the official residence that should go to another. The reason, they say, is until one of the sibling's completes their education.
Ex-journo also in foundation business
Having a foundation in one's name is rather fashionable among MPs but last week it was the Co-coordinating Secretary to the President and a former Lankadeepa staffer, Kumarasiri Hettige, who had the honour.
The Kumarasiri Hettige Foundation (Incorporation) Bill was tabled in Parliament. It was none other than the President's son, Hambantota District MP Namal Rajapaksa who moved it.
Lakshman retreats from Fonseka
The news conference held at the parliament complex by DNA leader Sarath Fonskea attracted media attention since it was the first since he was stripped of his rank and medals by a General Court Martial.
While he was surrounded by cameramen on his way out after the event ended, standing in close proximity was UNP MP Lakshman Seneviratne, a main witness against the former Army commander.
The man may have had his day in Court but when he saw Mr. Fonseka approaching in his direction, he bid a hurried goodbye to a scribe he was chatting with and beat a hasty retreat
Sacked but still so close
The presence of President Mahinda Rajapaksa in Parliament created quite a sensation with many ruling party MPs lining up to meet him. Following him closely around was none other than sacked Deputy Minister Mervyn Silva.
Security guard as transport commissioner
President Mahinda Rajapaksa demonstrated to his ministerial colleagues last Wednesday that he closely studied Cabinet papers put forward by them for approval at Cabinet meetings.
At last Wednesday's Cabinet meeting, he rejected a Cabinet paper put forward by Transport Minister Kumara Welgama. Mr. Welgama's paper had recommended three names for appointment to the National Transport Commission.
Mr. Rajapaksa noted that one of the nominees was only a security guard from Matugama. President Rajapaksa had evidently initiated a background check.
Ministers began their meeting last Wednesday at 7 p.m., the new time when Cabinet will begin sessions. Earlier, it was 6 p.m. However, in view of Parliament sittings taking place from 1 p.m. to 6.30 p.m., the time has now been fixed for 7 p.m.
Battle for Colombo mayor's post
Not so long ago the duo were brethren in arms. Today they are at daggers drawn, Ramazan spirit notwithstanding.
The split began when the defeated Colombo District UNP candidate A.J.M. Muzammil, a well-known political matchmaker of the past, made some swift moves aimed at grabbing the party's mayoral candidacy for Colombo. This has apparently angered Isfahani Sameem, the former Jaycees chief who ran Mr. Muzammil's botched campaign to enter parliament this year.
Mr. Sameem is also the secretary of the A.J.M. Muzammil foundation, a charity with possible political motives. The agreement between the duo was that Mr. Sameem would help Mr. Muzammil's campaign and in return Mr. Muzammil would help Mr. Sameem's bid for Colombo mayoralty.
But now with Mr. Muzammil eyeing the mayor's post, Mr. Sameem has quit the foundation and alleges that someone in the foundation has forged his signature and sent letters to Muslim embassies asking for Ramazan aid to be distributed among Colombo's poor Muslims.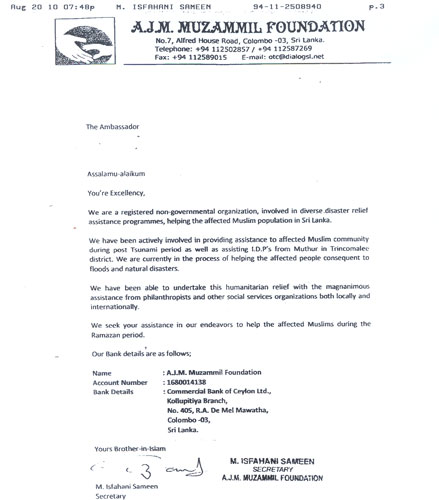 The Ramazan appeal letter to embassies. Sameem says signature was not his