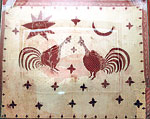 Sevul kodiya – two cock birds facing each other for a fight displays the emblem of the War God Kartikeya.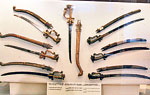 Lion headed kastana
(ceremonial) belonging to the Kandyan period.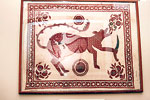 A district flag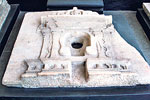 Carved urinal stone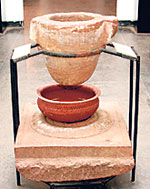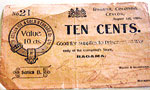 Currency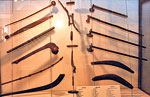 Weapons used in martial arts – Angampora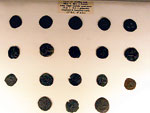 Elephant and swastika coins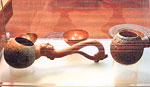 Kenissa – a water dipper with long decorated handles used in rituals.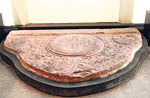 Moonstone
Some of the items displayed in the Colombo National Museum are categorised subject wise. You find several themed galleries such as arts and crafts gallery, coins and currency, arms and armaments and standards and banners gallery giving a deeper insight into Lankan heritage. Here is a closer look at these themed galleries.
Arts and crafts gallery
Arts and crafts gallery gives information on a wide range of crafts used
throughout the ages, mainly the ones that belong to the Kandy period. The objects displayed in this section range from jewellery, ivory carvings, wooden and metal ware to precious stones etc.
Trays, lamps, decorated combs, hairpins, jewellery boxes, food trays used for offerings for monks,
equipment used in indigenous treatment methods, traditional games are some of the interesting items to name a few.
Coins and currency gallery
This gallery gives
information on currency and coins that were used from the beginning upto the
20th century, coins used during different
administrative periods such as Dutch, Portuguese etc., and notes printed in the British period. Indigenous and foreign coins of Anuradhapura, Polonnaruwa, Dambadeniya and Kotte periods and currency issued for special occasions such as Independence Day etc., are also found here.
In the collection are Lakshmi and Swastika coins – these coins were used in the 2nd century B.C., Lankeshwara coin, the oldest Sinhalese gold coin type belongs to the 10th century A.D., is also found here. Coins with a ruler's name are also displayed in this gallery. The first Sinhalese coin with a ruler's name was minted in the 11th century by King Vijayabahu I. In addition to displaying of the coins and currency, the gallery thus provides information on the coin minting technology.
Standards and banners gallery
The Sri Lankan Lion Flag which had undergone slight variations from time to time since its beginning from ancient times, and different types of flags used in provinces and districts are displayed in this gallery. These flags contain different symbols – for example provincial flags carry
symbols of animals and birds popular in a particular area such as, bulls, elephants etc. The use of mythical animal symbols like makara, kinnara are also visible in these flags.
Banners are painted cloths used in temples and shrines for decorative
purposes. Divine figures, symbols like the sun and the moon, figures from ancient historical stories such as Hanuman are some of the common features you come across in these banners.
Arms and armaments gallery
Various weapons man used for different purposes from the early civilisation of human beings are displayed in this gallery. Objects such as bows and arrows used by pre-historic man for hunting, spears, daggers used for self protection, decorated silver and gold swords, different fire-arms such as gini vedi, gal vedi, dum vedi etc.,
different arms used for angampora are among the large collection of armaments displayed.
Stone gallery
In Gallery No. 06 you come across a large
collection of stone antiquities from Anuradhapura to the Kandy period
categorised in the three themes of Buddhist
sculptures, Hindu
sculptures and inscriptions.
Urinals, water filters,
moonstone, Vishnu and Ganesha statues are some of the objects that you come across in this
section.