Dilshan Kariyawasam of Ananda will be the only badminton player to represent Sri Lanka at the Youth Olympic Games to be held in Singapore from August 14 to 26. This was confirmed by Prof. Ranjit de Silva, President of the Badminton Association of Sri Lanka yesterday. According to Prof. Silva there was another player who had been in the forefront for the competition but had not come up to international standards set by the Olympic Committee. This is the talented Lekha Shehani of Our Lady of Victory Convent Moratuwa.
According to Prof. Ranjit Silva, Lekha Shehani has even trained in Malaysia together with Dilshan Kariyawasam and is a highly gifted player but cannot make it to the Youth Olympics because she has not qualified according to the rules and regulations laid down by the IOC.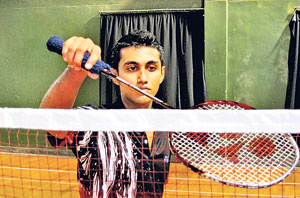 Dilshan Kariyawasam
The IOC had given four Universality Places to Sri Lanka badminton and Sri Lanka had nominated two of whom only one had been able to make the grade due to IOC rules. Prof. Silva said that Dilshan was bound to meet stiff competition in Singapore, especially from the Chinese players who have been training dedicatedly since the announcement of the Youth Olympics. Prof. de Silva is well versed in the sport as he is also in the Asian Panel.
The final decision however to send Dilshan to Singapore had been made by the independent selection committee appointed by the Ministry of Sports. Also in the contingent to the Singapore YOG are swimmers Heshan Unamboowe of Trinity and Madhavi Weeratunga of Mahamaya both schools being in Kandy.
According to Nishantha Piyasena, the Chef De Mission of the Sri Lanka contingent, some of the members due to make the trip to Singapore are still uncertain as they have got only Universality Places – the selection criteria laid down by the IOC for countries like Sri Lanka.
Piyasena however said that in the coming weeks the list will be finalized and the final preparations to the YOG will commence in earnest.
As it is the visualized list for the Youth Olympics is as follows:
Table Tennis - Hasintha Shashiranga and Nuwani Navodi (Both are from Dharmasoka Ambalangoda).
Badminton - Dilshan Kariyawasam of Ananda.
Swimming - Heshan Unamboowe (Trinity: 100 M Backstroke) and Madhavi Weeraratne (Mahamaya Kandy: 50 Metres Backstroke).
Athletics: Indunil Herath of Walala Ratnayake MMV of Menikhinna.