Colombo's culinary cool! I head back to London which, the British media notwithstanding, possibly has the world's ghastliest food (save some Michelin-starred restaurants). Understandably then, I shall miss Colombo's unrestrained buffets!
Perhaps no city has so many and such sprawling spreads. How I'll miss my favourite restaurant in Colombo, Curry Leaf, with its ambient exotica, unrivalled Sri Lankan cuisine, hectic live stations executing Colombo's finest kottu with fat cashews and what not. Besides, over the New Year season they have taken their hoppers and string hoppers to a whole new dimension of excellence, the former snow soft, the latter crisp like grasshoppers (well, yes). And their Sri Lankan sweetmeats, particularly the bibikan, has hit back with a beat-me-if-you-can vengeance.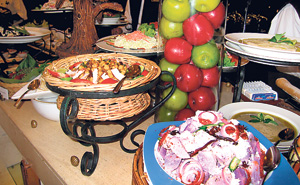 A buffet spread at Latitude
I love the challenges this restaurant offers. But perhaps it's the loveliness of Mr Michael and his team that has addicted me (where to find such warmth in cold London). However, what really entices me is the surprise element Chef Karu brings to each meal- this time it was macaroni (perfectly al dente, unlike elsewhere in Colombo) in a sauce of Sri Lankan spices and the hottest chillies cheese-topped.
Chef Buddhika at Colombo's classiest restaurant Spoons brings to his inventions the excitement, swank presentations and tra-la-la of French cuisine without the overbearing hubris of European chefs. Arguably Colombo's best chef (the international community concurs), he restricts his talents to precision and perfection without the presumption. Now this I will miss back in Europe!
And obviously I'll miss the massively popular chaat counter on the Saturday Indian night at Spices. Incidentally, over the New Year Weekend when Colombo emptied, this restaurant throbbed, given their aloo tickis and papdi chaats tickling with chatpata masalas that recreate the thrill of Indian street food. An Indian Michelin-starred chef in London attempted the same but doesn't quite manage Chef Pawan Singh's magic.
Navaratna's new kebab selection is still giving me sleepless nights- ah, those tender textures, taut spices, tongue-teasing flavours, the entire gamut a must-try.
But the kebab that lingered longest on my palate was the potato stuffed with lush herbed curd and dry fruit. Difficult to master Bangan bharta new Chef Chauhan excels at. As for his angoori ras malai, it's the finest Indian dessert in town.
I shall certainly yearn for the best pizzas this side of Naples that only Latitude offers at its nightly buffets or Sunday brunches. Think the slimmest bases (oh so rare) laden with proper puree (which some Italian-owned restaurants in Colombo don't necessarily provide and nobody in London or Paris does) and top-notch toppings. At plethoric value-for-money brunches they also do gorgeous dosas and curries from the Konkan Coast of India, unique on Colombo's gastro scene. And if butter won't melt in your mouth their virtually sugar-free butter cake will.
And nowhere in London or even Paris and Milan would I be torn between the pulsating glamour of a 7 Degrees North's racy Riviera-style deck with its cool cocktails and authentic paella that Chef Ivan concocts when across the pool the monthly Hopper Night rages irresistibly on under star-spangled skies and swaying palms on verdant lawns. What a treat it has been queuing for each perforated hopper Rajaratnam dishes out hot-hot ("worth the wait," the hotel's executive chef twinkles).
They also do the best potato hoddi (a super hit with locals and tourists alike) and kalu dodol. But perhaps the sweetest aspect of the meal, although not on the buffet, is the Peter Pan F&B manager Priyantha, whose youth belies his international exposure and whose endearing smile complements exquisite service.
Paris remains the world's pastry paradise but my latest passion is for home-grown cakes especially Sits whose Sita Goonetilleke apparently refused international chains for she wouldn't compromise her recipes to suit their specifications, like she refused showcasing her products at Colombo's jazziest department store to avoid cakes adulterated by languishing on shelves. Such quality consciousness mercenary London generally ignores…. I love coffee and I love cake; Sits unites them in coffee cake that Colombo's most manicured fingers hold at teatime.
But Sita's forte is chocology (where she sources her exceptional imported cocoa from is hush-hush). Chocoholics adore her chocolate heaven (thick brownies chunks sandwiching inches of rich cream). But I'll long for macaroon delice, an extravagance of dark chocolate, chocolate almond cake and chocolate marvel, amongst Colombo's most chic desserts. If the English summer is recalled in Sits' Twister (chocolate biscuit pudding hatted with strawberries and creams) and strawberry Swiss roll, the Passion Fruit Freezer reverberates with the headiness of tropical Sri Lanka.
I'm delighted too that Colombo is seemingly engaged in the Confrontation of the Cupcakes - I think the Battle of the Titans is between Sits and the Cupcakery. Fortunately their flavours don't overlap. For vanilla cupcakes try Sits's but Fazla Aslam at the Cupcakery, famed for her chocolate orange and passion fruit cupcakes, does the most superkallifragilistic toffee cupcakes. For these I might just have to return to Colombo.
Valedictory though this article be, to Colombo it's a gastronomic victory!