Once again, here was abundant proof that Yolande Bavan is a seasoned trouper. Being just so is as vital an ingredient as possessing the ability in maintaining accurate pitching, emotional commitment to the muse and negotiating harmonic changes at lightning tempo, which too she resolved with verve and aplomb. I might add, that it was every bit as much pianist Dinuk Wijeratne's show as it was for the star singer making her long overdue return to her home turf, the land of her birth and repository of the finest memories that form the core of her personal ethos.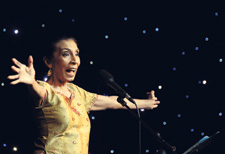 Rather marvellously Bavan's voice retains almost undiminished the same flexibility that shot her to world fame and to deserved international stardom four decades ago, as a worthy constituent of the vocal trio of Lambert Hendricks and Bavan. She is able to touch the same warmly husky "baritone" notes not unlike Sarah Vaughn did, and at the other end of the scale climb way up to "door-squeak" soprano at will, with nary a hint of stress or strain.
Yolande, for all her years as an expatriate performing artist in New York, vitally active in projects and ventures far wider than just singing at so-called jazz gigs, is still very much disarmingly Asian, tastefully and elegantly Ceylonese (Sri Lankan) in demeanor as she has always projected internationally during the Trio years, and as abundantly made clear in the YouTube clips of Lambert Hendricks & Bavan from their golden era.
Curiously, though, Yolande is also a "stranger" here, and knows little of the audience in Colombo given her long-term detachment from the proverbial umbilical. Her consummate skill, considerable experience and savoir-faire held her in excellent stead as she crafted a programme that was eminently winsome and covered all the bases. It appealed across the board, and won the audience to herself even if they knew not the blues from a blouse or jazz from jitterbug.
This quite diminutive singer constitutes a compelling presence onstage and despite the cavernous expanse of the Hilton Ballroom was able to bring a winsome intimacy of the Shirley Horn kind. Her considerable experience in theatre played vitally in effecting this. Her diction was flawless, phrasing and breath control near perfect even in the vocalese selections, which is a challenge for any singer of any age. Vocalese involves the delivery of a lyric (meaningful words) that travels on an unpredictable trajectory based on a transcription of a famed improvised instrumental solo by a jazz musician.
An example of such was Wardell Gray's tenor saxophone solo on "Twisted" [Recorded NY Nov. 11, 1949 by the Wardell Gray Quartet. Re-released on Giants of Jazz label CD 53064], with a humorous lyric crafted by Bavan's predecessor in the Trio Ms. Annie Ross, to fit the saxophonist's convoluted ramifications on the Blues chord changes. "Twisted", which was a winsome inclusion in the LHB repertoire and heard in one of their hit records, also featured a segment of vocal imitation of bass playing [in the original Jon Hendricks did them] and Yolande 'scatted' a charming duet with Alston Joachim (electric bass).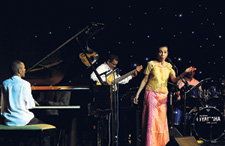 The accompanying trio: Dinuk Wijeratne on piano, Alston Joachim on bass and Christo Prins on drums
The drama and aching poignancy achieved in the performance of Sondheim's Broadway show-tune "Send in the Clowns" was magical, and exhibited a case where the message was the music, in as much as the words were a vehicle to deliver an emotional impact. She did the same with Thad Jones' immortal "A Child Is Born" with an effective spoken commentary in the opening bars. Bavan's on-stage patter was easy, tasteful, appropriate unto the moment, uncontrived and above all devoid of bombast and impressively sincere. A rather painful memory of her estranged parents yielded a most telling interpretation of a lesser-known song "The Fool on the Hill" (Lennon/McCartney).
Pianist Dinuk served as a perfect foil for Yolande even though a generation separates them. His intuitive responses with subtle accents and delightful fills showed a mature mastery not unlike one expected from the likes of Tommy Flanagan or Ellis Larkins, two of the finest accompanying hands one could wish for. This amazing synergy was realized in a superlative reading of the standard "But Beautiful". Another that similarly deserves comment was a tasteful reading of the now considerably reworked "At Last" (Gordon/Warren, 1941) [The Obama choice for his Inaugural Ball!]
Dinuk also treated us to one of his original works with a rather enigmatic title, "Out of the Karmic Blue". This pianistic tour de force was not unexpectedly built on an eastern modal concept in sections and had a sort of Hal Galper density and intensity to it at times. Perhaps it may have lacked a little in the aspect of chiaroscuro. Some relieving of the thematic concept with departures in harmony and tempo would have lifted the work even more.
Christo Prins completed the accompanying trio, playing his drums in an extremely unobtrusive supportive role, which alone is a commendable factor.
One can only hope that Yolande Bavan is heard again in Sri Lanka, so that men (and women) may know what a classy act really constitutes, and that she may be even counted as a national treasure rather than relegated to being a historical curiosity. May the organizers of this fortuitous "Return of Yolande Bavan" be applauded for their courage and determination!