At 38, Sarnath Banerjee is India's best known graphic novelist - you might even hear him described as the country's first. With two published graphic novels to his name, he is also the founder of the publishing house Phantomville.
A one-time student of Image and Communication at Goldsmiths College, University of London, Sarnath describes reading comics as a "coded affair". Certainly, in his hands the humble comic book is a different beast altogether.
His narrative has been described as Kafkaesque, and his drawings of both Old Delhi and Kolkata pay a wonderfully evocative tribute to two of India's most iconic cities. His distinctive style is built upon beautifully fleshed out characters – some of which border on caricature. Occasionally, he superimposes them on old photographs – tall buildings crowd around narrow alleys; people look out over the expanse of the old city, while rickshaws and taxis swirl about a busy square.
Guiding the narrator through this urban labyrinth is Digital Dutta, a personage who appears in both 'Corridor' and 'The Barn Owl's Wondrous Capers'. Dutta is one of many interesting characters, many of whom are an intriguing amalgamation of myth and history. But the two cities – Delhi and Kolkata - may be the real stars of his work. Sarnath says he has spent over a decade in each.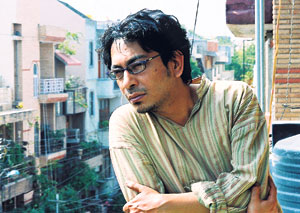 Sarnath Banerjee
In between prowling the streets of old Delhi for sellers of aphrodisiacs and digging through piles of novels in Calcutta's famous second hand bookstores, he has also seen his art appear in several international exhibition and publications.
As a film maker, he has made many short films and full length features. His first film, completed in 1997 told the tale of the Bhopal gas tragedy through the stories of three gas-affected poets and a forensic surgeon, Dr Sathpathy, who performed 200 autopsies the night after the tragedy and was himself affected by the MIC gas trapped in the victims' lungs.
One of Sarnath's more recent projects was a documentary on female infanticide in the Indian state of Bihar. When he released a four page comic on his experience filming that documentary, critics declared the approach too frivolous for such a serious subject. Still, for Sarnath, the medium remains a particularly effective one – "...I seem to get to the heart of what I am trying to communicate. Among them are intangible things that I myself don't fully comprehend or articulate but as long as I draw it I get it across," he says.
Sarnath, who will be in Galle for the 2010 Literary Festival, says he hopes to see more talent emerge out of countries like Sri Lanka.
What are you reading now?
'In the Footsteps of Mr. Kurtz: Living on the Brink of Disaster in Mobutu's Congo' by Michela Wrong.
Are you enjoying it?
It's pretty good, sometimes a little too factual and information orientated, but here and there are insights.
Where do you like to read?
The forest/park next to my house, after a run and in bed, before going to sleep, about an hour each.
From the Holocaust to the Iranian Revolution, graphic novels like Maus and Persepolis stretched perceptions of what stories could be told in a comic book format. Are there some other particularly fine examples you could share with us?
There was an early Alan Moore on the investigation that lead to Iran- Contra conspiracy, where Oliver North was implicated, really poetic. Then the British series 'Crisis' that dealt with Thatcher's Britain, and tackled subjects such as homophobia, racism etc - it was partially funded by Amnesty. That was before Amnesty became corporate. Then there are Joe Sacco's books on Palestine and Sarajevo. Art Spiegelman illustrating the long, syncopated poem – 'The Wild Party' - by Josesph M. March, that journeys through a single night of a raucous party thrown by members of a New York Vaudeville and ends in a murder. Ben Katchor taking a look into a phantom city that resembles Manhattan of the 50s through his character Julius Knipl. Really the list is too big.
Hollywood's adaptations of iconic graphic novels like Watchmen and History of Violence have inspired both agony and ecstasy in graphic novels fans. Do you have any favourites?
I didn't mind 'V for Vendetta,' also 'Watchman' was okay, sans all the complexities of the graphic novel. But as a mainstream movie it was okay. I am not a purist.
Which books would make your list of the top five graphic novels to come out of South Asia?
In India we don't really have a critical mass to do any top five or top ten yet. But now lots of people are doing comics here, I am keen to find out what is happening in Sri Lanka and Pakistan. Both countries have fertile grounds and requisite talents for good graphic stories.
From Alan Moore's Rorschach to Warren Ellis's Spider Jerusalem, we've seen some pretty amazing characters emerge from comic books. Which ones do you particularly admire and why?
Nestor Burma, French Detective during German occupation of Paris, created by Jaques Tardi. Of course Rorschach. V of 'V for Vendetta' I like. Then Corto Maltese is an all-time favourite, so is Modesty Blaise. I like Phantom and Mandrake and their girl friends, I hate Flash Gordon.
For someone who has never strayed from prose before, which graphic novel would you recommend as a good introduction to the genre?
Will Eisner's 'Contract with God' which examines a Jewish immigrant community living in a neighbourhood in Bronx. Interconnecting fable-like stories, with a lick of mysticism and magic. Very classic.