BANDA ACEH (Indonesia), Dec 26, 2009 (AFP) -People across Asia paused today to remember the day five years ago when an undersea earthquake unleashed a devastating wave that killed more than 220,000 people.
A solemn day of prayers and remembrance to mark one of the world's worst natural disasters was held in Indonesia's Aceh province, which lost almost 170,000 people in the Asian Tsunami of December 26, 2004.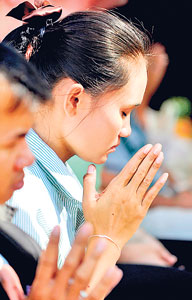 Thai people offer prayers during a remembrance ceremony for the victims of the December 2004 tsunami. AFP
Prayers were said in mosques throughout the staunchly Islamic province, and beside mass graves near the local capital of Banda Aceh. At the site of one of the graves, where more than 14,000 unidentified victims are buried, an elderly woman sat on the ground weeping and reciting Koranic verses for the 40 members of her family who died.
"None of my family members survived in the tsunami. My children, grandchildren, brothers, sisters, they all have gone and left me alone here,"Siti Aminah, 72, told AFP. "This is the mass grave situated close to our residence blocks. They may be buried here or might have been swept away to sea as we were living by the beach," she said.
Aminah, a spice seller, was on the second floor of a local market building some five kilometres (three miles) from her family home, when the tsunami struck. "Though I don't know for sure where they were buried, I always come here every year to pray for them so that God will let them rest in peace," she said.
Some two kilometres away, Indonesian Vice-President Boediono led a sombre prayer ceremony in the port of Ulee Lheu in memory of those lost in the tsunami.
"Five years on, Acehnese people with support from international communities have managed to rise again and to lead a new life to rebuild their social, economic and cultural life in a peaceful situation," he told about 1,000 residents, schoolchildren and officials.
In Sri Lanka, the anniversary was marked with a nationwide two-minute silence in memory of the tens of thousands of local victims. State-run radio and television stations halted their regular programmes at 9.25 (3.55 GMT), about the time the tsunami hit.
An estimated 31,000 people were killed in Sri Lanka, while a million people were driven out of their homes. Similar scenes were expected to play out in countries such as India and Thailand where a total of some 20,000 people were killed as the wall of water smashed into coastal communities.
But as the survivors remembered the dead, experts warn that many countries in the region remain ill-prepared to face another killer wave.
The 2004 tsunami was triggered by a 9.3-magnitude earthquake off the coast of Sumatra, and seismologists agree another event of that magnitude is almost certain to strike the quake-prone region in the future.
Sound alert systems have been developed in many countries to warn of impending danger, but getting that message out to seaside communities, and to children in particular, is still a challenge.
UN Under-Secretary General Noeleen Heyzer said countries in the region had been working with international partners to strengthen early-warning systems. But 'significant gaps' needed to be addressed.
"Disaster warnings save lives only if they reach the people at risk and are acted upon," she said.
"An important part of the effort is to improve the knowledge of coastal communities about the risks they face and how to respond to them.
"We won't know when the next major tsunami in the Indian Ocean will strike," she added. "But by learning from disaster response, recovery and preparedness efforts -- we can ensure our future is a safer one."As the reconstruction effort winds down five years after the disaster, there are also concerns about corruption related to the distribution of billions of dollars of international aid.
Indonesia's tsunami reconstruction agency finished its work in April, having spent almost seven billion dollars on rebuilding including 140,000 new homes, 1,759 school buildings, 363 bridges and 13 airports.
The reconstruction effort has generally been hailed as a success, but relief agencies have complained about widespread graft and questions remain about how much of the international aid was actually spent.
Strong quake hits off Indonesian island
JAKARTA, Dec 26, 2009 (AFP) - A strong quake with a magnitude of 6.7 hit off the Indonesian island of Maluku today as the country marked the fifth tsunami anniversary, seismologists said, but there were no immediate reports of a tsunami or casualties.
The quake struck at 15:57 pm local time (0657 GMT) about 152 kilometres (94 miles) northwest of Tual, Maluku province, at a depth of 67 kilometres, the Indonesian Meteorology and Geophysics Agency said.