| | | |
| --- | --- | --- |
| | | |
| Founder Chairman late Mr. A.G.Hinniappuhami (J.P.) | Late Mr. .G.Wickramapala (J.P.) Director | Late Mr. A.G Jinadasa. Director |
At the recently concluded entrepreneur of the year award ceremony 2008/2009 organized by the Federation of Chamber of Commerce and Industry of Sri Lanka, recognized and honoured founder of Maliban Biscuit Manufactories (Pvt) Ltd, late Mr. A.G.Hinniappuhami (J.P.) for the prestigious "entrepreneurs Hall of Fame" award due to its Herculean contribution of serving quality products to Sri Lankan consumer for over six decades.

The beginning of a dynasty…

The "House of Maliban" was brought to life by its founder late Mr. A.G.Hinniappuhami (J.P.) which later was formed into a business enterprise with his brothers late Mr. A.G.Wickramapala (J.P.) and late Mr. A.G Jinadasa joining in.

At the time of starting this business venture, they had a vision to drive this to an empire that would forever change Sri Lanka's biscuit industry. Thus they became so attached to the growing business; they pioneered it. Having initially starting off as a humble tea kiosk in Maliban Street, to this day the Maliban legacy continues and due to the brand's superiority, Maliban has established itself as a true leader in terms of superior world class quality.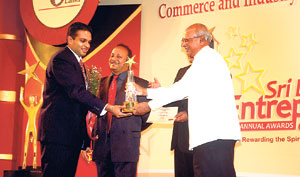 Mr. A.G.Tharangitha Samaraweera, Director and the son of present Chairman recieving the award on behalf of his grand father, founder Chairman late Mr. A.G.Hinniappuhami (J.P.)
Taking the legendary vision forward and following his father's foot steps, Mr. A.G. Rathnapala Samaraweera joined the forefront and re-engineered the entire business through dynamic system improvements. He believed that "the quality has to be the religion", which is believed to date.

In 1960, joining with him Mr.A.G.Wimalasiri (J.P.), Senior Director also came to the leadership to represent the second generation. Later on Mr.A.G.Berty Wickramapala (J.P.) was called to service from the United Kingdom.

Speaking to Freehold supplement of the Sunday Times the current Chairman Mr.A.G.Rathnapala Samaraweera mentioned that it is a vision carried forward whole heartedly for three generations.
" I am guided by ethics what my father believed and practiced. As a responsible citizen and a family of this country I have to practice it, carry it with full authority and guide the third generation also. My father once said to me, "Son do not issue any biscuits to the market that can not be consumed by you or our families". What he implied in other words is "take care of your consumers and treat them as your family members. I believe that this concept, now appears in the marketing jargon , where those days it was non existent.
We set an example to others by believing in the delivery of supreme quality products and always inspired by goodness. This is what my father wants me do; I am happy because I delivered it."
Speaking to the Freehold Sunday Times Mr. A.G .Wimalasiri (J.P. All Island) , Senior Director of Maliban said, "From the age of 12, I helped, in the family business after school helping out as the cashier or any other way possible. Having started at the ground level I was able to understand the business better. In the beginning we had diversified our business, and had several hotels which were located in Norris Road. We initially imported biscuits from Huntley and Palmers from UK and in those days we did not have containers, thus the imported biscuits were transported in sealed galvanized water tanks."

The first Maliban bakery was established in Kotahena, where today the street in which it was located has been renamed as A.G. Hinniappuhami Mawatha. The bakery paved the way to start Maliban's hand made biscuits and cakes. Maliban's very first biscuit manufacturing machinery was imported from Peter Borough UK (Baker Perkins), which was the very first imported machinery to be brought down to Sri Lanka. By this time Maliban biscuits were gradually becoming popular among Sri Lankans due to the fact that they were oven fresh and were high in quality and taste when compared to imported biscuits in the market.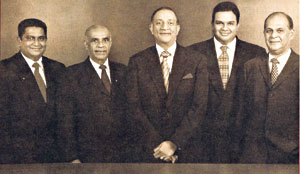 Standing from left Mr. A.G. Shanaka Wickramapala ,Director ( third generation), Mr.A.G.Berty Wickramapala, Director (J.P.)(Second generation), Present Chairman Mr A.G. Rathnapala Samaraweera (Second generation), Mr. A.G.Tharangitha Samaraweera, Director,(Third generation) Mr.A.G.Wimalasiri (J.P.), Senior Director,(Second generation)
"In the beginning Maliban biscuits were packed in tins as at that time other forms of packaging had not been introduced. At this time we were competing with all sorts of imported biscuits. My father Mr. Jinadasa passed away at the age of 51, and during this time I was still a young man of just 18 years. After my father's death my uncle (Founder Chairman late Mr.A.G.Hinniappuhamy) invited me to join the family business, which I did without any hesitation", said Mr. Wimalasiri.

In the early 1960's Maliban's biscuit manufacturing plant was shifted to Rathmalana which has a land extent of 7 ½ acres. Within a few years three additional machinery plants were introduced. The manufacturing plants at Rathmalana were fully automated, in order to cut down on manufacturing time and to increase overall production efficiencies. At present Maliban has the capacity to manufacture over 150 metric tons of biscuits per day.

Vision moves on…
Mr. A.G.Tharangitha Samaraweera, Director and the son of present Chairman Mr.A.G. Rathnapala Samaraweera, belongs to the third generation of family members, joined Maliban in 1995.
Commenting on Maliban's present position Mr.Tharangitha said, "I believe that consistent quality is of paramount importance and communicating it to the consumers also equally important for any business to thrive. That is why now we are focusing on both these key parameters, thus winning the hearts and minds of our customers".

Whilst we are dominating the biscuit market in terms of quality and great consumer satisfaction; we diversified. Our sister companies, Little Lion (Cakes, Cookies, Wafers and snack foods) and Maliban Milk (Kiri) which was brought to life by the second generation, is catching on aggressively in the market.
State-of-the-art manufacturing plant and laboratory…

Mr.D.L.Weerasuriya, Group CEO
Freehold further spoke to Mr. A.G. Shanaka Wickramapala ,Director and he indicated the at present the House of Maliban has four biscuit manufacturing plants along with well trained and skilled work force, and to date all four plants are running perfectly where from time to time upgrades have been done to keep them in par with international standards. All machinery plants have been imported from the UK and during the same time Maliban's laboratory was also designed. This state-of-the-art laboratory has the ability to check and test the quality of all materials including wheat flour used for the manufacturing of biscuits. The laboratory is also equipped with its own chemical testing and micro biological units, in order to assure the quality and safety of the final product.

In the year 2000 the present Chairman Mr A.G. Rathnapala Samaraweera was successful in introducing a computerized ingredient handling system, which was earlier handled manually.

This greatly reduces production time, retains consistency and which increase overall production efficiencies.

Also the company has the facility of own in-house fat processing plant which has become an additional advantage.

Maliban is equipped with its own sophisticated packaging machines, which ensures that the quality of the final product is preserved. All these value additions further guarantees that Maliban is a company that believes in Good manufacturing processes at all times.

Quality is the religion…
In the year 1995 Maliban was Certified with ISO 9001 certification. This was another great mile stone in the path to progress. This was the 1st time a biscuit manufacturer had achieved such a success.
Soon after that in 1996 Maliban Biscuits was awarded with National Quality Award for large scale manufacturing and again for the 1st time a biscuit manufacturer had achieved this.
This was followed by, Food safety (ISO 22000) and Environmental ISO 14000 certifications and in addition several certifications such as Cleaner Production award and Halal to name a few.
"The Maliban team is also exposed to the latest technological advances taking place in the biscuit industry. Periodically we acquire services of foreign biscuit consultants to train our staff members and to up grade our processes. Our Research and Development team along with the Marketing team is constantly in search of introducing new products to the market in order to cater to the changing needs and wants of the consumer.

Maliban was awarded the Super Brand status in 2006.
The company's Quality Circle Teams always looks into the root cause of any problem and introduces effective solutions in order to maintain correct and consistent quality. We have established strategies to reduce damages, maintained good hygienic practices and increase our production processes."
In order to contribute to the national environmental policy Maliban has invested on a effluent treatment plant which ensures that all liquid waste are not polluting the environment.

Recipe to success…
The Maliban quality is superior due to the high quality of ingredients used, its hygienic standards maintained and excellent packaging that ensures the freshness of its biscuits which is testified by several national and international certifications.

"We use natural bananas, and ginger etc., in there pureed forms in the production of our biscuits which are benefiting our local farmers", endorsed Mr. Wickramapala , Director.

Future plans in progress…

Speaking to Freehold Mr.D.L.Weerasuriya, Group CEO (the founder's younger sister's grand son) indicated,

"In the future Maliban plans to introduce more unique products to the market understanding the ever changing consumer psychographics. In addition to this the company plans on developing its export market more aggressively.

With the intention of providing a wider range of wholesome products to the market Maliban has now moved into providing milk powder. The company is also focusing on providing a range of value added dairy products to the market in the near future.

Maliban continues to travel the road of success due to their loyalty to the consumer to never compromise on quality. When asked about the drawbacks that are faced by them at present Mr. Weerasuriya further stated, "Our biggest challenge is to maintain the consumer prices despite continuous escalation in operational and manufacturing costs as we directly import high quality ingredients from the best suppliers around the world".

Achieving global presence…
"Even during our founders time Maliban had exported biscuits to selected overseas countries. Our road to success was not easy, as we had to face many obstacles along the way, however we have always been able to weather any storm due to our dedication and ability to provide superior quality at all times. This is the main reason why Maliban was never affected by any crisis that occurred in the industry.
Maliban has always held very close relationships with its dealers and foreign suppliers and buyers who are considered as part of Maliban's extended family. Also the dedicated Maliban team which includes staff strength of 1500 employees and twice this amount of indirect employees form the backbone of the company.

Brand excellence all the way..

"The core strengths of Maliban's are the brand name and superior quality. People in Sri Lanka during the last 60 years have rated Maliban as one of the most trusted and respected brands. The other key strengths are world class manufacturing facilities backed by high quality recipes. Furthermore we are continuously being close to our customers and innovate products to satisfy their ever changing needs and wants, that's why we recently introduced products the new cracker range. We realized there is a need gap in the cracker segment. Even in the milk category we will continuously introduce new products to our current portfolio to satisfy changing consumer needs", indicated Mr.Weerasuriya.