War is an extension of politics, said Carl von Clausewitz, the 17th century military historian and theorist in his treatise On War (Vom Kriege). Compulsory reading for any officer in the military, his work is shaped not only by pure military considerations but also by his strong interests in art, science and education.
Any military historian in Sri Lanka chronicling the events of 2009, no doubt, will find the opposite of what of Clausewitz said three centuries ago. Politics has become the extension of war.
The Security Forces defeated Tiger guerrillas in May this year. Since then, the liberal mix of military in democratic politics, which Sri Lanka never faced since independence, is growing slowly but surely to become a lethal blend.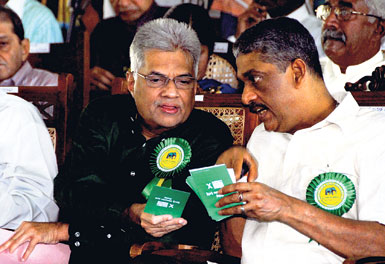 UNP leader Ranil Wickremesinghe and common candidate Gen. Sarath Fonseka at yesterday's UNP convention at Welisara. Pic by Sanka Vidhanagama
The vast majority of Tiger guerrillas are dead. Most of their military hardware was seized. Recovered almost every day is whatever remains. The living guerrillas, said to be among 10,000 now in custody, await debriefing, identification and legal action. That leaves only a smaller number of stragglers. To say they are in thousands would be an exaggeration. Thus, an educated assessment will place the numbers in a few hundreds at most. That is if they are not less than a hundred. Is such a group capable of carrying out attacks countrywide? On the one hand, if the answer is "yes," it contradicts the Government position that the military capability of the guerrillas has been destroyed and their intelligence networks eliminated. On the other, if the answer is a "no," then a reasonable question is whether the massive deployment of troops, police and civil defence personnel is commensurate with the existing ground situation.
Without their leadership, their handlers, the absence of their operational intelligence machinery functioning within the country, those few stragglers have found the safest way out - go underground. That is the few remaining in Sri Lanka. Most have fled the country. With no command and control structure in place, guerrillas on the run are apparently not capable of carrying out any dramatic attacks. Nor do they have the resources, like explosives to do so. The suicide jackets found periodically in Colombo and elsewhere are those left behind. The men or women tasked to use them were no longer there.
Security questions
Six months after their military defeat, not one major guerrilla related incident has occurred nor reported. However, periodically reports are leaked to the media of explosive-laden vans and suicide killers infiltrating the City. The question that begs answer is whether these are constant "alerts" put out to keep the public on their toes and to justify the heavy security presence. The deployment of troops, police and civil defence personnel has remained much the same as it existed during the height of the separatist war. Defence authorities claim they cannot take a chance since a few remaining elements could still cause trouble.
To deal with those perceived few, the presence of thousands of armed men in uniform in the streets is not only costing the taxpayer but also sending the wrong signal worldwide - things are still not stable in Sri Lanka. From the time of arrival at the Bandaranaike International Airport, which resembles a military installation, this is the first impression created in the minds of both tourists and would-be investors. Unscrupulous elements in the security establishment are also continuing to cash in on the situation. The latest instance to come to light is the case of a Tamil businessman living abroad who brought a multi-million rupee property in Colombo.
A rival, who failed to buy the same property, was incensed. Within days, a special unit operating under a senior Police official in the Wanni arrested the man because he had alleged guerrilla connections. If such links in fact existed, why a unit operating in Wanni had to travel all the way instead of asking Police in Colombo to follow up the inquiry was the question. The answer - this unit had received an anonymous letter only the previous day and had immediately gone into action. A Colombo lawyer dealing with such cases said abuse of the ongoing security situation had become all too common leading to heavy bribery and corruption.
Additionally, the checkpoints the less fortunate public have to clear when travelling around, be it in the City of Colombo or elsewhere, have not been reduced. If this is no relief or comfort to them that the separatist war has ended, it has also not led to the arrest of tens or hundreds of guerrillas. Nor have vast quantities of lethal military hardware been discovered there. Here again, the military defeat of the guerrillas has not reflected the need for a scaling down. Everyone passing through has to prove his or her bona fides, some times on many occasions.
This raises a number of all-important questions - whether there are such large numbers of guerrillas at large who pose a threat everywhere? Should the tougher measures borne out of earlier terrorist attacks continue the same way, if indeed the vast majority of them are eliminated? Or, are these measures in place for reasons other than pure security considerations? The last question assumes greater significance particularly in the backdrop of upcoming Presidential and Parliamentary Elections.
Every conflict, whether internal or between nations, has its own distinct characteristics. Examples are replete. For instance, in 1982, then British Prime Minister, Margaret Thatcher, sent troops to Falklands. Four weeks and four days later, the commander of ground troops Major General Jeremy Moore radioed from his command post, "Falkland Islands under Government desired by their inhabitants. God save the queen." The credit went to Lady Thatcher who won the next British elections overwhelmingly. Maj. Gen. Moore and his troops won acclaim too. The heroic roles he and his men played still echo in British military academies.
Another known instance was in 1991. General Norman Schwarzkopf, commanded US and allied troops in "Operation Desert Storm" to oust the Iraqi army from occupied Kuwait. In just four days, he accomplished the task and the credit went to then US President, George H.W. Bush. Yet, Schwarzkopf became a celebrated icon in the media and the military world.
In May, this year, when troops defeated the guerrillas who staged a two and a half decade long insurgency, there was national acclaim for President Mahinda Rajapaksa. Some said he would remain President for life whilst others declared he was unshakable for the next 25 years. The euphoria rose to such levels that some contributors to letters columns in newspapers appealed that none should contest him at an election. There is little doubt that the man who led the ground troops to victory, Gen. Sarath Fonseka, also became an icon. Local and foreign media eulogised him.
Neighbouring India's National Security Advisor M.K. Narayanan told Mahinda Rajapaksa that Fonseka was one of the best commanders in the world. In appreciation of his contribution, he was gifted 25 perches of prime land in Colombo. UPFA leaders heaped praise on him. Religious festivities were held countrywide to felicitate, bless and bestow scrolls of honour on him.
Just six months after the historic event, the difference between all other conflicts and the one in Sri Lanka becomes clearer and clearer. In other parts of the world, the victors continue to share together the dignity, the glory and the honour of success, built on the lives of those who died or lost their limb. However, here the premier shareholders of that success have now begun to hate each other more than they together hated Velupillai Prabhakaran, the slain leader of the Liberation Tigers of Tamil Eelam (LTTE).
Slander campaign
State-run media and Government-backed websites have launched vicious attacks on Gen. Fonseka. One web site, which has received Government funding for its US $ 25,000 a month operations, had sung paeans of praise for him in the past months This week it was crude enough to call for DNA tests on the children of some women soldiers to ascertain their paternity. The same web site had earlier accused a member of his family of making commissions in defence deals prompting their lawyers to seek US $ 50,000 in damages.
The UPFA Government that hailed Gen. (retd) Fonseka as Sri Lanka's national hero was helping a web site now to brand him as someone who had purportedly fathered illegitimate children. In the eyes of the world, whether such charges are against a retired General or any other fellow compatriot should put every Sri Lankan to shame. For they become aware of the new culture where patriots overnight not only become traitors when they turn adversaries but also end up being branded as men producing bastards. Governmental party politics has hit its lowest depths.
Thus, the battle lines were clearly drawn when Gen. (retd.) Fonseka mounted the dais at the JAIC Hilton to address the news conference where he announced, for the first time, his candidature. The event, it turned out, was not only for the media. A group of UNP trade unionists clapped and cheered as he emerged. A member of the Western Provincial Council and a coterie of others occupied some of the front seats. A retired Army officer, who had served under Fonseka, also posed questions.
Outside, Janatha Vumukthi Peramuna's (JVP) Anura Kumara Dissanayake kept walking up and down with his mobile phone pressed to his ear. He was on hand to brief Gen. (red.) Fonseka's backers on the phone that the news conference was under way. He denied state media reports that he was not allowed entry to the event and added he had no plans to take part. It is here that the former Chief of Defence Staff (CDS) formally announced he was coming as "common candidate" of the main opposition parties at the upcoming Presidential Elections. A report on the news conference appears on Page 12.
Within hours of Gen. (retd.) Fonseka's first public announcement last Sunday, the Government swung into action. In a move that broke with tradition, it ordered three senior Army officers to appear on national television, Rupavahini, and respond to his remarks. Wearing uniform and
Army regalia, Brigadier Udaya Nanayakkara (Military Spokesman), Brigadier Prasad Samarasinghe (former Military Spokesman and now Chief Signals Officer, Signal Corps) and Major General Daya Ratnayake (also a former Military Spokesman and Director General of Rehabilitation) countered some of Gen. (retd.) Fonseka's assertions. Interesting enough, Nanayakkara and Samarasinghe were strongly backed by Gen. (retd.) Fonseka when he was Commander of the Army.
However, Maj. Gen. Ratnayake complained then that he did not see eye to eye with his former chief and was denied his promotion.
Brig. Nanayakkara was to deny Gen. (retd.) Fonseka's claim that the Army had been politicised and troops in plain clothes were used for political purposes. Brig. Samarasinghe said no single officer could solely claim credit for militarily defeating Tiger guerrillas. Elaborating further was Maj. Gen. Ratnayake. In the past, no serving officers have been ordered by any Government to appear on national television to counter political issues. In the days that followed, re-deployment of troops in some parts of the Colombo City got under way. The Navy replaced Army in some key areas. Changes have been made in postings in the top level with more officers from the Office of the Chief of Defence Staff (OCDS) moved out.
Some retired Army officers have joined Gen. (retd.) Fonseka's campaign. The latest to quit his post at the Sri Lanka Rupavahini, the national television network, is retired Major General Sunil Silva. He was Military Secretary when Gen. Fonseka was Commander of the Army.
The UPFA, which is gradually escalating its propaganda campaign, is now formulating a new Mahinda Chinthanaya (thoughts of Mahinda). It is to be an improvement on the document that was circulated during the Presidential Election in November 2005 with more emphasis on new economic policies. That will form Rajapaksa's manifesto. His campaign manager will be his Senior Advisor and brother, Basil Rajapaksa. He is heading a team that includes Dullas Allahapperuma and Wimal Weerawansa of the National Freedom Front (NFF).
In addition, a multi-faced propaganda drive is being planned by the UPFA. One group is already busy compiling television interviews given by Gen. Fonseka when he was Commander of the Army. This is to identify the instances where he had made comments and allegations against some journalists among other matters. Also being compiled is a list of incidents where journalists were killed, attacked, intimidated and threatened. These are to receive prime time television coverage in addition to being printed in the form of a booklet.
Among the issues that are being looked at is the brutal killing of Lasantha Wickrematunga, Editor of The Sunday Leader. Gen. Fonseka said last Sunday "Not only for Wickrematunga's death, also for various other illegal things that happened in Colombo, they are all pointing the finger at me. Those who are responsible for maintaining law and order at that time and even now did nothing to find the culprits and punish them. Now it is very easy to point the finger at me. I was commanding a professional Army. I did not have the thugs, hooligans and drug addicts in that Army. It is this Government and those sponsored by them who are responsible." Even if there was official silence when these dastardly acts took place, the UPFA leaders now want to tell the country who they believe was behind it.
Rajapaksa woos media
President Rajapaksa has launched his own personal campaign to wine and dine the media. On November 23, he invited owners and editors of media outlets for a buffet breakfast meeting. On November 26, he invited News Editors and Photo Editors of media outlets for a dinner. Both these events were held at "Temple Trees," his official residence. Thereafter, reporters in all media outlets were entertained to dinner on November 30 at the Colombo Hilton. He will now entertain journalists from individual media groups. On December 8 (Tuesday) he has invited over 400 guests from newspaper groups for dinner at "Temple Trees."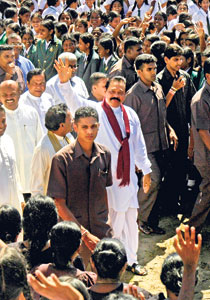 President Rajapaksa visiting Galle Sangamitta Vidyalaya for the annual prize giving on Friday. Pic by Saman Kariyawasam
Gen. (retd) Fonseka will not have a manifesto during his campaign. In fact, during his news conference last Sunday, he was asked about his economic policies if elected President. Though no plans were on hand, he was to declare that the United National Party's (UNP) economic policies were better. This naturally embarrassed JVP's Anura Kumara Dissanayake. "Mey monawada kiyanney. Meka Wimalta aranchi vunanama, eya hondata pavichci karai (What is he saying? If Wimal (Weerawansa) learns of this, he will use it), he told a party colleague. There has been intense consultations between Dissanayake and his interlocutors in the United National Front (UNF) to avoid such embarrassing moments.
To avoid contradictions, they are now formulating a programme of action, something akin to a common minimum programme. Such a programme will spell out the immediate priorities Gen. (retd.) Fonseka will pay attention to when elected President. Such priorities are to begin with a pledge to abolish the Executive Presidency. Others include giving immediate effect to the 17th Amendment (i.e. setting up the Constitutional Council, the Police Commission etc.), setting up a Constituent Assembly to draft a new Constitution, giving high priority to deal with bribery, corruption and restoration of law and order. Issues like the economic policy and related matters will be left to the respective constituent parties to formulate, win the mandate of the people and implement after the parliamentary elections.
Contrary to claims by UNF leader, Ranil Wickremesinghe, that he would become Prime Minister in a caretaker cabinet, no accord has been reached on the matter with the JVP. He had told a Tamil newspaper that he would become the caretaker Prime Minister. A UNF source claimed he made the remarks in a bid to give confidence to the Tamil minority that he would be a key player in a Fonseka administration in the future. However, that appears to have misfired.
One source involved in the multi-party dialogue said in the event Gen. (retd.) Fonseka wins; the post of Prime Minister will remain vacant in a caretaker cabinet. "The parties must contest the parliamentary elections, win and stake their claim for the post. Until then, the President will look after that position," the source said. Quite clearly, Wickremesinghe's remarks had embarrassed the JVP rank and file. Some members had claimed that the opposition coalition backing Gen. (retd.) Fonseka was also trying to foist the UNF leader in office.
UNP's internal battles
Although the UNP rank and file has been heavily activated by the candidature of Gen. (retd.) Fonseka, some internal bickering continues. The party leaders say a group that maintained a dialogue with a UPFA leader was now concluding talks to cross over. Among the names mentioned are S.B. Dissanayake, Johnston Fernando and Indika Bandaranaike. The role of another Colombo district parliamentarian who has remained non-committal has also come to the attention of the party leadership for his reported overtures to UPFA. Reports say he is seeking help to ward off a highly damaging inquiry against him including Court action. Though, he has remained non committal over Gen. (retd.) Fonseka's candidature, he is said to have strongly criticised the move privately. He had also remained silent at the last Working Committee meeting.
The dissident group, with the backing of UPFA leader, had hoped that the Working Committee that endorsed the candidature of former CDS would reject the move. In the wake of that, Dissanayake had met his leader, Wickremesinghe and agreed to support the "common candidate." However, he had been irked that he was not invited to take part in the UNF news conference where the party's support for the candidate was officially announced.
The UNP annual convention at the Nawaloka playgrounds at Welisara, yesterday endorsed Gen (retd) Fonseka as the "common candidate".
Party leaders estimated the crowd at 20,000 - one of the largest of UNP conventions in the recent times.
S. B. Dissanayaka, National organizer of the party was conspicuous by his absence.
Gazette comes
Last week's exclusive revelation in these columns about concerns that Fonseka's retirement has not been gazetted had its sequel. Two different notifications have been issued under the name of Lalith Weeratunga, Secretary to the President. The first said "It is hereby notified that General Gardihewa Sarath Chandralal Fonseka, R.W.P, RSP, VSV, USP, rcds, psc, has, with effect from November 14 relinquished the position of the Chief of Defence Staff." The second notification said; "It is hereby notified that General Gardihewa Sarath Chandralal Fonseka, RWP, RSP, VSV, USP, rcds, psc, has, with effect from November 14, 2009, retired from the Sri Lanka Army."
Until the news of the gazette notification became public, Gen. (retd.) Fonseka's lawyers were busy examining legal options. The Sunday Times learnt they had even interviewed officials at the Elections Department. The latter had opined that his candidature cannot be blocked by them even if his retirement was not gazetted. The retirement had been accepted and made public by Presidential Secretary Lalith Weeratunga. Moreover, they said, the Constitution allowed any citizen of Sri Lanka to contest the Presidential Election, subject, however to the usual disqualifications associated with who could be a voter.
Indian visit
On Wednesday night Gen. (retd.) Fonseka made an unscheduled trip to Mumbai (Bombay) and returned on Friday afternoon. Mums the word from him as to what prompted him to make the brief visit across the Palk Straits. Usually, such visits are associated with clandestine meetings with Hindu 'godmen' and poojas at temples that claim to have the power to bestow merit on individuals.
He was accompanied by Dr. Senaka Arnold Haripriya de Silva, a frequent visitor to the Mumbai's leading casinos and IT expert.
It was only the previous Saturday that the General-politician had a lengthy meeting with India's High Commissioner Ashok Kanth.
At the airport, firmly controlled by the Rajapaksas, the conquering hero of yestermonth was given the cold shoulder. Staff kept away from giving him any special courtesies. Such is politics in Sri Lanka.