A team is essentially made up of a group of people that are bonded together to achieve a common purpose: Each member of the team possesses complementary skills that ensure a coordinated effort which helps in effectively reaching its goal.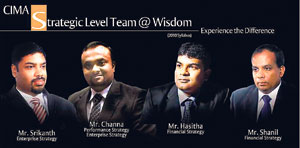 This is exactly what Wisdom - the specialist in CIMA education is announcing in its drive to add all more value and practical sense to it's students. The institute is now ready to tackle the Strategic Level of the CIMA new syllabus, giving special emphasis on the common case study which is a new change introduced by CIMA UK. Wisdom is taking an all new approach with a winning team of lecturers who are specialists in areas that correspond to the three subjects that they will be covering.
The common case study at the Strategic Level will test the students' knowledge on three areas: Financial Strategy, Performance Strategy (formerly Risk and Control Strategy) and Enterprise Strategy (formerly Business Strategy). As these three subjects, represents the three essential pillars of any business organization, Wisdom has put together a team of lecturers that possesses a fine blend of the right corporate experience together with a solid academic background to address the evolving requirements of the CIMA new syllabus.
The Financial Strategy will be covered by two well-known lecturers in the CIMA educational circles: Hasitha Premaratne - (MBA in International Finance, BSc, ACMA, ASCMA, FCCA) and Shanil Jayasekara (MBA in Finance, B.Com, ASCMA, MCPM, ACMA.) Professionally, Hasitha is the Head of Corporate Finance at Brandix Lanka as well as the Chief Executive Officer of Leading Investment Holdings. Hasitha possesses plenty of experience in the fields of capital markets, economics, strategic finance, management, research and ICT. Shanil brings a wealth of experience of dedicated coaching for CIMA exams and his lecturing career spans for over 16 years. He has coached for 9 out of 15 subjects of the CIMA syllabus and has produced as many as 24 prize winners to date. Both these lecturers will deliver on the area of Financial Strategy so as to maximize the lecture delivery.
When it comes to Performance Strategy (formerly Risk and Control Strategy), the lecturer in charge is Channa Gunawardana (MBA in Finance, USQ, BSc (Hons) First Class, ACA, ACMA). Channa is the Chief Financial Officer of a leading multinational group and as the CFO, he is involved in not only in finance but on various operational aspects of the business and strategy formulation. Channa is also a Consultant for Risk Management and is engaged in developing risk management systems for organizations. Previously he held the position as the Country Manager at Ernst & Young, Maldives. This wide experience and exposure is expected to enrich his lecture delivery and will train the student to think like a specialist in the subject. Thus, his lectures are not just to cover the syllabus but also to inculcate a professional approach and skill in the student.
Enterprise Strategy (formerly Business Strategy) is an important subject where the students are expected to gain knowledge in real world business environment. The lecturer in charge for Enterprise Strategy is S. Srikanth who is popularly known as "Sree" holds a MBA (UK), MCIM, B.Pharm (Ind), Certified Professional Marketer (APMF), PG Dip Psychology (Col). He is employed in a multinational FMCG organization in a top notch position and brings to the table a wealth of strategic management and marketing skills. He lectures for Enterprise Operations at Operational Level, Enterprise Management at Management Level and Enterprise Strategy at Strategic Level at Wisdom. Sree will take the students through the syllabus while imparting real world examples into theory while Channa will also share a part of the subject particularly related to Finance aspects.
"The case study will constitute 50 percent of marks for each subject," explains the lecture panel. Thus "Our common approach is one that represents different skill sets to address the requirements in analysing the events in the case", they added. As explained by the panel, every business entity employs specialists to head financial strategy, business strategy and risk.
Thus, Wisdom's move to employ professionals in these specific areas to analyse the common case study comes with years of experience in formulating the best way to prepare for CIMA. Intakes are now open at Wisdom for Strategic Level and lectures are scheduled to begin on Saturday, 5th December. Wisdom Business Academy is the Largest CIMA Business School in Sri Lanka and an accredited CIMA (UK) Learning Quality Partner with an ISO 9001:2000 certification.
It was founded in 2002 on the principle of grooming tomorrow's Management Accountants with financial expertise and strategic ability to take them closer towards career goals and success.